Teaching About Haiti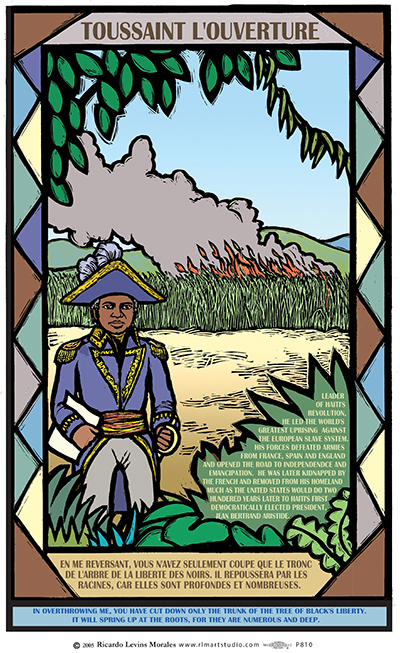 All too often in the midst of reporting on Haiti, we hear that the country is the poorest nation in the Western Hemisphere without the infrastructure to deal with disaster. But little explanation is provided as to why, leaving students to assume it must be the fault of the people there. Nor do we hear of the strong grassroots Haitian organizations.
It is important for students to gain a deeper understanding of the history and the roots of the poverty in Haiti. The U.S has been involved with Haiti for centuries, yet it has received little attention in textbooks or the curriculum. Part of our commitment to the people of Haiti can be to not only increase our support but also our awareness. As informed citizens, we can advocate for respectful and constructive relations with Haiti in the months and years ahead.
Haiti was the only nation in the western hemisphere to end slavery as part of its declaration of independence (1803) — therefore ensuring true independence for all people. Just as the study of Black History should be year round, so can our study of Haiti. For example, Professor Madison Smartt Bell suggests that "The Haitian Revolution, though seldom studied in proper detail outside Haiti, ought to be found near the center of any basic curriculum of American history."
On this page, you will find links to help teach about Haiti, including: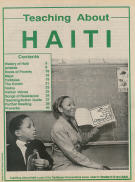 Teaching About Haiti Booklet
To assist in bringing this history to the classroom, we have posted Teaching About Haiti online. This 43-page booklet (PDF), last reprinted in 1994, can be downloaded and reproduced at no cost. While some of the statistics are dated, the history, songs, oral histories, and literature are very useful for students in elementary, middle and high schools. The document can be downloaded in sections as listed below:
Teaching About Haiti updates and additions

Lessons
Tè Tremblé: An Unnatural Disaster: A Trial Role Play Probes the Roots of Devastation in Haiti: A trial role play asks students to question the role played by the U.S. government and other international actors in the 2010 earthquake. Reading Levels: Grades 6-8, High School
 Booklists
Elementary School

Teaching Guides
| | |
| --- | --- |
| | Bigelow, Bill and Bob Peterson. Rethinking Columbus: The Next 500 Years. The European arrival in the Americas – which started on the island of Hispaniola (Haiti and the Dominican Republic) – is one key place to include Haiti in the curriculum. More than 90 essays, poems, interviews, historical vignettes, and lesson plans reevaluate the myth of Columbus and issues of indigenous rights. Rethinking Schools. |
| | Bigelow, Bill and Bob Peterson. Rethinking Globalization: Teaching for Justice in an Unjust World. A collection of background readings on critical global issues and interactive lessons for grades 4-12. Many of the lessons can be used to introduce the global economic policies and practices which have contributed to the current political and economic conditions in Haiti. Rethinking Schools. |
| | Gallin, Anne, Ruth Glasser and Jocelyn Santana. Caribbean Connections: The Dominican Republic. An incredible, informative collection of essays, oral histories, poetry, fiction, analysis, interviews, primary documents, beautifully illustrated timelines, maps and interactive and interdisciplinary teaching aids on the history, politics, and culture of the fourth largest Latino community in the United States. Authors include Julia Alvarez, Edwidge Danticat, Junot Diaz, Rhina P. Espaillat, Pedro Mir, Josefina Baez, and Sherezada Vicioso (Chiqui). The readings are organized into the following sections: Geography, History, Economy; Migration and the Dominican Diaspora; Shaping A Dominican Identity: Language, Race, and Gender; Haitian-Dominican Relations; The National Goes Global: Dominican Music and Baseball. Ideal as background text for students or book groups reading literature by Dominican authors, communities with Dominican-American students, and for everyone interested in this Caribbean country with its rather long history of U.S. involvement. |
| | Sunshine, Catherine and Keith Q. Warner (Editors). (2005). Caribbean Connections: Moving North. Introduces students to Caribbean life in the United States through oral histories, literature and essays. Moving North features the essays, poetry and interviews that can be used to introduce the Haitian-American experience to middle and high school classrooms. Teaching for Change. |

Articles

Films
| | |
| --- | --- |
| | The Agronomist. (2003). A profile of Haitian radio journalist and human rights activist, Jean Dominique. Dominique ran Haiti's first independent radio station, Radio Haiti-Inter. The documentary includes historical footage and interviews with Dominique and his wife Michele Montas. Best suited as background viewing for teachers. Directed by Jonathan Demme. 90 min. |
| | Bitter Cane (1983). Award-winning documentary of Haitian history from 1804 through the early 1980s. Bitter Cane is a look at the history of Haiti, from the sugar barons to the exploitation of the US-owned assembly factories. Filmed clandestinely under the Duvalier dictatorship, this timeless award-winning documentary profiles Haiti's neo-colonial economy and features archival footage of the first US occupation of Haiti from 1915-1934. From peasant coffee farms in the rugged tropical mountains to steamy U.S.-owned sweatshops in the teeming capital, the film takes the viewer on a journey through Haitian history to a deeper understanding of that country's political economy. 71 min. |
| | Black Dawn. This Award-winning animated film tells the story of Haiti's revolutionary past through paintings of Haitian artists. In French, Creole, or English. 20 min. |
| | Deported. Follows members of a unique group of men in Haiti: criminal deportees from North America. Through the portraits and interviews of four deportees in Haiti and their families in North America, Deported presents the tragedy of broken lives, forced separation from American children and spouses, alienation and stigmatization endured in a country they don't know and don't understand. |
| | Haiti: Killing the Dream (1992). Powerful documentary on the history and coup that ousted President Aristide. Interviews with President Aristide, clergy, a cross-section of Haitian people, military junta, U.S. State Department, and more. A Growing Rooster Production, presented by Jonathan Demme, Edward Saxon, and Harry Belafonte. Democracy Now! shared an online excerpt from the film outlining Haiti's history, introduced by Danny Glover. 60 min. |
| | Haitian Pilgrimage. Traces the journey of a Haitian-American family from Boston back to its roots in Haiti. Includes glimpses of a Vodou ritual, interviews with President Aristide, and more. Critiques myths about Vodou. 27 min. |
| | Poto Mitan: Haitian Women, Pillars of the Global Economy. (2009). Told through the lives of five Haitian women, Poto Mitan gives an inside perspective on globalization, Haiti's current crisis, and the resilient women challenging this system. Narration by Edwidge Danticat. Tèt Ansanm Productions with Renegade Pictures, Inc. and UC Santa Barbara's Center for Black Studies Research. 50 minutes. |
| | Makonen Fos Nou/Weaving Our Strength is an 18-minute online (YouTube) video, produced by the Lambi Fund of Haiti, about grassroots economic development projects. A running narrative by Josette Perard, Haiti Director of the Lambi Fund, sets the projects in a larger context. (The film is posted on YouTube in 2 parts.) |

Organizations
| | |
| --- | --- |
| | Haiti Support Group. The Haiti Support Group (HSG), based in London (UK), is a solidarity organisation working with progressive organizations in Haiti that are trying to carry out the fundamental structural changes necessary to improve the standard of living of the majority, to build participatory democracy, and to ensure respect for all human rights. |
| | Lambi Fund supports community-based projects that promote grassroots economic development, primarily in rural, agricultural areas. The fund also emphasizes environmental sustainability, including reforestation in all projects, and promotes the overall democratic movement. See the online film Weaving Our Strength about the work of the Lambi Fund in Haiti. |
| | Partners in Health has worked on the ground in Haiti for more than 20 years. PIH works to bring modern medical care to poor communities in nine countries around the world. The work of PIH has three goals: to care for patients, to alleviate the root causes of disease in their communities, and to share lessons learned around the world. |
| | Mouvman Peyizan Papay Education and Development Fund is Haiti's largest grassroots organization, and also its most successful in addressing the problems of food production, land protection and viable peasant cooperatives. Founded in 1973. |
| | Quixote Center/Haiti Reborn works in the United States to build grassroots activism to support just U.S. policies toward Haiti. It also works to support grassroots organizations in Haiti, including the reforestation program in Gros Morne, and the Commission of Women Victims for Victims (KOFAVIV) in Port-au-Prince. |

News