Teaching for Change Presents and Learns at the Schomburg Center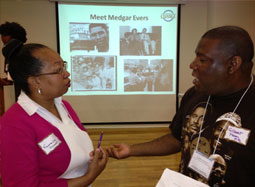 Teaching for Change was honored to present a half day workshop at the Black History 360º 4th Annual Schomburg Center for Research in Black Culture Summer Education Institute on July 16, 2013.
Our workshop,"Teaching the Movement: Lessons from 1963 and 1964," included some of our signature activities such as "Big Shoes to Fill" and we introduced a new lesson on Mississippi voting rights activist and martyr Medgar Evers. The Schomburg Center provided all 60 teacher participants with a copy of Putting the Movement Back into Civil Rights Teaching. One of the other 360º presenters and an advisor for our own publication, Dr. Yohuru Williams, participated in our session.
Our staff had the opportunity to attend the opening presentation by Schomburg Center director Dr. Khalil Gibran Muhammad and director of the Institute for Urban and Minority Education (IUME) at Teachers College, Dr. Ernest Morrell. Here is a description of their powerful talks.
---
On Monday, July 15, with many hearts still reeling from the announcement of George Zimmerman's acquittal after killing unarmed African American teenager Trayvon Martin, Dr. Khalil Gibran Muhammad and Dr. Ernest Morrell addressed dozens of educators in the Schomburg Center for Research in Black Culture's Black History 360° Summer Institute. Muhammad and Morrell invited teachers to place the Zimmerman case within a larger historical context and education narrative.
Here are paraphrased remarks and reflections made by Muhammad and Morrell from their conversation titled Critical Literacies: Socially, Culturally, Technologically Relevant Education.
Dr. Khalil Gibran Muhammad
"Looking at this moment in history, this verdict, there are a lot of complexities in this case and the nation's response. The complexity of this moment is only magnified when trying to make sense of history."
"We owe it to our young people to have the historical literacy to understand the complexity of the history and the moments that shape our past and present."
"Right now there is a lot of pain, and people are feeling hurt. Many people, particularly young people want to take action. 'What can I do right now?' is the question many people are asking themselves and the question I am being asked. Not knowing what action to take, or not seeing the results they wanted, many young people in particular will become disheartened or further disillusioned. That is going to happen and that is natural. This was a moment for them when the ugly injustice of the world became tangibly real, like the Rodney King verdict was for me. They want to take immediate action, but it is likely we will not see a sustained movement come from this terrible situation."
"Social revolutions happen because of ideas and moments. These moments (think Emmett Till) can be few and far between, and each time there are more than a dozen choices that could be pursued. That is why ideas are so important, and one of the lessons taken from the modern Civil Rights Movement—students, organizers, and activists studied previous efforts, discussed the ideas and options, and then planned… but there was never a clear solution or path forward."
"Our kids are not going to learn enough if we wait for the next moment to teach them, to prepare them to stand for justice."
"This is where education is so important. I recently gave a speech to the New York State division of the FBI. Did you know that in the late 1960s and early 1970s, post-Civil Rights Movement and COINTELPRO, the FBI in New York targeted black bookstores and tutoring programs that the FBI believed were teaching the 'wrong"'black history? This has all been documented and the files have been released. Agents provocateur infiltrated black barbershops, community and after-school programs because the teaching of black history, the history of racism, and state violence against blacks was identified as a threat."
"Oppressed people will oppress themselves, and this is used to legitimize and justify policies that continue to oppress blacks, people of color, and low-income communities. We are looking at our young people and telling them to pull up their pants, look in the mirror, and explain what they are going to do about mass incarceration, poor schools, a bad economy… all of these conditions that they inherited and did not create."
Dr. Ernest Morrell
"Dr. Muhammad talked about "moments" in history. We are the same age and the Rodney King trial and verdict was certainly a moment for me. I was pretty good in school, but after the King verdict I did not get below an 'A' in any of my classes. My mind didn't change, my consciousness did, and I had a new understanding of how I could use my education."
"Education has to be contextualized—it cannot be about passing tests."
"We have to get kids fired up. As a teacher, I should be asking myself, 'How do I get those kids to raise their heads off the desk?'"
"The first schools came out of the industrial age of the 19th century. If you look at a picture of a school room in the early 1900s, it looks very similar to factory room—students seated quietly, working individually on assigned tasks. It also looks very similar to classrooms today. Now, that education does not socially, culturally, or technologically reflect our world today and how we interact."
"There are three questions we need to ask:
How do we get students excited about learning?
Excitement raises achievement. We need to think about what we can do as educators.
How do we get kids to believe in themselves?
We don't have an achievement crisis, we have an identity crisis. Kids know education is valuable, but they do not know that they are valuable. The curriculum tells them they aren't valuable, and telling them 'You should see yourself as valuable,' is not the same as 'YOU ARE VALUABLE.' They need to know that we need their minds and their thoughts, and we have to connect this to their learning.
What kind of education will they need?
Kids need an education that is culturally relevant, socially relevant, and technologically relevant. They need to learn how to be actors in the world, not to be acted upon."
"Critical literacy is a way to cultivate youth voices, cultural competence, and critique. Students should not just regurgitate an answer someone already came up with. If we teach them the ability to critique the status quo, there's a power factor and a cool factor in that—kids like to challenge authority."
"Instead of sending the message that 'being smart will allow you to get a good job,' we have to reframe it—'being smart allows you to be politically courageous.'"