Teaching for Change Stands with Orr Elementary Parents
---
UPDATE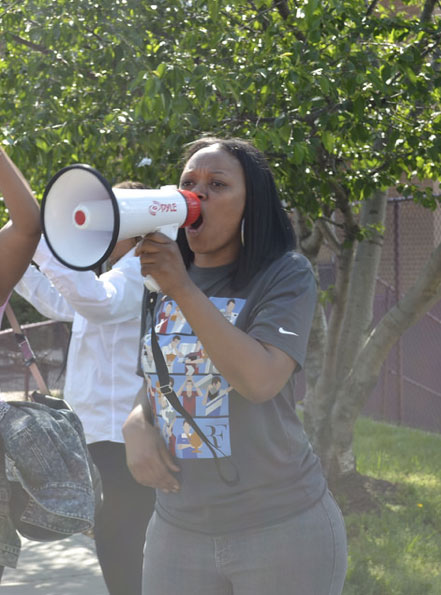 In the days and weeks following the May Day demonstration, Orr Elementary School parents and community members continued to pressure DCPS to remove the principal and alert the school community right away. Parents and teachers, and the  community were finally notified on Friday, June 20 — the last day of school — that they would receive a new principal.
This is the second major victory this year for the Orr community, but it came with deep wounds and scars. Many parents who wanted to stay at Orr, but would not let their children continue if the principal remained, eagerly waited for weeks for a decision to be announced.
Given the silence from DCPS, Orr ended the school year drastically under-enrolled for next year. Additionally, the staff are dealing with changes to the budget that eliminated much needed after-school care and programming.
An Orr community panel has been convened to interview principal candidates. The school is looking to heal and encourage families to return for the fall semester.
Teaching for Change commends the Orr parents and community for standing up for the best interests of their children. For the sake of the children of D.C., we hope that parents' righteous demands for quality schools are addressed more promptly in the future.
---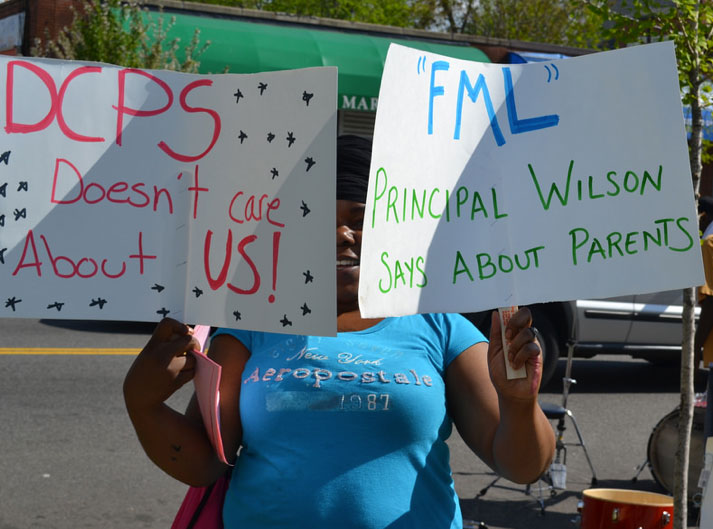 Teaching for Change fully supports Orr Elementary (DCPS) parents who demand a new principal after months of raising concerns through formal and informal channels. Despite their efforts to advocate on behalf of the whole school, DCPS is actively discouraging parent engagement at a school serving predominantly black and low-income families.
Since Teaching for Change's Tellin' Stories parent engagement project began partnering with Orr Elementary in 2010, we've seen parent involvement at the school grow exponentially. The parent center buzzes with activity and parents regularly read in classes, volunteer throughout the school, and participate in weekly workshops (see other examples of our work with Orr here, here, and here).
This year, a particular focus of our work with parents has been advocating for the long overdue modernization of Orr's building, situated east of the Anacostia River in Ward 8, which has been sidetracked for the last eight years.
There is an impressive community at the school among the parents, staff, and collaborators that looks out for the well-being of the children. Therefore, it is not surprising to us that when the new principal took actions that the parents determined were detrimental to the teaching and learning environment, they took it upon themselves to address their concerns — following the proper channels and mobilizing to take action. Instead of listening, DCPS has actively worked to silence and discredit the voices of Orr parents.
Why are parents concerned about Orr's principal? The issues they have raised to DCPS and city officials include cuts to music instruction, limited field trips, disrespectful comments made about families on social media, and a special education room moved to a vaulted storage closet. Not only have the supports for teachers been reduced, parents have also heard the principal speak negatively about Orr's teachers as a group. Parents believe the principal's actions have directly impacted the climate and student development, evidence of which includes a spike in student behavioral issues and infractions across grade levels in comparison to previous years.
Orr's parents are speaking up and taking action about decisions they see impacting not just their own children, but all students at the school. DCPS needs to take seriously the concerns of parents and the community rather than further marginalizing them from this public institution.
"It Should Have Never Gotten to This Point"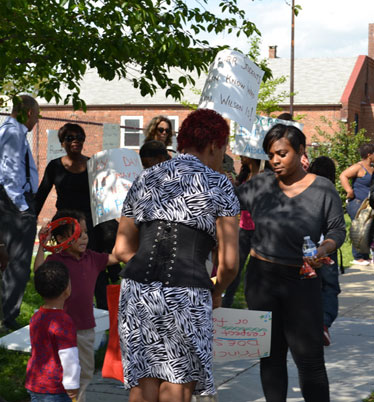 Concerns about the current principal were expressed well before she was hired. In Spring 2013, the principal hiring panel, comprised of school and community members, rated Ms. Wilson last among the potential candidates. Members of the panel said that Ms. Wilson did not seem to be a good fit for the school, but when the top candidates went elsewhere she was assigned to Orr as principal.
Regardless, parents, teachers, and community members, including Teaching for Change, welcomed the new principal in August 2013. As part of our work in schools, Teaching for Change staff facilitated monthly Parent-Principal Chit Chats in the fall semester to form new relationships and build understanding. Several of the meetings were canceled or postponed by the principal, or held with little notice to parents. On December 10, 2013, Teaching for Change sent a note to Principal Wilson with specific suggestions about how to better connect with parents and address some of their concerns. Our stated goals were dialogue and relationship building.
The tipping point in this story came in January after the principal made a derogatory comment on her personal Facebook page that was widely circulated, in which she made disparaging comments about a pregnant parent and dealing with a student who had an asthma attack. Parents and community members flooded DCPS and the D.C. Council with emails and phone calls about the incident, demanding accountability. Council member Yvette Alexander commented, "If these allegations are true, I am deeply concerned with the lack of sensitivity and unprofessionalism characterized by this principal and would question their continued tenure at Orr."
Principal Wilson held an unannounced meeting with parents (only those who happened to be in the building attended) on January 29, 2014 to discuss the controversy. Many parents left feeling the principal attempted to shift their frustration to the teachers instead of offering a sincere apology. Parents made their concerns known to district officials who were sympathetic, but seemingly took no action.
In February 2014, parents were rightfully infuriated to find that a special education teacher was moved to a vaulted storage closet. As noted in East of the River, "when Candi Peterson, Vice President of the Washington Teacher's Union, called the space 'a classroom' in her blog, earlier this year, [DCPS Press Secretary Melissa] Salmanowitz demanded a correction. Instead, Peterson published pictures documenting student use and accused DCPS of a cover up."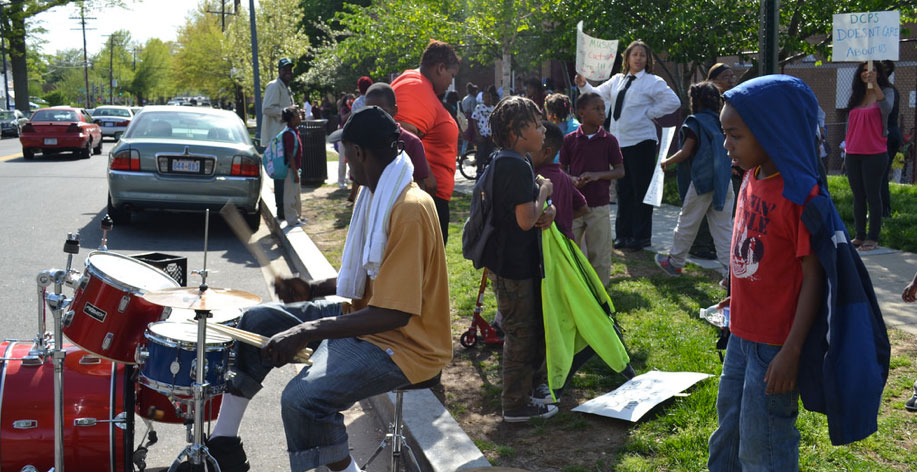 To the parents and many outside observers, the vault was a specific example of questionable decision-making. "Did the parents whose children were being taught in a windowless, vaulted room know about this?" asked an Orr mother, upon hearing the story.
Orr's parents were further dismayed to learn about cuts to the 2014-2015 school budget by the district and proposals by the principal about how to allocate the reduced funding. Parents were particularly concerned about the cuts to key staff positions, Orr's music instruction, and afterschool programming. Parents were also frustrated because earlier in the year, the principal created an assistant principal position despite what parents believed to be more pressing classroom and extracurricular needs at the school.
Teaching for Change staff shared the parents' concerns in testimony to support Orr's modernization at two public hearings in March and April 2014. Meanwhile, parents continued to call and email DCPS because they were alarmed at the changing conditions in their school. They could not understand how their school could still be in this situation, which seemed to only be getting worse. Student behavioral incidents dramatically increased during the year and some teachers had already left, while others were planning to leave.
Orr parents were hopeful after several parent leaders voiced their concerns directly to Chancellor Kaya Henderson at a community dinner in Ward 8 on April 1.
Parents Call "May Day"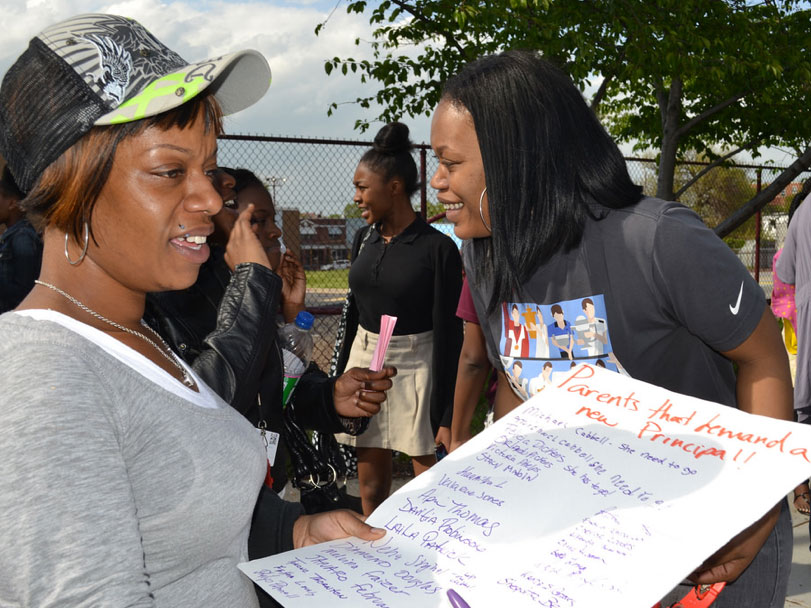 To express their growing concerns, expose the lack of accountability, and inform the larger community about the issues at Orr, dozens of Orr Elementary parents took to the streets on Thursday, May 1, and collected 125 signatures from other parents and community members calling for a new principal. Parent leaders demanded that DCPS and Orr's first year principal Niyeka Wilson "face the music" for actions and attitudes that negatively impacted the school climate and student learning, including cuts to the music programming and overcrowding in music classrooms.
Among their reasons for demonstrating were concerns about the principal not respecting families or the community, driving out highly effective teachers, limiting field trips and community partnerships, and lacking a presence in the school. (Principal Wilson revealed to the school that her absences were due to a family issue. We join the parents and staff who sympathize with the situation, but feel all the more need for her to engage when she is present in the school.)
Earlier that day in a radio interview, Orr parents explained why they were taking action on We Act Radio's Education Town Hall. (The Orr segment begins near the 11:30 mark.)
Parents, community members, and students lined the sidewalk of Minnesota Avenue, S.E. in Ward 8, with posters, musical instruments, a bull horn, fliers, and petitions to remove a principal they felt was bad for their children and school community. Teaching for Change supported the parents in this public action. (View photos of the May Day demonstration and watch video clips.)
The DCPS Response
When asked about the May Day action, DCPS dismissed the concerns of parents in comments to the press, including East of the River's coverage of the demonstration.
Assistant Instructional Superintendent Jacqueline Gartrell visited the school nearly every day the following week and began meeting with parents individually. Teaching for Change's associate and executive directors also met with Ms. Gartrell and Principal Wilson, and requested that a facilitated, all-parent meeting be held immediately.
The Wednesday following the May Day action, DCPS closed the parent center and teachers' lounge at Orr, the primary spaces in which parents gather for meetings and workshops, that day for official use. However, neither room was utilized that day. The next day, Ms. Gartrell returned again to speak with parents while special police roamed the building.
Teaching for Change witnessed as Ms. Gartrell repeatedly told Orr parents they had "misinformation." Parents again felt their concerns were being ignored by DCPS and wondered if there was a larger agenda at play to set Orr up for failure.
After more than a month, a parent meeting was finally set for June 11, just seven school days before the end of the year.
Moving Forward
Teaching for Change will continue to support the parents of Orr, who work to better their school despite a lack of respect and fair treatment by DCPS. We believe this matter should be shared with the public so that corrective action will be taken and this injustice will not be repeated, particularly toward communities that are traditionally marginalized.
Strong public schools are critical to achieving a more equitable and democratic society. Meaningful engagement with parents and community must be part of that equation.
Express your support for the parents of Orr Elementary by contacting the Chancellor's office at (202) 442-5885 or email Kaya.Henderson@dc.gov. Orr parents may be reached at FortheLoveofOrr@gmail.com.