Teaching for Change Featured at NCPIE

On Wednesday, April 24th, Teaching for Change will present our approach to turning the tables on parent-school relations at the monthly National Coalition for Parent Involvement in Education (NCPIE) meeting. América Calderón, bilingual parent organizer, and Allyson Criner Brown, associate director, of Teaching for Change, will present recent research about Teaching for Change's approach to parent-school engagement called Tellin' Stories. As an example of our Tellin' Stories approach, they will describe our Grade Level Dialogues which bring parents and teachers together to discuss expectations, academic goals, instruction, and other issues relevant to student achievement.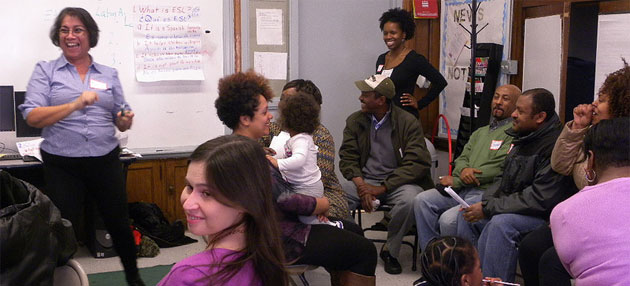 Using a relationship-building approach that effectively addresses racial, ethnic, and class diversity, Teaching for Change supports parent leadership in their schools. Through community building activities, parent meetings, and academic-based workshops and events, Teaching for Change helps parents develop skills to help their children achieve. At the same time, Teaching for Change provides professional development and coaching for parent coordinators, teachers, and school administrators to create a welcoming, inclusive, and collaborative school environment.
The meeting will be held at the NEA, 1201 16th Street, NW, Washington, DC in Conference Room B. There will be a networking at 9:00 AM, and presentation will be from 9:30 – 11:30 AM. The call-in number for those who cannot attend in person is 1-866-846-3997. The code to connect to the call is 7888942#.
The event is free and open to the public.