Teaching about Freedom Schools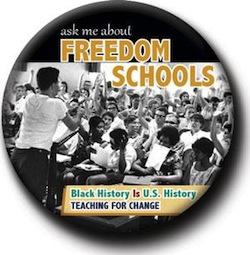 Mark the 50th anniversary of Freedom Schools with an Ask me about: Freedom Schools commemorative button.
Why Freedom Schools?
Freedom Schools promote education for transformation and liberation.
Freedom Schools allow students to learn about the history of the Civil Rights Movement beyond an individual hero, speech, or march.
Freedom Schools invite all of us to look critically at the purpose of education today and the possibilities for the future.
Why the buttons?
To stimulate conversations about the full history of the Civil Rights Movement and about the fact that Black History is U.S. History and should not be reduced to the few names and events that are recycled in classrooms and the media every February.
About Freedom Schools
"Education should enable children to possess their own lives instead of living
at the mercy of others." —Charlie Cobb Jr.
"Education should enable young people to function productively and
meaningfully in society and give them the tools to change society."  —Charlie Cobb Jr.
The Freedom Schools of the 1960s were part of a long line of efforts to liberate people from oppression using the tool of popular education, including secret schools in the 18th and 19th centuries for enslaved Africans; labor schools during the early 20th century; the Citizenship Schools formed by Septima Clark and others in the 1950s; and more.
The Freedom Schools of the 1960s were first developed by the Student Nonviolent Coordinating Committee (SNCC) during the 1964 Freedom Summer in Mississippi. They were intended to counter the "sharecropper education" received by so many African Americans and poor whites. Through reading, writing, arithmetic, history, and civics, participants received a progressive curriculum during a six-week summer program that was designed to prepare disenfranchised African Americans to become active political actors on their own behalf (as voters, elected officials, organizers, etc.). Nearly 40 freedom schools were established serving close to 2,500 students, including parents and grandparents.
Recommended Resources
Teaching for Change Resources
---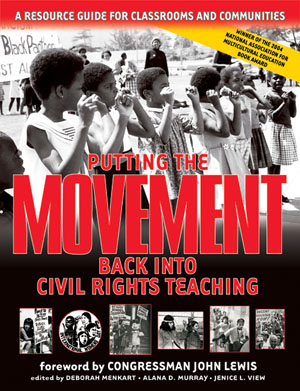 Putting the Movement Back Into Civil Rights Teaching: A Resource Guide for Classrooms and Communities
Honoring SNCC's 50th Anniversary Booklist
Films
---
| | |
| --- | --- |
| Freedom Summer by Stanley Nelson is streaming for free on PBS's American Experience. | |
| | |
| Freedom on My Mind directed Connie Field and Marilyn Mulford. The story of the Mississippi freedom movement in the early 1960s. | |
| | |
| Eyes on the Prize segment on Mississippi and Freedom Summer. | |
Children's Books
---
High School Books
---
Photo Books
---
Adult Books
---
Articles and Archives
---
Education and Democracy (provides full Freedom Schools curricula)
Freedom's Struggle and Freedom Schools by Charles Cobb, Jr.
1964 Freedom Summer Archives at the Wisconsin Historical Society
Civil Rights Movement Veterans: Freedom Schools
Rethinking Schools (contemporary issues in education for liberation)
About The Image
---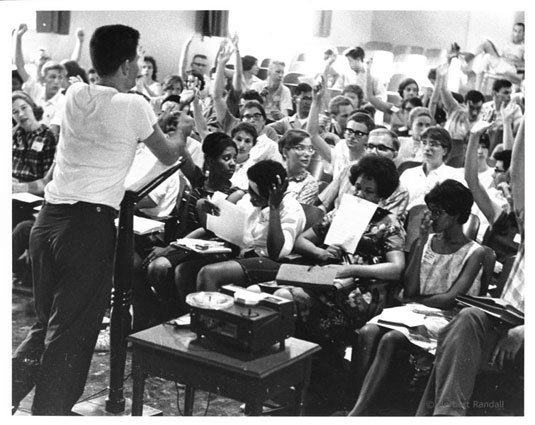 Staughton Lynd speaks with Freedom School teachers in Oxford, Ohio, 1964. Dr. Staughton Lynd, director of the Freedom Schools in the Freedom Summer project, speaks with Freedom School teachers in a theater. Seated on the second row on the far right are Nancy and Joseph Ellin from Kalamazoo, Michigan; he a professor of philosophy at Western Michigan University and she a homemaker. They will teach in the Freedom Schools in the Hattiesburg project–he at Priest Creek Missionary Baptist Church in Palmers Crossing and she at True Light Baptist Church in Hattiesburg. Nancy Ellin also supervised the Freedom Libraries in Hattiesburg. Photo and text used with permission from Herbert Randall and the McCain Library and Archives, University of Southern Mississippi.