Teaching About the #NoDAPL Water Protectors
One of the greatest organizing efforts to protect land, human rights, and the future of this planet is taking place in North Dakota. The Standing Rock Sioux, joined now by members of more than 200 other Native American tribes and other allies, are taking a stand to oppose the Dakota Access pipeline, which threatens to destroy sacred land and contaminate water supplies in the region.
Dave Archambault, chairperson of the Standing Rock Sioux Tribe, explains,
In recent weeks, the state has militarized my reservation, with road blocks and license-plate checks, low-flying aircraft and racial profiling of Indians. The local sheriff and the pipeline company have both called our protest "unlawful," and Gov. Dalrymple has declared a state of emergency.
It's a familiar story in Indian Country. This is the third time that the Sioux Nation's lands and resources have been taken without regard for tribal interests. The Sioux peoples signed treaties in 1851 and 1868. The government broke them before the ink was dry.
When the Army Corps of Engineers dammed the Missouri River in 1958, it took our riverfront forests, fruit orchards and most fertile farmland to create Lake Oahe. Now the Corps is taking our clean water and sacred places by approving this river crossing. Whether it's gold from the Black Hills or hydropower from the Missouri or oil pipelines that threaten our ancestral inheritance, the tribes have always paid the price for America's prosperity.
Protecting water and our sacred places has always been at the center of our cause. The Indian encampment on the Cannonball grows daily…
Longtime Native American activist and executive director of the group Honor the Earth, Winona LaDuke says of the #NoDAPL protectors,
It's time to end the fossil fuel infrastructure. I mean, these people on this reservation, they don't have adequate infrastructure for their houses. They don't have adequate energy infrastructure. They don't have adequate highway infrastructure. And yet they're looking at a $3.9 billion pipeline that will not help them. It will only help oil companies. And so that's why we're here. You know, we're here to protect this land.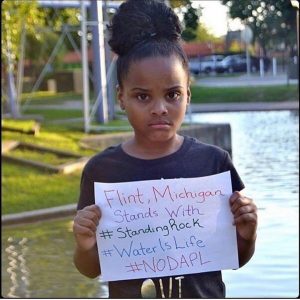 We encourage teachers across the country to keep abreast of the news about the protest. Debbie Reese, a tribally enrolled member of the Nambe Owingeh explains in her post If You Care about American Indians… Keep Abreast of Native News,
The decision to say 'no' to the Dakota Access Pipeline is one that matters for Native people and for anyone whose health will be at risk when that proposed pipeline leaks. As the people who are gathering there and elsewhere are saying, this is about water. We all need it…
You may have friends, or your children may have friends, who aren't where you are in terms of knowing that we're part of today's society. Far too many people think we no longer exist, and far too many think that if we wear jeans and drive cars, then, we aren't "real" Indians. They don't know what "real" Indians are!
Resources
---
Media
---
Youth Activism
Rezpect Our Water!

This campaign website highlights the role of youth who oppose the construction of the Dakota Access Pipeline, with video and letters written by Standing Rock youth.
---
Lessons
---
Books: Environment
More books about the environment
---
Books: American Indians
Posted: September 15, 2016