D.C. Teachers: Take to the Stage
In honor of Teacher Appreciation Week, SpeakeasyDC and Teaching for Change will premier After-School Special: A Night of True Stories By and About Educators on May 9 at the Atlas Performing Arts Center.
If you are a D.C. teacher, administrator, parent, or student with an equity/social justice story about working with students, or a teacher, or other school staff person–please pitch your story ASAP! We are also looking for stories from anyone about the impact of a teacher. Slots are filling quickly.
If you are selected to be part of the show, you will be expected to participate in three to five rehearsals with SpeakeasyDC's expert story coaches and to perform your 8-10 minute story in both shows. Honoraria of $150 for each storyteller.
About SpeakeasyDC

Named the "gold standard" in storytelling by the Washington Post and nominated for the 2012 DC Mayor's Arts Awards for Innovation in the Arts, SpeakeasyDC has been entertaining audiences with original storytelling shows and teaching the art of storytelling for over a decade.
A note about what we are looking for in a story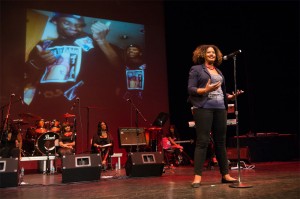 We are looking for actual stories–with a plot, characters, and a narrative arc that has a beginning, middle, and end. All stories must be true and grounded in an event that unfolds and has the quality of making the listener ask "What happens next?"
The stories should have a "teaching for change" angle. This is not a checklist, just some ideas to spark your own.  For example:
a story about how you got students to see themselves in history or take a stand on an issue;
how you as a teacher or other school staff stood up for your students;
how you created an inclusive environment or afterschool club in the face of some obstacle;
an experience in your own life that moved you to become a teacher for change;
a particular story about how you evaded the pressure to test instead of teaching;
how you as a parent made change in your child's school.
The main criteria is that they are engaging stories, not a speech about your favorite teacher or a soapbox opinion on the education system.
If you'd like to talk through a story idea before pitching it, please call SpeakeasyDC's director, Amy Saidman at 240-888-9751 or by email to arrange a call.
Posted: February 21, 2014