Tellin' Stories Evaluation Shows Promising Early Results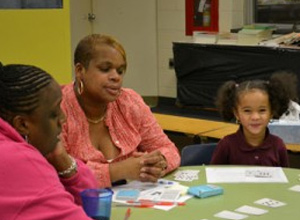 "Tellin' Stories activities encourage parents to voice and work proactively, often jointly with school staff, to address their concerns," concluded Policy Studies Associates, the firm conducting the evaluation of Teaching for Change's parent engagement initiative, in a preliminary report this spring.
Teaching for Change's Tellin' Stories Project has been recognized by the Harvard Family Research Project as one of the most effective approaches in the country for breaking barriers to school engagement for traditionally marginalized parents. This year, the Tellin' Stories project is undergoing a formal evaluation thanks to generous grants from The Morris and Gwendolyn Cafritz Foundation, the Horning Family Foundation, and an anonymous foundation.
Here are some of the findings from Policy Studies Associates' preliminary analysis of activities:
Across all sites, evaluators observed interactions that demonstrated parents were comfortable engaging other parents and school personnel.
Observable evidence that school personnel respected and valued parent participation was also present.
Tellin' Stories activities provided opportunities for parents to learn strategies to communicate effectively with school personnel.
Tellin' Stories activities seek to encourage parents to not only voice their concerns but work proactively to effect change in their child's school. Observable indicators include the presence of opportunities during meetings for parents to raise concerns, actively develop plans to address problems, and work collaboratively with school personnel to improve the learning environment.
Evaluators recorded several observations of parents participating in academic activities or developing plans to address concerns related to achievement.
A PDF copy of the report can be viewed here.