Teaching for Change Pioneers Latino Parent Leadership Training in D.C.
In Washington, D.C. and in cities across the country, cultural and language barriers present some of the biggest challenges  to building effective home-school partnerships. Teaching for Change's parent empowerment initiative has a few methods for overcoming this stumbling block: providing translation services for parent meetings, recruiting multilingual parent leaders, and promoting cultural understanding through community building and professional development are among them.

With support from the D.C. Mayor's Office on Latino Affairs (OLA), Teaching for Change piloted a new approach with a special training series designed to empower and equip Latino parents to advocate for their families and act as liaisons in their school communities. Teaching for Change's bilingual parent organizer América Calderón facilitated the training on Saturdays in September and October entirely in Spanish. The parents were honored at OLA's Noche Cultural & Award Ceremony in October as "Padres Embajadores por la Educación."
Approximately 20 mothers and fathers from from five D.C. public schools participated in the Latino Parent Leaders Training. Some were familiar faces who were already parent leaders at schools partnering with Teaching for Change. Some were new to the idea of being a parent leader, but all were ready to learn.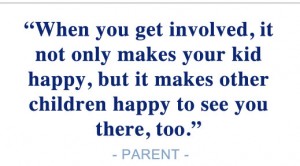 When asked why they participated, one mother shared, "When you get involved, it not only makes your kid happy, but it makes other children happy to see you there, too."
"We have to fight not only for our kids, but for their future," said another.
In one session, Calderón outlined just how much was at stake and why parent leaders were so important in creating change. She explained that although Hispanic students make up 14% of DCPS enrollment, there is a 60% lack of parental involvement among Latino parents across the board.
With the tone set, the session focused on what it takes to be a parent leader. Led by Calderón, parents shared character traits, behaviors, and solutions that all parent leaders need in their arsenals. Their suggestions included "having the confidence to speak up when someone needs support," "speaking to people who think differently from you," and to "always be aware of what's going on."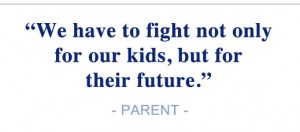 Parents then worked in small groups to participate in engaging workshop activities. They put on skits that illustrated both effective and ineffective ways to engage parents and invite them to school meetings. They learned to create agendas and plan a topical parent meeting—then each group led the entire gathering through a condensed version of their meeting. The final activity was a public speaking exercise. Participants had a few minutes to prepare a hypothetical speech as a parent leader representing his or her school, to be delivered in front of the DCPS Chancellor, Kaya Henderson. Calderón sat directly in front of the podium to record each speech with a video camera for feedback. Since it was the only activity in which each parent had to present to the room alone, some parents were a bit nervous. Others seemed to enjoy the opportunity. All presented loudly, coherently, and confidently to rounds of applause.
At the end of the training, one father said emphatically, "This was phenomenal."
Posted: September 22, 2012