Working Together: Parents and Principal Start the Year with a Critical Dialogue

In a promising start to the 2012-2013 school year, parents at Strong John Thomson Elementary (D.C. Public Schools) convened for the first of many discussions with Principal Carmen Shepherd.
Just after the start of the school day on September 7, about 30 parents—a few with toddlers or infants in tow—gathered in the large meeting room for the first Principal Coffee & Chat of the year. The hour long monthly meetings over light breakfast were established last year through a partnership with Teaching for Change's Tellin' Stories initiative as a way to foster conversation and effective collaboration between parents and school administrators.
Trinidad Lopez, parent of second- and fourth-graders, was happy to be included. "Thank you for opening your doors to the parents," she said. "My kids are happy to see me participating at their school."
Principal Shepherd expressed delight at seeing a full room and thanked parents for a school-year start marked by high attendance and punctuality. Parents expressed their appreciation for the adult English classes offered at the school (which serve 24 parents so far), parental support, and caring teachers, among other things.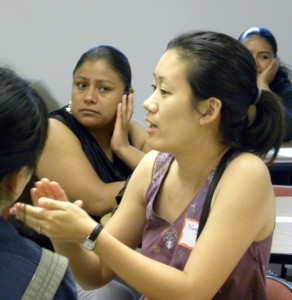 Aided by Spanish/English translation from Parent Organizer América Calderón, Principal Shepherd covered a wide agenda, including budget concerns, new faculty members, changing math strategies, and the rise in last year's DC CAS scores. But the gathering became a true dialogue when the floor was opened for concerns. One of the most vocal parents, Atina Garcia, mother of a pre-kindergartener and third-grader, was concerned about inadequate homework time and unsanitary bathrooms during Power Hour. Another mother of two students, Imelda Marroquin, inquired about the delay in launching extracurriculars. With every issue raised, Principal Shepherd corrected misinformation, assured follow-up, and/or admitted to shortcomings. She then pointed out her issues with incomplete homework and lukewarm lunchtime volunteering.
The productive discussion adjourned around 10 a.m., and it was announced that this year, the gatherings would alternate between mornings and evenings to accommodate more parents and their schedules. The next Coffee & Chat is scheduled for October 5.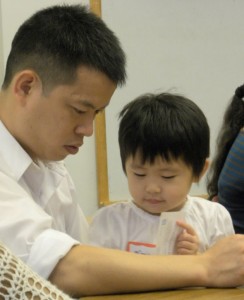 "[The chats] help us keep the lines of communication open. It's not our only avenue for feedback, but it's more personal," Principal Shepherd explains. "This isn't a gripe session. We set aside time for concerns, but we want to find solutions."
Thomson Elementary enters its second year partnering with Teaching for Change using the Tellin' Stories approach to family engagement. The initiative is funded in part through generous grants from the DC Children's Youth Investment Trust Corporation, the Mayor's Office on Latino Affairs, The Morris and Gwendolyn Cafritz Foundation, and an anonymous foundation.
Posted: September 17, 2012