Teaching for Change Offers Black History Month Briefing on the Hill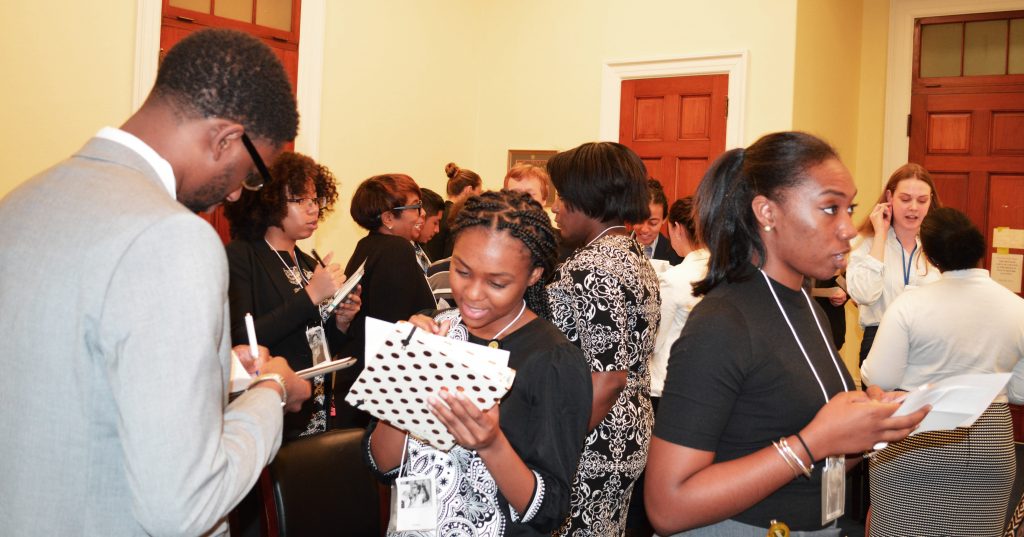 At the invitation of Congressman John Lewis (D-GA), Teaching for Change offered a briefing for Congressional staff on teaching the grassroots history of the Civil Rights Movement, beyond the traditional narrative. It was a Black History Month event, held in the Cannon House Office Building on February 28, 2017. The invitation noted,
Julian Bond described the master narrative of the Civil Rights Movement as, "Rosa sat down, Martin stood up, and the white kids came down and saved the day." This master narrative of social movements being won by individual heroes and large demonstrations does not serve young people well as they take on the challenges we face today. Students must learn to think critically about our nation's history and learn the lessons of social movements to make this a more just society.
Teaching for Change engaged Congressional staff in lessons from our publication, Putting the Movement Back into Civil Rights Teaching. We began with mythbuster questions about the Civil Rights Movement and then introduced our meet and greet lesson, "Stepping into Selma: Voting Rights History and Legacy Today." Participants stepped into the long history of the freedom struggle in Selma by taking on the identity of someone involved in one way or another in the Selma freedom movement.
Congressman Lewis also invited visiting museum educators to attend, including representatives from the National Civil Rights Museum in Memphis and the Children's Museum of Atlanta.
In the evaluations, participants noted that the session was enlightening and that they will spread the word to colleagues. Two comments were,
This is exactly what we need in a nation still full of systemic racism. Thank you.
I learned that it is important to take into consideration the ordinary people who were courageous.