Thank You Allyson Criner Brown
After ten amazing years, Allyson Criner Brown is leaving her role as Teaching for Change associate director and Tellin' Stories program manager to embark on a new career at the D.C. Department of Energy and Environment.
Allyson is one of the most creative, dedicated, visionary, hard working, and joyful people our team has worked with. She has made a positive and lasting impact on every aspect of the organization.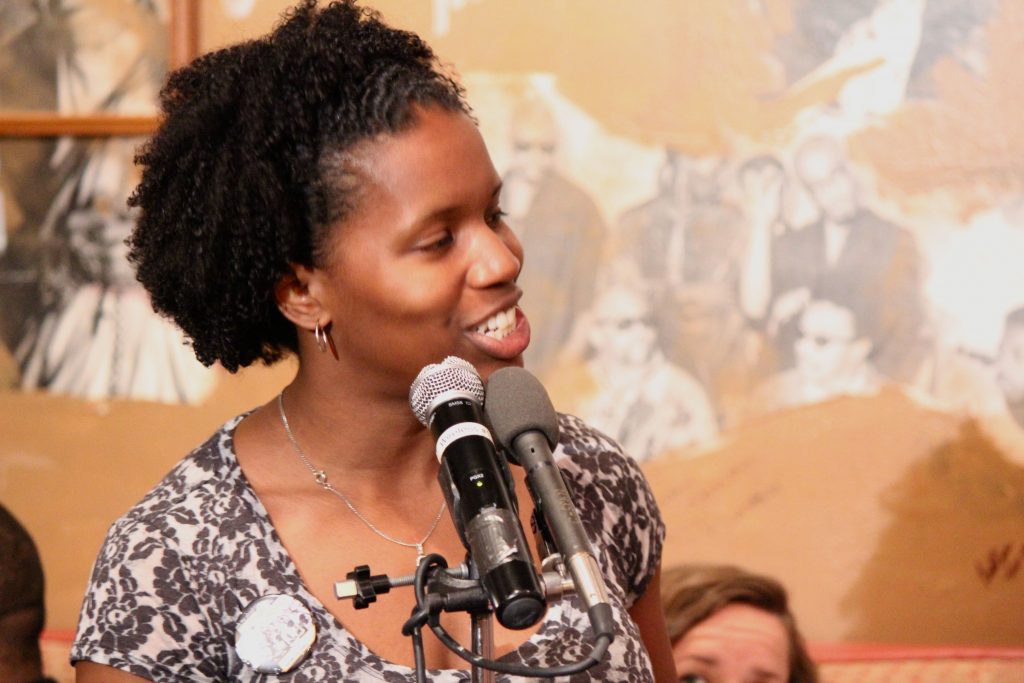 Thankfully, she is staying in the D.C. area. We look forward to collaborating with Allyson in her new role with D.C. government and her ongoing role as a DCPS parent.
It is impossible to summarize all Allyson has accomplished in her ten years at Teaching for Change, so we are simply sharing some highlights.
---
On Stage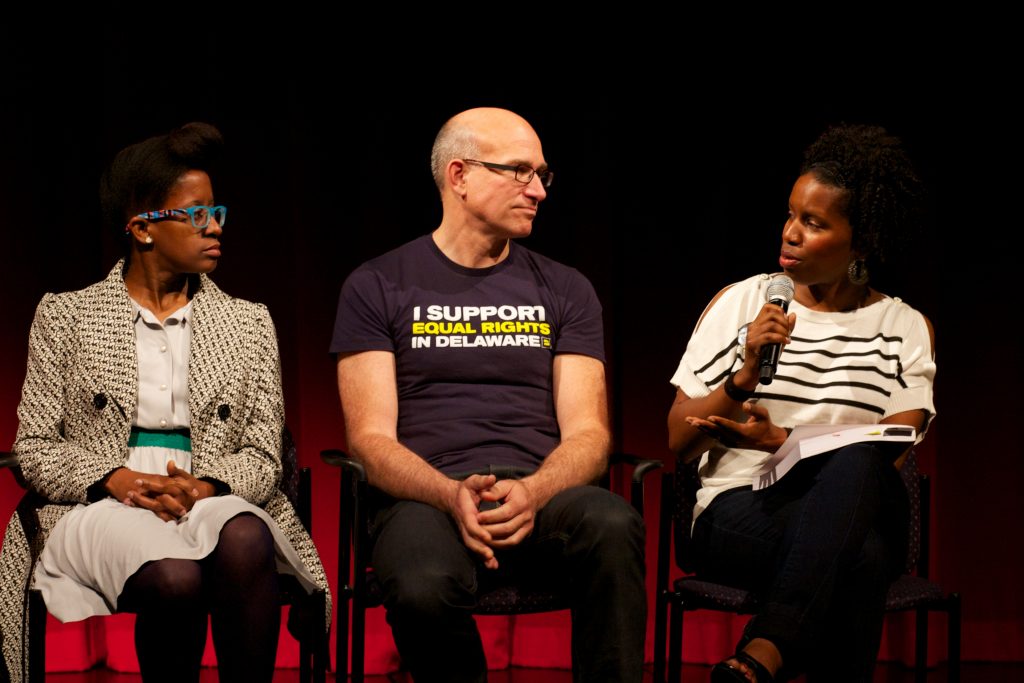 As the most accomplished public speaker on staff, Allyson frequently represented the organization. Here are just a few examples:
In a post-show panel discussion on civil rights called "The Baton Passes On: After The Mountaintop" as part of Arena Stage production of The Mountaintop, Allyson joined Holly Bass (poet/performer) and Marty Rouse (Human Rights Campaign National Field Director) on stage. Photo above from the event, by Ryan Maxwell, May, 2013.
At the Atlas Theater, Allyson took the stage in May of 2014 as one of five featured speakers for the Teacher Appreciation Week After School Special Speakeasy. Enjoy her presentation, followed by Clint Smith, below.
Allyson joined childhood literacy advocate LeVar Burton, James Baldwin's niece Aisha Karefa-Smart, and Judith Thurman of The New Yorker for a panel about Baldwin's Little Man, Little Man at the National Museum for African American History and Culture (NMAAHC)  in December of 2018.
In 2014, the Smithsonian's Anacostia Community Museum hosted the "Revisiting Our Black Mosaic" symposium with Allyson, labor activist Bill Fletcher Jr., and others on the "Black-Brown Coalition Building" panel.
---
Media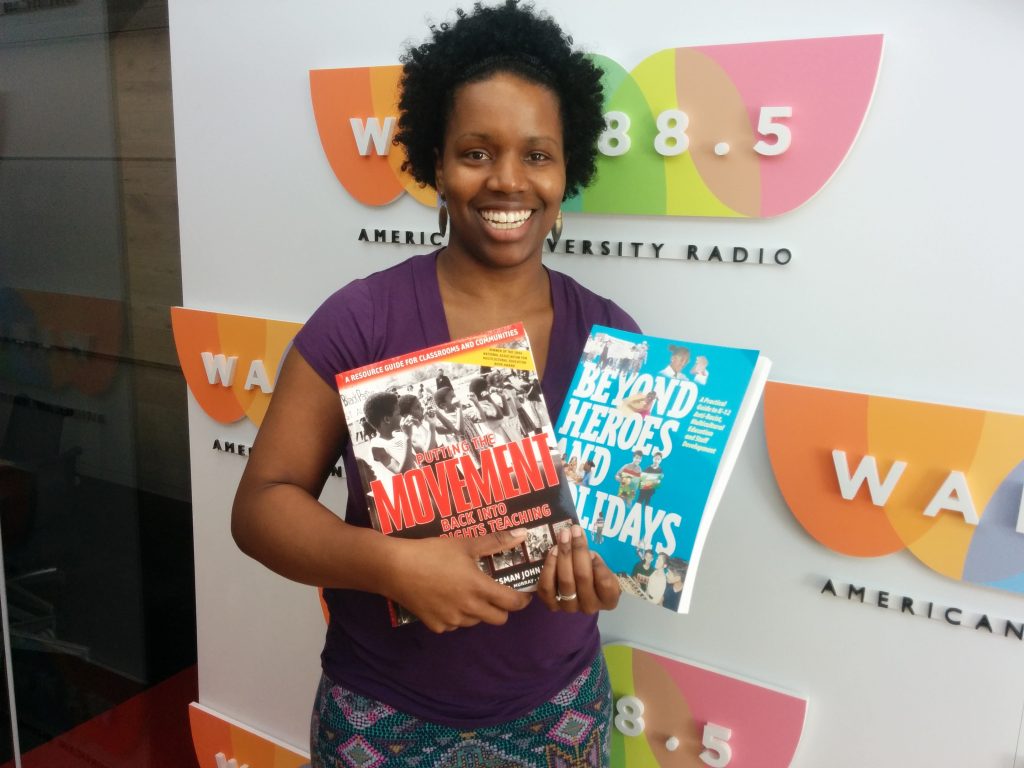 Allyson was frequently interviewed for both print and online media. Here are just a few examples.
The traditional model for parent engagement is built around a white, suburban, middle-class model that says parents can be fundraisers, chaperones, members of parent-teacher associations—or come to parent-teacher conferences or back-to-school nights and read to their child at home. For the families we work with, mostly low-income families of color, that is just not the most effective model.
Educators can start by teaching Black history all year long as U.S. history. We have to interweave timelines, events, people, and perspectives — and not just those of African Americans. If you are teaching an accurate narrative of U.S. history, then African American, Native American, Latino, Asian American, and European American history should be front and center throughout.
This is a country, she said, that wants to believe that the United States started as the land of the free and the home of the brave. The nation didn't start like that for everyone. So, as much as we struggle with it, how to then have these difficult conversations with our children with things that we're wrestling with ourselves, I think is very tough for a lot of people.
---
Publications and Video Series
Allyson Criner Brown produced, edited, and had her writing included in a number of publications during her tenure at Teaching for Change, including the ones listed below. The first three were published by Teaching for Change:
---
Fundraisers and Celebrations
Ever cognizant of the need to not only raise funds, but also to celebrate milestones and bring the Teaching for Change family together, Allyson was the lead organizer of memorable events including,
D.C. area allies and supporters gathered for 25 Live in June of 2016 with Allyson as the MC for the evening at Busboys and Poets in Brookland.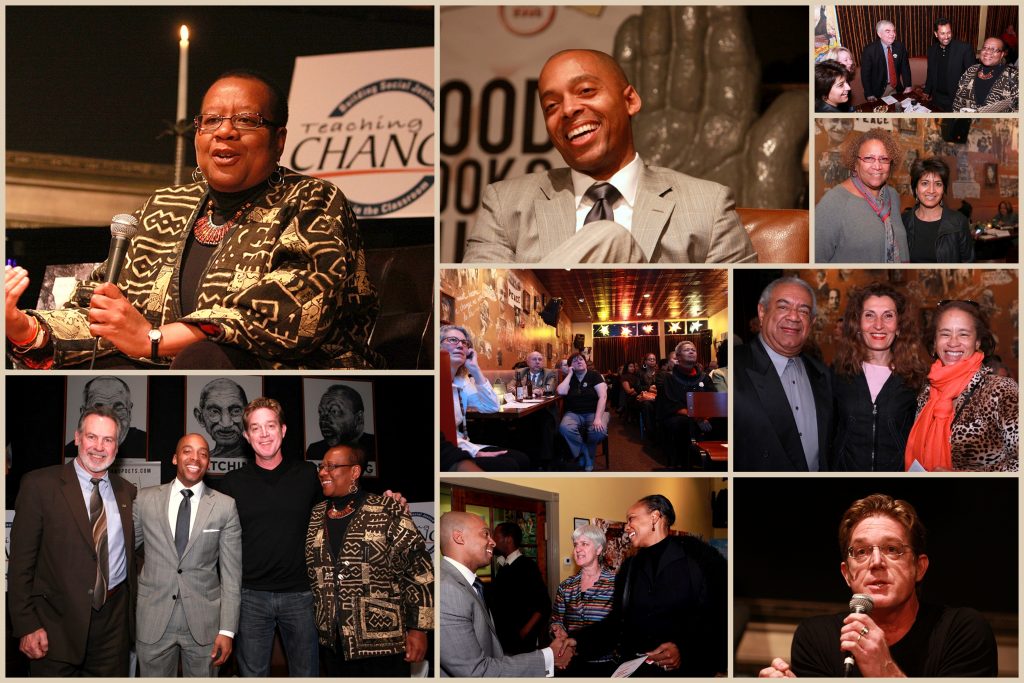 ---
Author Interviews and Panels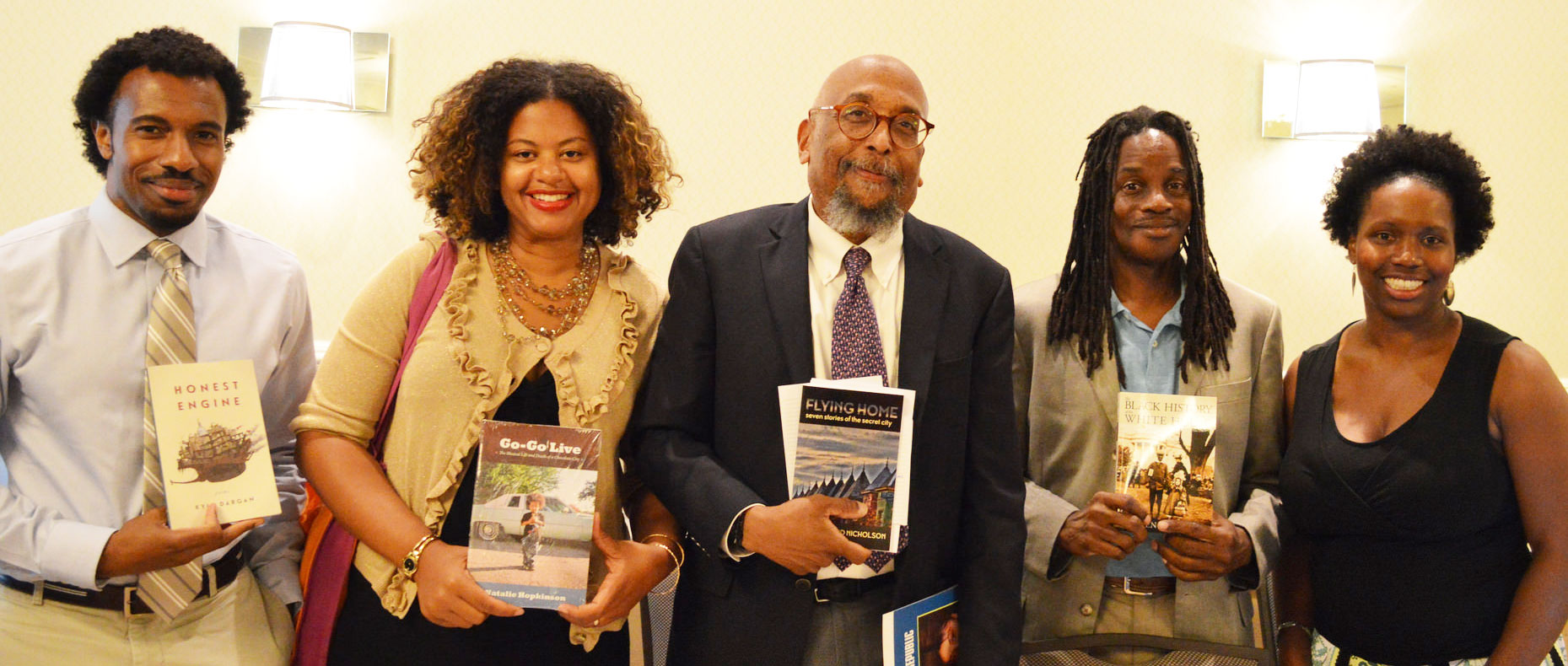 In addition to being a featured speaker, Allyson moderated panels and interviewed authors, particularly when we hosted all the author events for our Teaching for Change Bookstore at Busboys and Poets. Here are a few examples:
---
Professional Development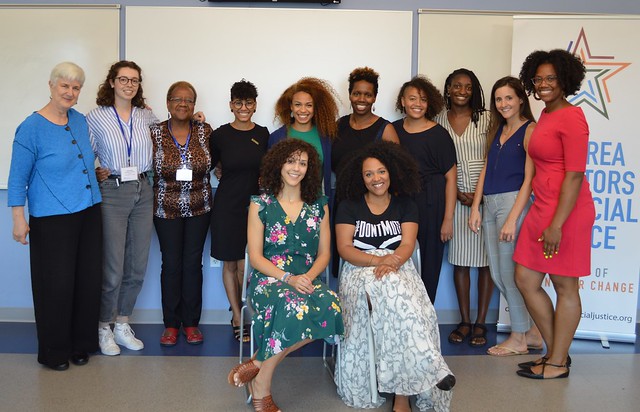 In addition to the teacher workshops in the Tellin' Stories Project, Allyson co-designed and led workshops locally and nationally, including:
---
Tellin' Stories

It would take a book to describe all that Allyson did to nurture and build the D.C. based and nationally recognized Tellin' Stories Project of Teaching for Change. She made sure that all the work included a combination of racial equity, popular education, family engagement research, and community organizing. Allyson was the drive behind a team of organizers who carried out the day-to-day work in schools, while also reflecting on lessons learned to share regionally and nationally through professional development and publications. (This while doing all the other work described in this post!)
---
Much More
We can't count all the times that Allyson testified at public hearings, dating back to soon after she started when the district was closing schools.
Allyson played an active role in the Teach the Beat initiative on go-go, starting in 2011 with a teacher workshop at the Anacostia Museum up to hosting and documenting one of the last school visits before the pandemic, with Ju Ju at Moten Elementary School.
As the lead liaison with the Teaching for Change board of directors, Allyson prepared meetings in collaboration with the board chair and organized detailed orientations for new board members. As is clear from the photo below, she also made the meetings fun.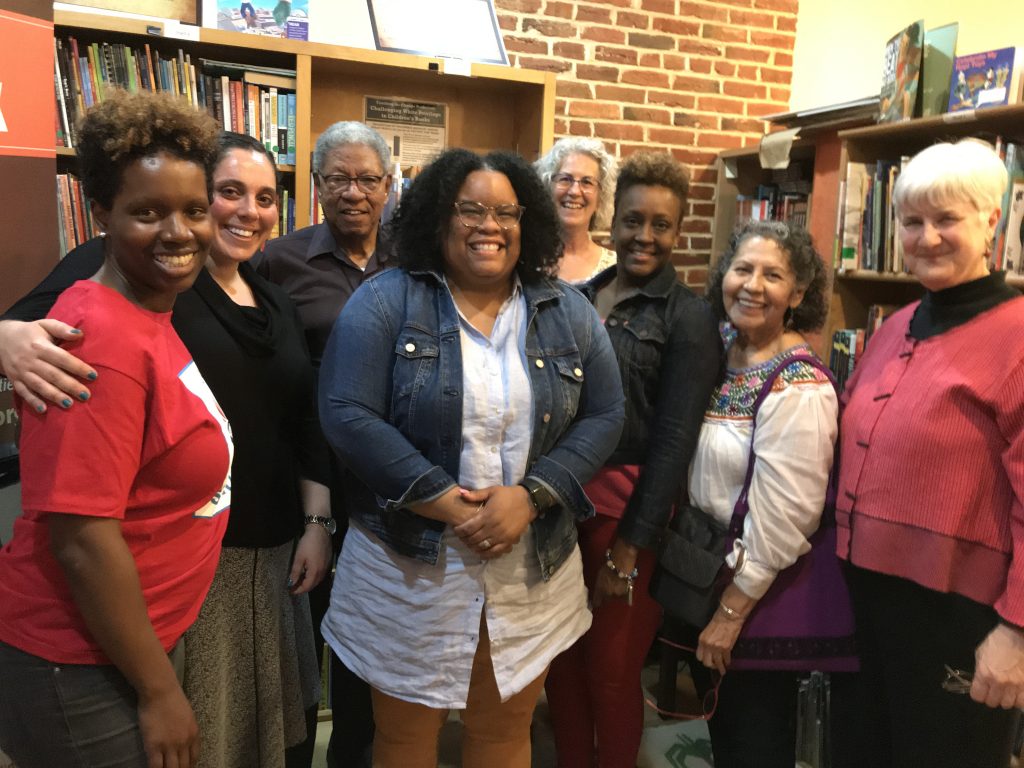 In a behind the scenes role, Allyson was in charge of human resources. That meant that she interviewed and processed the paperwork for almost every person on our staff over the past ten years, including all the bookstore staff pictured below. She also planned highly interactive staff meetings and was responsible for engaging the board and staff in strategic planning.
---
Photo Album
Posted: November 21, 2020