The Go-Go Beat in Washington D.C.: Developing Classroom Lessons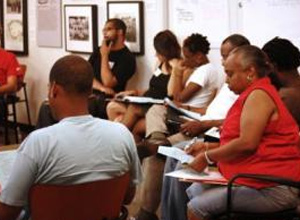 On July 9, 2011, the D.C. community convened for a beat, the Go-Go beat. The Smithsonian Anacostia Community Museum hosted Evolution of the Go-Go Beat in Washington, D.C., the second program in a series devoted to Washington, D.C.'s homegrown genre of music. Go-Go music, the history of which has been carefully chronicled in The Beat! Go-Go Music from Washington, D.C., has West African roots and is recognized for its infectious heartbeat-based rhythm courtesy of its signature instruments, the congo, cowbell, and drum.
Kip Lornell and Charles Stephenson, Jr., co-authors of The Beat!, invited the D.C. community-at-large to listen to talks from Go-Go artists.
Sweet Cherie, Howard University Graduate and keyboard player of the all-female Go-Go band Be'la Dona, spoke highly of the Go-Go community describing it as "family." Having just returned on a red-eye flight from a performance with the Godfather of Go-Go, Chuck Brown, in North Carolina, she warmly presented several audio recordings evidencing Go-Go's past and continued employ in other musical genres like R&B, Pop, and Gospel. The audience's response ranged from toe-tapping to nostalgic grins as Sweet Cherie played excerpts of Grace Jones' Slave to the Rhythm, Jill Scott's It's Love, Beyonce's Crazy in Love, Kirk Franklin's Before I Die, Karen Clark Sheard's Prayed Up, Cee Lo's I'll Be Around, Kelly Rowland's Bump Like This…the list goes on like the beat.
Gregory "Sugar Bear" Elliot, lead talker and bass player of Experience Unlimited (E.U.), whose '80s hit, "Da Butt" featured in Spike Lee's School Daze and gave Go-Go music one of its first national platforms, detailed the group's quick rise from playing in small local Go-Go venues to performing in 20,000-person capacity stadiums. He also expressed disappointment with the school system's removal of music programs from public education claiming "there may be many Miles Davises among us, but we'd never know it" for the lack of access to standard musical training.
Similar to the sun's unrelenting blaze on this hot D.C. afternoon, Faycez U Know gave a smoking live performance on the grassy area of the Anacostia Community Museum's grounds as approximately 20 teachers stayed indoors to attend to the business of developing a Go-Go curriculum. The goal of the meeting, led by Teaching for Change, was to build a collaborative community of educators who will develop, field test, and promote lessons centered on Go-Go.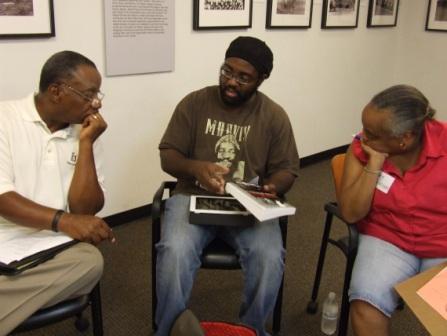 Teachers separated into groups of three to brainstorm interactive and effective ways to address the five core areas of knowledge based on Go-Go music and using The Beat! Go-Go Music from Washington, D.C. as a primary textual source. As the teachers regrouped, they shared many well-constructed ideas inspired by the homegrown sound. Three teachers (Michele Bollinger from Wilson Senior High School, Monét Cooper from Capital City Public Charter School, and Michael Bolds from Cesar Chavez Public Charter School for Public Policy) talked about engaging students in a long-term multi-media project in which the students would create documentaries to include original photos, interviews, and primary documents. Felecia Wright from Anacostia High School thought students could use research and critical thinking skills to explore the relationship between Hip-Hop and Go-Go including why one has gained more national attention and the relationship between the musical/cultural forms.
Reginald Dwayne Betts, a creative writing teacher, will entitle his lesson Rhetoric: The Art of an Illusion, exploring incidents of violence and Go-Go's perceived association with them. Payne Elementary School teacher Mary Johnson is planning a lesson, The Language of Go-Go: Poetry and Figurative Language, Regional Language, Biography, and City Culture. Other ideas that surfaced included developing a business plan to promote a band as well as creating the social media and publicity for the band. Students would also learn some aspects of marketing by creating web pages, flyers and other promotional materials.
Teaching for Change Associate Director, Allyson Criner, ended the gathering by asking teachers to name a student they will have in mind as they develop their ideas into actual lessons plans.
The lessons will be field-tested. Teachers can still get involved by emailing teachthebeat@teachingforchange.org

---
Adapted from an article submitted to The Washington Informer by Melanie Henderson.