The Tellin' Stories Race, Equity, and Family Engagement 2018-2019 Seminar Series
September, 2018 – May, 2019
All Souls Church Unitarian | 1500 Harvard St, NW | Washington, D.C.

Applications coming soon.
"It will be worth it. It will actually surpass your expectations. I walked into this thinking, 'This is going to be good.' And it totally blew my mind!"
– Keris Lee, 2017 Summer Institute
The Tellin' Stories Race, Equity, and Family Engagement Seminar Series will prepare participants to apply an asset-based lens to family engagement that is grounded in popular education, community organizing, racial equity, and effective practices in family engagement.

GOALS

The overarching goal of the Tellin' Stories Race, Equity, and Family Engagement Seminar Series is to bring teachers and staff from local schools together to develop meaningful family engagement strategies for their communities.  The goals for the 2018-2019 seminar are for participants to:
Learn, share, and develop strategies, tools, and approaches to effectively engage families at their schools.
Examine how race, class, and equity impact family engagement and their own practices as educators.
Be prepared to be leaders and advocates for family engagement in their schools.

PARTICIPATE IN THE 2018-2019 SEMINAR SERIES

Cost:
Participants:
Teachers, counselors, school administrators, and school-based parent coordinators and liaisons from Title I elementary schools. Educators from public and public charter schools in the D.C. metro area are welcome and encouraged to apply.
Dates:
Workshops are on Thursdays from 8:45am to 12:30pm at All Souls Church Unitarian, located at 1500 Harvard St NW, Washington, D.C. (Columbia Heights metro on the Green/Yellow line). There will be six workshops in September, October, November, January, March, and May.
Credits:
DC Public Schools teachers may receive 1 PLU per hour (up to 22 PLUs) for successfully completing the series. Participants from other school districts and LEAs may arrange to receive credit according to the LEA's requirements.
Application:
Questions?
Email Erika Landberg at elandberg at teachingforchange.org for more information or call 202-588-7204 x31

BACKGROUND

Teaching for Change has a unique approach to parent engagement that begins with community-building as the basis for leadership and collective action. When parents feel welcome and are approached as valued partners in education, their children tend to do better in school. When schools work with families to develop connections, families become powerful allies and advocates for public education. Teaching for Change prepares parent coordinators, principals, teachers, and school staff to work with parents to create school environments that promote equity, collaboration, and student excellence.
Teaching for Change has been recognized by the Harvard Family Research Project's National Family, School, and Community Engagement Working Group as one of the most effective approaches in the country for engaging traditionally marginalized parents (2010), and in the past several years has been written about in Education Week, Rethinking Schools, ThinkProgress, Education Leadership, and The Atlantic.
The Tellin' Stories Race, Equity, and Family Engagement Seminar Series is funded with support from the W.K. Kellogg Foundation and the Morris & Gwendolyn Cafritz Foundation.

COMMENTS FROM PARTICIPANTS IN THE 2016-17 SEMINAR SERIES AND THE 2017 SUMMER INSTITUTE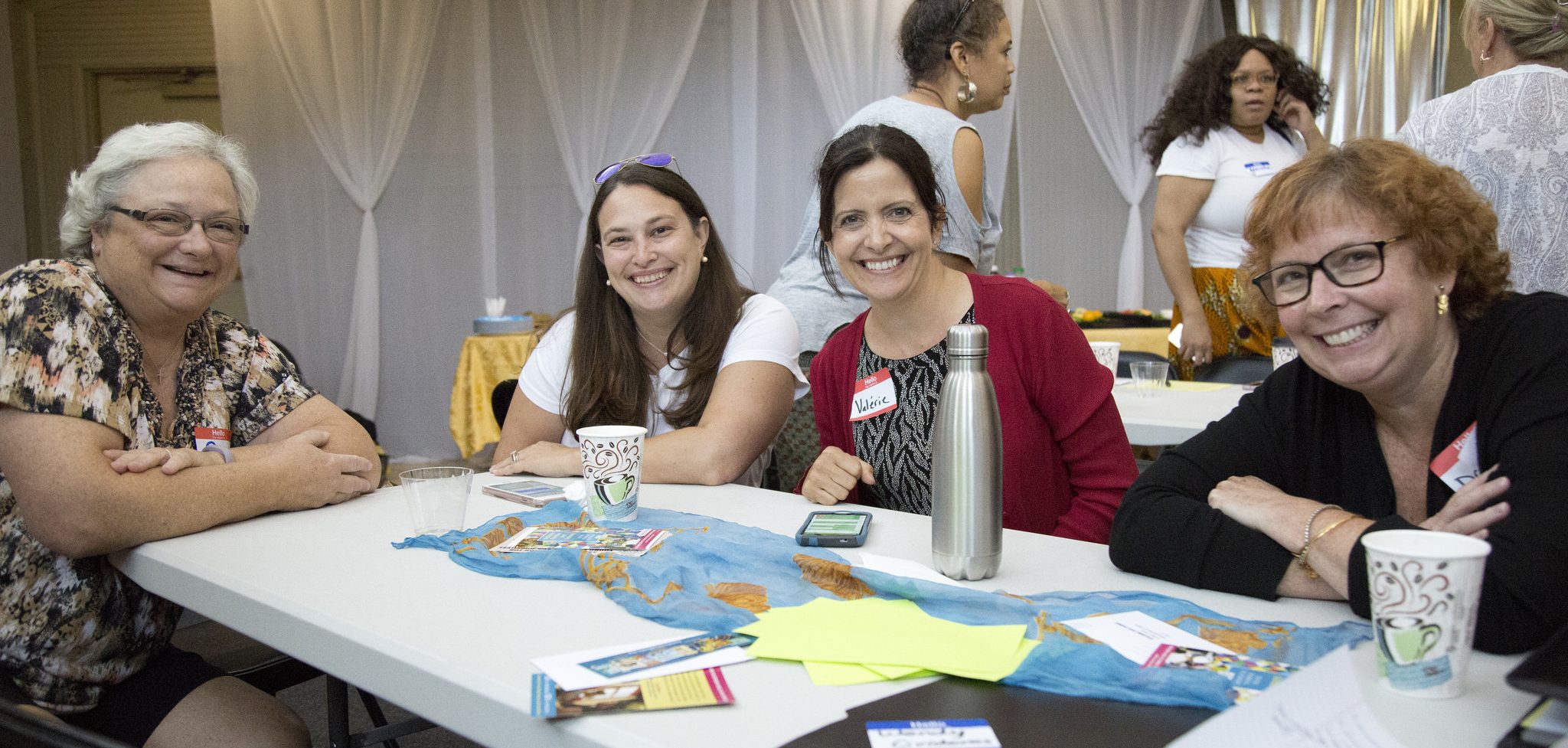 ---
I have loved this course. It has been a true eye opener and I now preach the gospel of social justice and anti-bias education to everyone. I have been able to have some of the more difficult conversations about racism, classism, etc. with my own students as well as my colleagues. I wouldn't alter anything about the course, and I love that you're making every effort to turn education into action.
---
This has been a really thought-provoking and supportive environment.
---
I feel more inspired to make sure that I am using effective practices so that families feel confident and empowered. That I am enabling them to feel, 'I am a part of this school, my voice matters here.'
---
I got a new awareness of how much teachers are valued by parents and the importance of understanding cultural difference in education.
---
I liked learning about the parent perspective and how they view schools, teachers, and principals.
---
We all need to be cognizant of classism and racism in schools and curriculum, even when unintentional.
---
I would summarize this experience as very enlightening, affirming, and practical.