The Tellin' Stories Race, Equity, and Family Engagement Summer Institute
July 17-21, 2017 | 10am – 2pm |
Thurgood Marshall Center | 1816 12th St NW | Washington, D.C.

Registration is now closed.
Teaching for Change has developed a highly successful approach to family engagement which successfully addresses the limitations of a one-size fits all approach. Tellin' Stories has been recognized by the Harvard Family Research Project's National Family, School, and Community Engagement Working Group as one of the most effective approaches in the country for engaging traditionally marginalized parents (2010), and in the past several years has been written about in Education Week, Rethinking Schools, ThinkProgress, Education Leadership, and The Atlantic.
Tellin' Stories is a unique approach to parent engagement that begins with community building as the basis for leadership and collective action. When parents feel they have the power to change and control their circumstances, their children tend to do better in school. When schools work with families to develop connections, families become powerful allies and advocates for public education. Teaching for Change prepares parent coordinators, principals, teachers, and school staff to work with parents to create school environments that promote equity, collaboration, and student excellence.
With support from the W. K. Kellogg Foundation and the Morris & Gwendolyn Cafritz Foundation, Teaching for Change will host an inaugural, national summer institute on race, equity, and family engagement.

2017 SUMMER INSTITUTE

Cost:
Participants:
Teachers, counselors, school administrators, and school-based parent coordinators and liaisons from Title I elementary schools. Educators from public and public charter schools in the D.C. area and across the country are welcome and encouraged to participate.
Credits:
DC Public Schools teachers may receive 1 PLU for successfully completing the summer institute. Participants from other school districts may arrange to receive credit towards their professional learning according to district requirements.
Application:
Almost full! Submit online application for the summer institute by June 30, 2017. Applicants will be notified within two weeks of registration.
Questions?

CONTENT AND SEQUENCE

The Tellin' Stories Race, Equity, and Family Engagement Summer Institute will teach participants to apply an asset-based lens to family engagement that is grounded in popular education, community organizing, racial equity, and effective practices in family engagement. Workshop topics will include:
Racism and Classism: Building Context for Families' Experiences with School
A Step Further: Utilizing Privilege, Creating Connections, and Working toward Justice with Families
Developing Relationships and Meeting Families Where They Are
Connecting Family Engagement to Academic Success
Now More than Ever…Re-committing to Anti-bias Education*
* The Tellin' Stories Race, Equity, and Family Engagement Summer Institute will conclude with a special workshop by noted early childhood educator Katie Kissinger, author of Anti-bias Education in the Early Childhood Classroom: Hand in Hand, Step by Step and All the Colors We Are: The Story of How We Get Our Skin Color. Registration for this workshop, which will be open to the public, is included for participants in the Tellin' Stories Race, Equity, and Family Engagement Summer Institute.

PRAISE FOR THE TELLIN' STORIES PROJECT
OF TEACHING FOR CHANGE

"Tellin' Stories [a project of Teaching for Change] stands out for its capacity to create meaningful change for both families and schools. What is cutting edge in their work is the dual focus on building collaborative relationships among parents and school staff, and on improving student achievement."
— Anne Henderson, Annenberg Institute for School Reform and
co-author of Beyond the Bake Sale: The Essential Guide to Family-School Partnerships.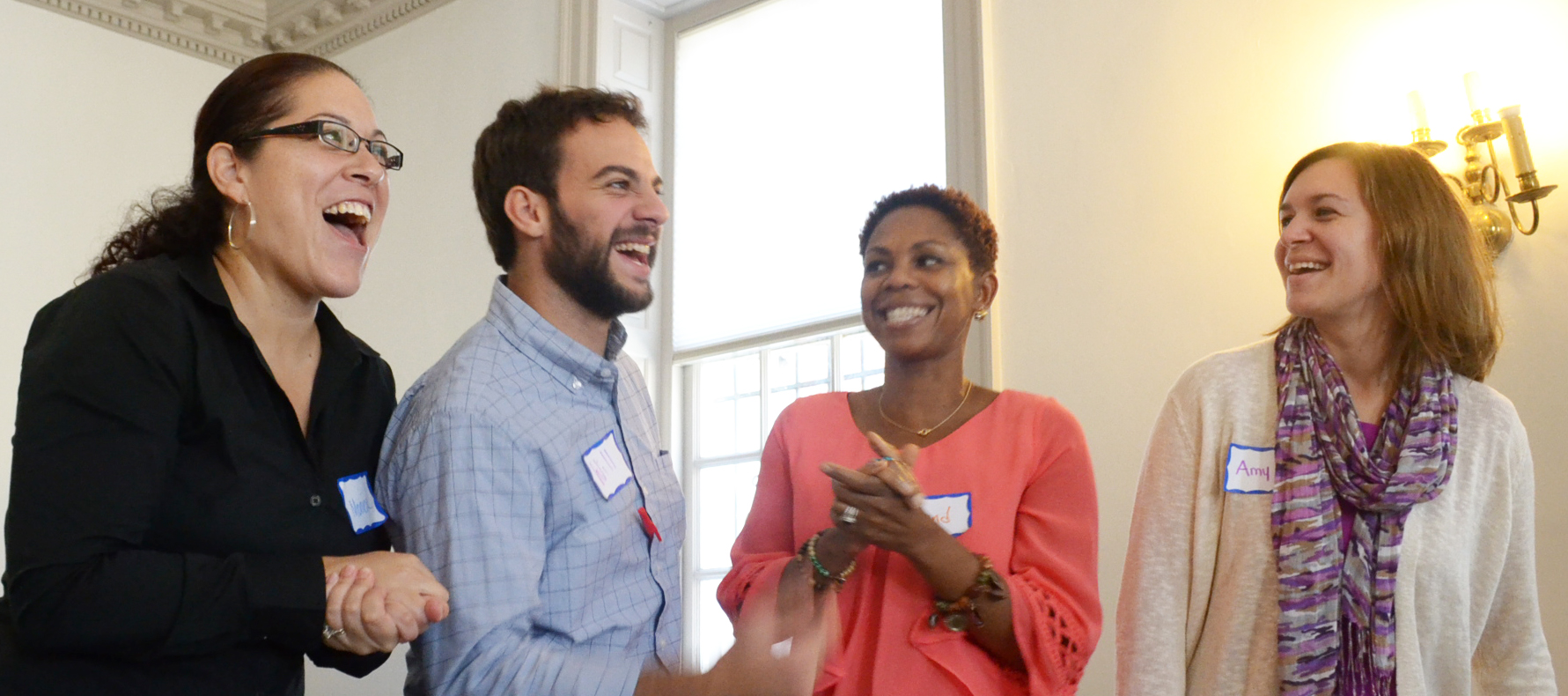 Reflections from DCPS teacher and staff participants in the Tellin' Stories Family Partners Training Series:
"This has been a really thought-provoking and supportive environment."
"We all need to be cognizant of classism and racism in schools and curriculum, even when unintentional."
"I got a new awareness of how much teachers are valued by parents, and the importance of understanding cultural difference in education."
"I liked learning about the parent perspective, and how they view schools, teachers, and principals."