The Tellin' Stories Race, Equity, and Family Engagement Summer 2020 Principal Institutes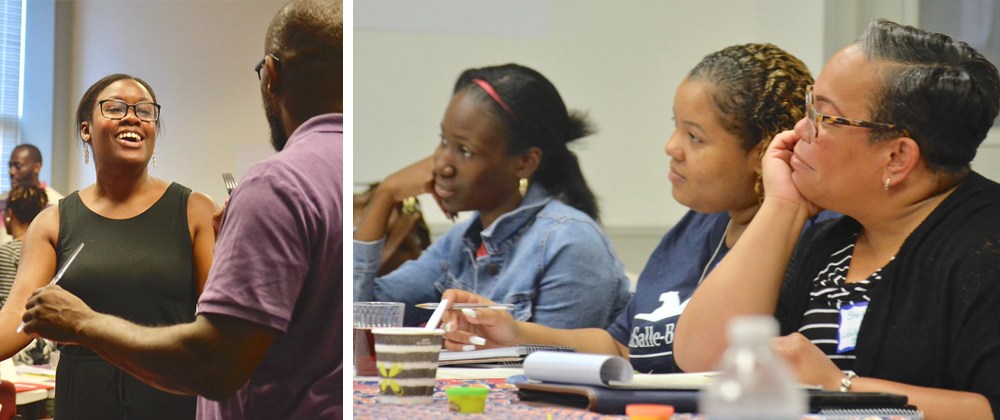 The Tellin' Stories Race, Equity, and Family Engagement Summer Institutes will prepare principals, assistant principals, and senior school-based administrators to apply an asset-based lens to family engagement that is grounded in popular education, community organizing, racial equity, and family engagement research.
The principal institutes are also the exclusive opportunity for school leaders to receive training in Teaching for Change's approach to monthly Parent-Principal Chats, and to receive a copy of the Parent-Principal Chats Manual (Teaching for Change, 2019).
June 30-July 2
SESSION 1
9am to 4pm | Washington, D.C.
July 8-10
SESSION 2
9am to 4pm | Washington, D.C.
July 22-24
SESSION 3
9am to 4pm | Washington, D.C.
Interested participants are encouraged to apply early. Applicants will be accepted and notified on a rolling basis. Registration will close when filled or by April 15, 2020.
(Download and share PDF flyer)
Summer institute topics will include:
Racism, Classism, and Equity Literacy: Building Context for Families' Experiences with School
Building Relationships and Meeting Families Where They Are
Connecting Family Engagement to Academic Success
Learning and Applying the Research on Equity and High Impact Family Engagement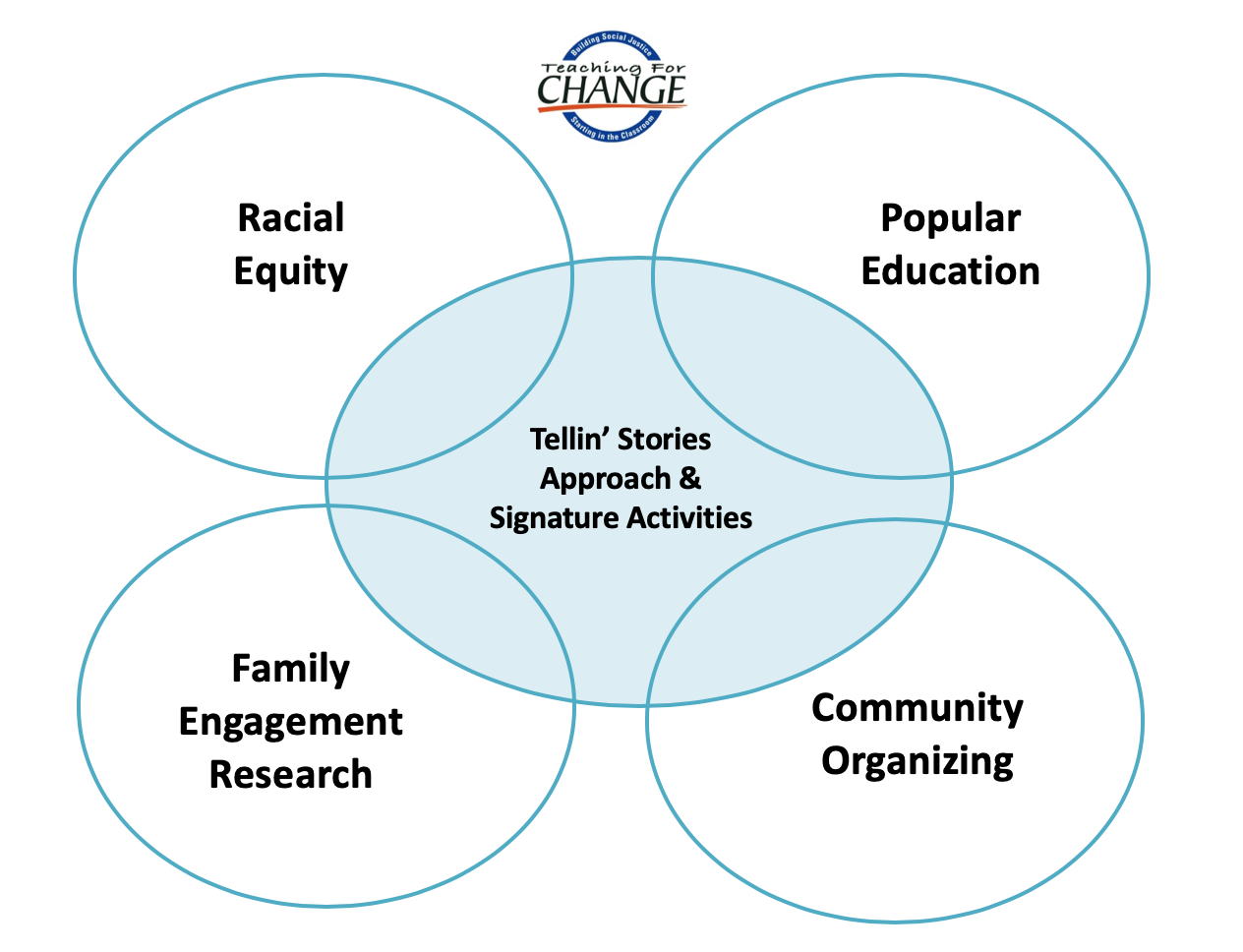 Teaching for Change has been recognized by the Harvard Family Research Project's National Family, School, and Community Engagement Working Group as one of the most effective approaches in the country for engaging traditionally marginalized parents (2010), and in the past several years has been written about in Education Week, Rethinking Schools, ThinkProgress, Education Leadership, and The Atlantic.

WHAT OUR PRINCIPALS SAY 

Teaching for Change partners with public schools in Washington, D.C. that predominantly serve students of color, immigrants, and lower-income families. Principals at our partner schools agree to hold monthly Parent-Principal Chats, and receive training, coaching, and materials (our Parent-Principal Chats Manual) to implement the activity using our approach.
Participants in the summer institute will receive similar training to implement family engagement strategies, including monthly Parent-Principal Chats. Here is what our school leaders (DCPS principals and assistant principals) say about the impact of holding these monthly meetings with parents using Teaching for Change's approach:
"The Parent-Principal Chats are planned with purpose and intentionality, with shared voice. We hear stories from parents and struggles that they have chosen to share which builds trust and community the way we haven't been able to before."
"I started adapting the format of the Chats to other parent interactions, trying to mirror the experience. (For example, ice breaker, saying something positive, getting to concerns.) They have helped me be more responsive instead of reactive with parents."
"There are more relaxing conversations with parents during monthly Chats. And it works both ways, we get to share info, and they get to bring things up that they want to talk about. Outside of Chats, often parents are coming to me with a problem or an issue that they have. I think we've gotten to a place where those interactions are happening with more positivity. But the Chat is different because it builds trust and relationships between staff and parents."
"Monthly Parent-Principal Chats allow parents to engage with other families and school leaders on all concerns and truly creates a sense of community."
School leaders at our partner schools also AGREE and STRONGLY AGREE that they see multiple benefits from holding monthly Parent-Principal Chats using our approach:
School leaders feel more comfortable and confident in their ability to engage parents
Engaging with parents in the monthly Chats influences/informs decisions school leaders make
Marginalized families (immigrant families and lower-income parents of color) speak up, ask questions, and actively participate
Families build stronger relationships and connections with each other
Parents learn more about the school and their children's academics

FEATURED RESOURCE: PARENT-PRINCIPAL CHATS MANUAL

Parent-Principal Chats are a signature activity of Teaching for Change's nationally recognized approach to family engagement, called Tellin' Stories. Parents, caregivers, and school leaders meet monthly as thought partners to learn from each other and exchange ideas about student learning and school improvement. The chats are a two-way dialogue whereby families and the principal listen, learn, solve problems, and share information with each other.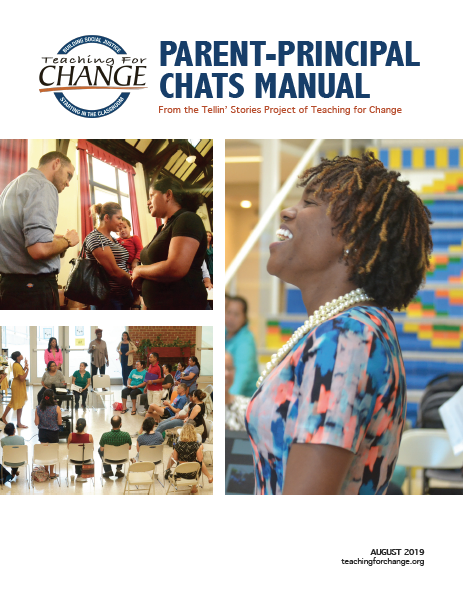 The Parent-Principal Chats Manual is only available to Teaching for Change partner schools, and school leaders who attend our Tellin' Stories Race, Equity, and Family Engagement Institute for Principals.
Some of the highlights of the Parent-Principal Chats Manual include:
Equity Checks
Agenda Guides
Language Access/Interpretation Guides
Favorite Ice Breakers
Sample Agendas
And more!
The Parent-Principal Chats Manual is a practical guide for school leaders that aligns with the Dual Capacity-Building Framework for Family-School Partnerships and combines the four tenets of Teaching for Change's approach: popular education, community organizing, racial equity, and family engagement research.

WHAT PARTICIPANTS SAID ABOUT THE 2019 PRINCIPAL INSTITUTE

"Teaching for Change's principal institute was an opportunity for me to reflect and grow as a person, and a great way to connect with school leaders from throughout the DMV to re-think some of our core tenets of family engagement, school culture, and staff development. I highly recommend it for any school leader who wants to come back to their schools with a fresh set of eyes and ideas." – Graham McBride, Arlington Public Schools
"The principal institute provided an opportunity to explore issues related to race and class to equip principals with tools to enhance parent engagement. The three-day training was planned very well and created opportunity for administrators to share ideas and network. Excellent experience!" – Drake Wilson, DC Public Schools
"I found this summer institute a very reflective, engaging, and powerful experience. It provided concrete and comprehensive strategies that I can implement in my school to ensure families engage with the entire school community." – Judy Seeber, Arlington Public Schools
"Agradezco de todo corazón el gran esfuerzo demostrado por el equipo del instituto de verano de Teaching for Change. A lo largo de estos tres días me han brindado no solo la oportunidad de colaborar con líderes de distritos escolares, sino también la oportunidad de reflexionar y mirar dentro de mí misma mis propios prejuicios y como impactan el apoyo que brindo a los padres." – Isabel Messmore, Arlington Public Schools
TRANSLATION: I appreciate with all my heart the great effort demonstrated by the Teaching for Change summer institute team. Over the course of these three days they have given me not only the opportunity to collaborate with school district leaders, but also the opportunity to reflect and look inward at my own prejudices and how they impact the support I provide to parents.
"Teaching for Change benefits all educators from any district or background. They offer something for everyone. The summer institute for principals provided excellent resources and opportunities to reflect on how to work with families as partners in the complex work of K-12 education." – Helena Chauvenet, DC Public Schools
"The Tellin' Stories principal summer institute by Teaching for Change helped shift my perspective on family engagement into a more inclusive and intentioned focus on involving all families." – James Welch, Arlington Public Schools

REGISTRATION INFORMATION

Participants:
Principals and assistant principals from public and public charter schools in the D.C. area and urban centers throughout the nation are welcome and encouraged to participate. Participants who may be eligible for a scholarship (see below) are strongly encouraged to apply early.
Cost:
$400 per participant. Participants will receive a copy of Teaching for Change's Parent-Principal Chats Manual, a practical guide to implementing monthly roundtables with parents at your school.
Scholarships:
A limited amount of full tuition scholarships are available to educators from DCPS schools located in Wards 7 and 8.
Credits:
All participants will receive a certificate upon successful completion, and may arrange to receive credit towards their professional learning, per LEA requirements. DC Public Schools educators may receive up to 21 PLUs for successfully completing the summer institute.
Location:
Thurgood Marshall Center for Service and Heritage at 1816 12th Street NW, Washington, DC. A limited amount of affordable housing options may be arranged for out of town registrants. Breakfast and light refreshments will be provided, as well as an hour-long break for lunch.
Apply Online:
Questions?
Teaching for Change's family engagement approach appears in: