Tull Family Fundraiser Features Judy Richardson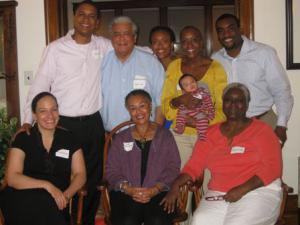 On Saturday, October 2, 2010, Knox and Brenda Tull opened the doors of their Washington, DC home to host a fundraiser for Teaching for Change's 20th Anniversary. With Judy Richardson — Student Nonviolent Coordinating Committee (SNCC) veteran, Eyes on the Prize filmmaker, and co-editor of a new book detailing personal narratives of women in SNCC — as the special guest, the house was packed. Friends, family, and supporters were excited to hear Ms. Richardson's personal journey through the 1960s as an activist in one of the most influential student organizations of all time.
Knox Tull first met Judy Richardson in DC at the Drum and Spear Bookstore which was created by SNCC veterans to serve as a source of reliable information about the people, culture and history of the African Diaspora. His daughter, Teaching for Change board member Nzinga Tull, reported "The house party was a wonderful affirmation that folks from so many of my 'communities' — family, friends and neighbors, activists, education advocates, artists and history buffs — all have a vested interest in the work of Teaching for Change."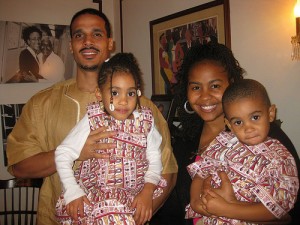 After drinks, dinner, and conversation, we gathered to hear Ms. Richardson speak about her experiences as a young woman in the Civil Rights Movement. She shared stories from the just released book she co-edited, Hands on the Freedom Plow: Personal Accounts by Women in SNCC and spoke about her involvement in the movement. Ms. Richardson also engaged in dialogue with the guests about what it meant to be a young woman organizing for social change in the 1960s and how Teaching for Change's education programs and independent bookstore are critical in addressing social justice issues today.
"You haven't just joined an organization. You've joined a family," Richardson says about her SNCC orientation. A similar sense of family was in the air at the Tulls' home that night, with multiple generations sitting together in the living room learning about the history of the movement from someone who lived it firsthand. With tales of violence and terror mixed in with humor and organizational politics, Ms. Richardson had everyone listening with rapt attention and amazed at her courage.
From the sit-ins to the Freedom Rides to Freedom Summer, SNCC volunteers led the charge for desegregation and full citizenship rights by putting their lives on the line. Though Judy Richardson is not a name many learned about when studying the Civil Rights Movement in school, she and many like her played a vital role in shaping the outcome of the movement. Teaching for Change provides classroom resources to help teachers across the country go beyond the three heroes of the Civil Rights Movement and teach a people's history that includes the stories of "ordinary" people like Ms. Richardson (who are really extraordinary, as we learned at this house party) and the true complexities of the movement.
Ms. Richardson agrees, explaining that "what Teaching for Change does is similar to what teachers did in the Freedom Schools in Mississippi and Alabama. It is talking about: 'how do you envision a new world? How do you envision a world different form the one you're living in now? And what responsibilities do you have to take to change that world?' Because if you do nothing, nothing changes."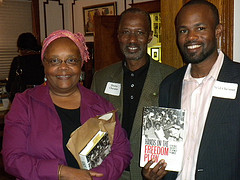 At the event, Teaching for Change sold over 30 copies of Hands on the Freedom Plow and raised over $2,900 in donations to help sustain our work. If you would like to host a house party like this to support Teaching for Change, email Allyson Criner. Or join us at upcoming author events.
See more photos from the event.
On October 5 Ms. Richardson joined some of the co-editors and contributors at Busboys and Poets for a talk about the book. Watch it here on C-Span's BookTV.