Turning the Tables on Parent-Teacher Meetings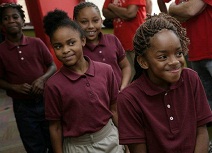 Dec. 29, 2011 – On a chilly, rainy Wednesday evening in October, more than 50 parents filled the Orr Elementary School library in Southeast Washington, D.C. to have an open dialogue with their children's teachers about academics and expectations. The premise was simple: bring parents and teachers together to learn from each other and discuss strategies to support student learning at home and in the classroom. The event was a Grade Level Dialogue, a tool from the Tellin' Stories Project, Teaching for Change's nationally recognized approach to meaningful family-school engagement. Over the course of two days, nearly 100 parents attended dialogues for their children at Orr ES in D.C.'s Ward 8.
Grade Level Dialogues are conversations between parents and teachers regarding shared expectations, classroom rules, school procedures, parent and school academic goals and standards, and other issues relevant to the academic success of the children. These dialogues are preceded by a 6-week quilting session where parents share stories about their aspirations for their children and surface questions they have about their child(s)' formal education. [Photo above: Orr's principal with the quilt made by Orr families.]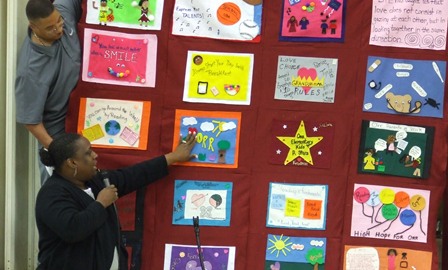 Traditionally, parent and teacher interactions are mostly one-sided – Back to School Night and parent-teacher conferences are prime examples – with the teacher's voice leading and often dominating the conversation. Grade Level Dialogues are unique in that they create an informal but structured opportunity to improve relationships between parents and teachers where they can listen to concerns and find solutions to support each other. Family engagement experts Anne T. Henderson and Karen L. Mapp note that: "Effective connections embrace a philosophy of partnership where power is shared—the responsibility for children's educational development is a collaborative enterprise among parents, school staff, and community members" (SEDL, 2002).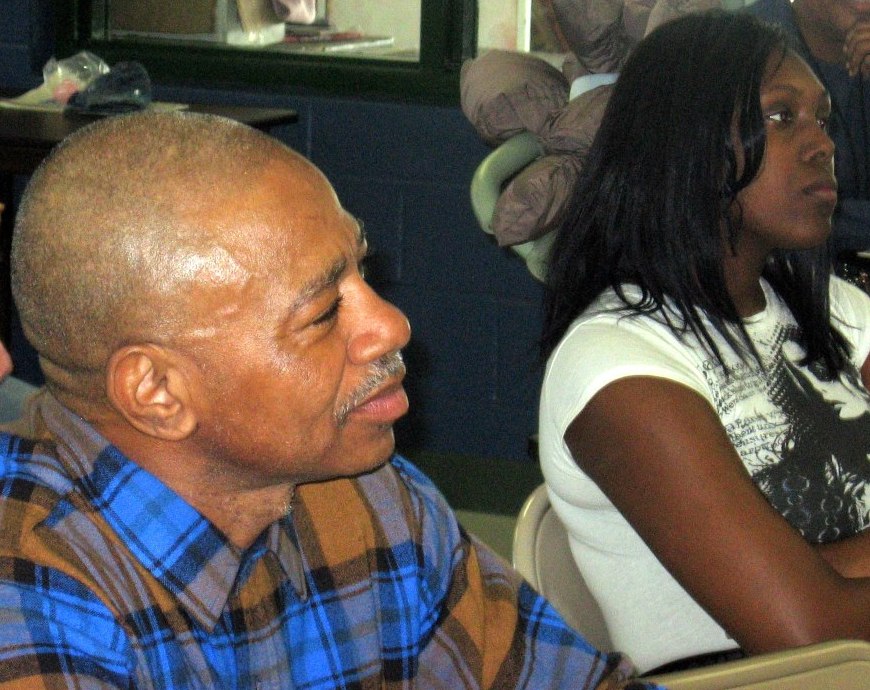 Parents and teachers at Orr ES began the dialogues by sharing what made their educational experiences positive, challenging, emotional, sad, and hopeful. The stories were powerful – parents'
triumphs and struggles included earning multiple masters' degrees, being homeless, moving away for college, receiving their GEDs, and going back to school to earn bachelors' degrees. Teachers' stories ranged from being in the Olympics to coming from an abusive home, and from getting pregnant at an early age to advocating for siblings  to learn despite their disability. Community building is at the heart of the Tellin' Stories approach, and the relationships formed that evening helped teachers and parents build trust and form stronger relationships.
After the education stories were shared, the teachers discussed what students were doing in the
classroom. Mrs. Jefferson, a Kindergarten teacher, showed parents a typical day in her classroom through photographs. Parents saw their children reading books to one another, writing, listening to a read aloud and going through their daily routines. One parent stated the best part of the evening was seeing what her child was doing academically during the school day.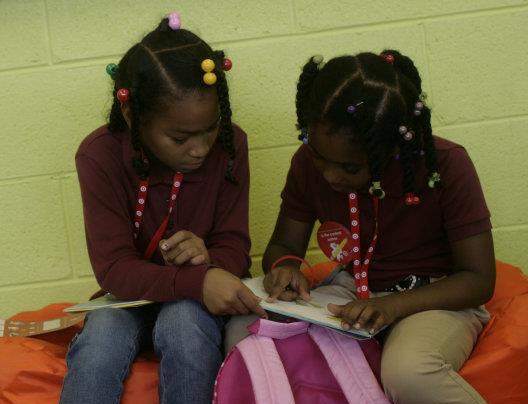 Ms. Mercer, a fourth and fifth grade teacher, discussed reading levels. Diverging from a simplistic explanation, Ms. Mercer showed parents the difference between a 2nd grade level book – which some students were currently reading – and a 5th grade level book, which the whole class should be reading by the end of year. Parents noticed the difference in pictures, text size and the amount and length of pages in each book. Ms. Mercer gave parents refrigerator magnets with questions and strategies for parents to ask their children while reading at home.
In other dialogues, parents and teachers worked through math problems, explored the new pre-K and kindergarten curriculum, reviewed homework expectations, shared helpful websites, played math games, and enjoyed raffles, food and laughter. Ninety percent of parents surveyed said, "I
learned strategies to help my child at home."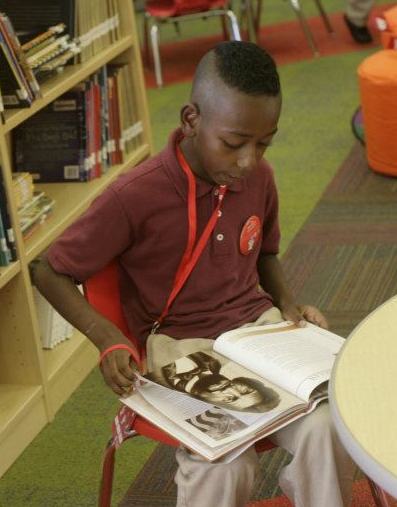 Parents also had questions for the school. One parent asked, "Why doesn't my child know her own history, especially since she lives and goes to school in Washington D.C.?" In each dialogue, parents inquired about enriching field trips. They requested more exploratory learning, geography, and hands-on science. Parents also raised concerns about penmanship and cursive handwriting.
Orr's principal, Michelle Edwards, took the parents' concerns seriously. As parents voiced their questions and concerns in each session, Edwards vowed to implement changes.
In the end, over 100 parents attended Grade Level Dialogues at Orr ES to converse with their
children's teachers and many liked the unique format of the dialogues, in which parents and teachers are equals as participants. One veteran teacher said that in the past she was surprised if more than five parents attended a parent-teacher conference. Of the parents who were surveyed, 94% reported, "I enjoyed coming to today's dialogue with my child's teacher," and 83% of parents said, "This meeting helped me form relationships with my child's teachers."
Orr's teachers also gained important knowledge, comfort, and understanding from the parents to
foster student success. From the teachers surveyed, 80% percent said "I received
information from parents that will help me serve my students and their needs
for academic success," and "This dialogue helped me strengthen relationships with parents."
Over the course of two days in Ward 8 the bottom line was clear: neither teachers nor parents can do it alone. But, as partners, they can make student success a reality.
---
The Tellin' Stories Project at Benjamin Orr Elementary School is funded in part through generous grants made by from The Morris and Gwendolyn Cafritz Foundation, the DC Children and Youth Investment Trust Corporation, and an anonymous foundation.
Posted: December 29, 2011