Undocumented and Unafraid: Sharing Stories, Transforming Hearts and Minds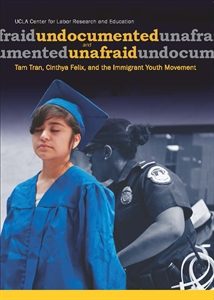 The seats, benches, and every space on the floor were filled with eager listeners for the book launch of Undocumented and Unafraid: Tam Tran, Cinthya Felix, and the Immigrant Youth Movement at Busboys and Poets, co-hosted by Teaching for Change, on Aug. 20, 2012.
The event opened with a short film by Tam Tran about a young woman who found out that she was undocumented in her final years of high school. She likened the reality of being an undocumented youth to that of being a child forever — unable to obtain a license, passport, bank account, and more.
Roxana Olivias, director of the D.C. Mayor's Office on Latino Affairs, introduced the speakers: Hareth Andrade, Sofia Campos, Mathias Ramos, and Cristina Jimenez. The four speakers represented the Immigrant Youth Movement, advocating for the 2.1 million undocumented youth in the U.S. today.
Cristina Jimenez, managing director of United We Dream, described the process of transformation that occurs when undocumented youth share their stories. The impact includes moving from being labeled as "illegal" to being referred to as a "DREAMer" and transitioning from fear to being unafraid. As one participant noted, "The hearts and minds of people change when you share your story," because it connects people to one another: it reveals that, "Like you, I have a family. Like you, I have dreams."
Panelist Matias Ramos explained that the book Undocumented and Unafraid was inspired by the sudden deaths of Tam Tran and Cinthya Felix, two pioneers in the undocumented youth movement. The book captures the importance of their struggles in immigration rights through photographs, poetry, art, narratives, and academic papers.
Photo: Cinthya Felix and Tam Tran were pioneers of the undocumented youth movement. 
Event summary submitted by Shilpa R. Sharma, educator and Teaching for Change volunteer.
The event co-sponsors were: Immigrant Youth Movement, Teaching for Change, Busboys and Poets, Institute for Policy Studies, UCLA Labor Center, United We Dream, Asian Pacific American Labor Alliance, and the United States Student Association. The book is a publication of the UCLA Center for Labor Research and Education.
Posted: September 1, 2012