Uplifting Stories from Our Classrooms
On March 14, 2019, eight D.C. teachers reminded everyone of the joys of teaching with moving stories from their classrooms. The event was organized by Stories from Our Classrooms alumni and held in the American Poetry Museum in the Brookland neighborhood of D.C.
The space was filled to standing room only with fellow teachers, family members, and other guests including a representative from the National Gallery of Art and two representatives from Southern Echo in Mississippi.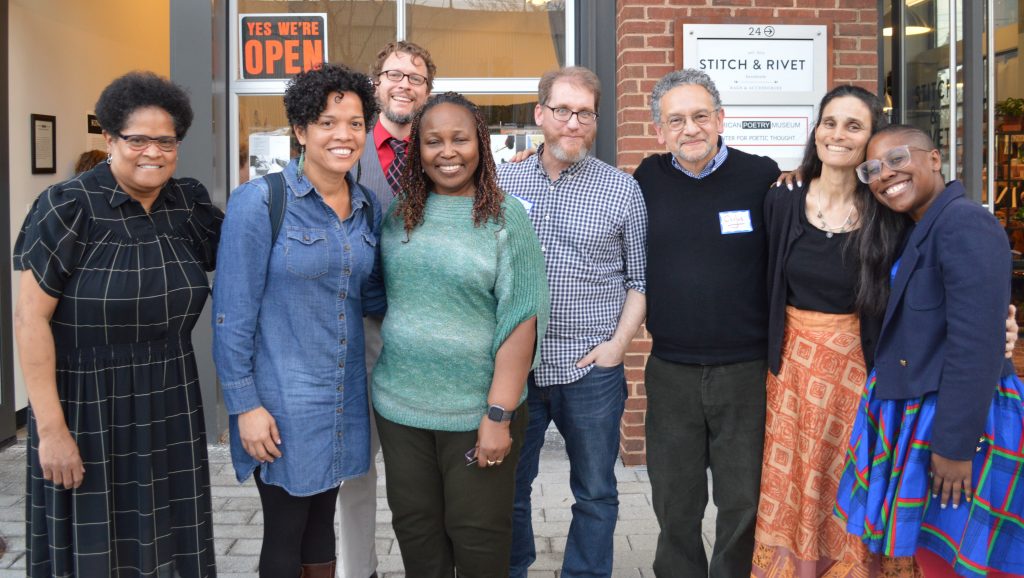 When the program began, Rosalie Reyes welcomed the group on behalf of Teaching for Change's D.C. Area Educators for Social Justice.
monét cooper described the special location for the event — the American Poetry Museum — inviting everyone to return for more programs and thanking host Samuel Miranda. She also introduced the artist whose beautiful work adorned the room, Elijah D. Prince.
Jill Weiler provided background on the Stories from Our Classroom course — the source for most of the teacher storytellers.
In 2015, in response to a national conversation that leaves out or intentionally silences those most impacted by decisions about education—students, families and teachers—Teaching for Change worked with local teachers to create Stories from Our Classrooms.
Its purpose: to build community and raise voices of teacher-writers in local settings and national debates about education
Each year, 15-20 teachers are selected for a year-long course that meets monthly: we write, peer critique, dialogue with professional writers and editors, and submit our articles for publication. There have been three cohorts to date, and tonight you'll hear stories from teachers representing all three cohorts.
What we have in common are three identities: we are teachers; we are writers; we are social justice advocates. We join in solidarity around a core belief: we believe the truth of our stories and the power of our voices can change the narrative and, in turn, change education in this country.
Gregory Landrigan described the type of stories that would be shared.
Recently I was remembering a moment that I had with one of my first mentors. I had only been teaching for two weeks and we ran into each other at an event. She took one look at me and pulled me aside, "Greg, I can see it in your face, something's wrong. What's going on?"
Immediately I launched into all the things that were troubling me in my classroom. "The kids are rowdy… No one listens… I can't get anything to work… And I haven't…"
She grabbed me by the elbows, looked me in the eyes and said, "Well Greg, teaching is hard!"
Teaching is hard. I have come back to this moment many times since I started teaching ten years ago. Teaching is hard, very hard. And every year it has kept being hard in different ways and for different reasons.
But in the midst of it, maybe because teaching is so difficult, there are moments of beauty. Moments that uplift. Right in the middle of the teaching is hard.
Tonight is about those moments—the moments that uplift us. Tonight we want to share with you some of the uplifting moments from our classrooms. And our hope is that together we will leave here uplifted.
So get ready!
Then, the stories began. The teachers who graced the stage were Adebisi Babayemi, Claudette Carson, monét cooper, Topher Kandik, Gregory Landrigan, Carlos Parada, Cesarina Pierre, and Jill Weiler.
The audience was alternately laughing and in tears.
Then the tables turned and the audience was invited to write in response to a short prompt and a few shared out. Many stayed for refreshments and conversation — spurred by the powerful stories.
Here are some of the reflections from the evening, in response to the question, "What excited you about tonight's event?"
Everything.
Loved the different voices…
Hearing the speaker tell their story of experiences they've encountered with students and how they overcame it.
Beautiful story telling and honest reflections on the reality of our schools.
Hearing from teachers I've worked with. I've been anticipating their stories all week!
Seeing I am part of a community that share common struggles and victories. Sometimes when you don't get out much, you feel like you are in this alone!
I'm not a teacher, and learned a lot about the challenges and joys of teaching. Inspiring!
The teachers' commitment to their students.
I liked the mix in the types of viewpoints and writing. It's very affirming for all teachers.
A truly beautiful event, I loved every minute.
Photo Album
Click image to view full album. Note that due to Flickr maintenance, the video clips are still processing.