Victory in Ward 8: Orr Parents Organize for New Building and New Leadership
Laila Patrick held her breath in anticipation, waiting to hear her name called as her two children played on the floor nearby. Ms. Patrick sat with her muscles tensed, at the edge of her seat, with her mother supportively sitting in the chair beside her.
"She's talking about me!" Ms. Patrick whispered to her mother as the event host shared the story of her role in the parent activism that earned her children's school two major victories last school year – funding for a new building, and new leadership for the school. As her name was called, Ms. Patrick proudly stood up and walked down the red carpet to be recognized as both her mom and her children watched, beaming with pride and adoration.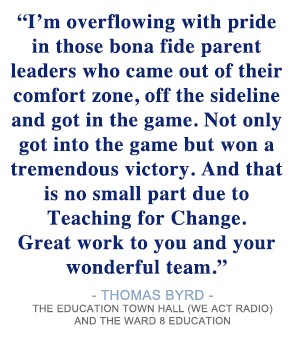 On Tuesday, September 30, 2014, more than 40 parents, teachers, students, and community members of Orr Elementary (DCPS) gathered to celebrate their victories in the previous school year and recognize the parent leaders and community members who advocated for a long-overdue modernization and improved leadership for the school.  The children watched proudly as their parents were honored and took pictures with them receiving their certificates.
Ms. Patrick was a key leader in the advocacy efforts at Orr Elementary during the 2013-2014 school year. Teaching for Change stood with Ms. Patrick and other parents as they took on the dual battle for modernization and a new principal. Parent leaders advocated for both issues through formal and informal channels: emailing and calling DC Public Schools and city officials, speaking out on the radio, hosting and giving tours to councilmembers, submitting their personal stories for public testimony, protesting in the streets in a public demonstration, meeting with DCPS officials, and finally, organizing a direct action at DCPS headquarters to demand a new principal before the school year ended.
Ms. Patrick wore multiple hats as a key parent leader within the school. She read in classrooms as a "Roving Reader" and recruited parents to participate in workshops and volunteer around the school. Throughout the year she contacted city officials, contributed to strategy meetings, helped organize demonstrations, and spoke publicly about the parents' concerns despite attempts by DCPS to discredit her and other parents.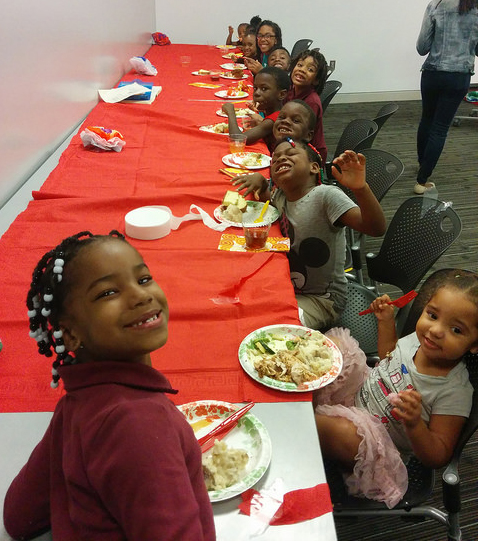 When Orr ended the school year with $39 million dollars budgeted for a new building and the controversial principal was removed, Ms. Patrick was elated by the news. The victories were made even more sweet when the school received its top choice for a new principal, Dr. Carolyn Jackson-King, who immediately reached out to the Orr parents and community to move forward in partnership. Dr. Jackson-King met with parents, toured the neighborhood, and rolled out a red carpet for the teachers as the new school year began. She has been actively coordinating with city officials to begin the modernization process with the funding parents so fervently fought for and won during the spring.
After taking her picture, Ms. Patrick returned to her seat as more parents and community members who supported the fights were honored. When the event was over, she and her son took one last stroll on the red carpet before walking home.