Virginia McLaurin: Making History All Her Life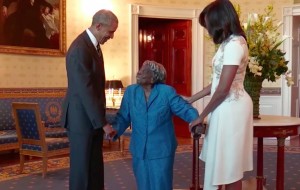 Many of you have seen the video of Ms. Virginia McLaurin dancing and talking with the Obamas at the White House. It was moving to see her dream of meeting the first Black president come true.
Ms. McLaurin has lived and made so much of the history that we believe should be highlighted in schools including the economic impact of Jim Crow, the Great Migration, quality education for all children, and challenging displacement from gentrification. Learn more about Ms. McLaurin's life and her visit to the White House on Tumblr, where you can find short oral history interviews and photos.
Ms. McLaurin's invitation to the White House's 2016 Black History Month reception came after Teaching for Change's executive director, Deborah Menkart, alerted colleagues at the White House that centenarian Ms. McLaurin volunteered 40 hours a week in special education and early childhood classrooms. Constantly giving to others, her one wish was to meet President Obama. White House staff Marco Davis and Julie Chavez Rodriguez responded to the call and made McLaurin's wish come true. Core to Ms. McLaurin's community and strength are the United Planning Organization Foster Grandparents program and New Southern Rock Baptist Church who wrap their arms around her every day.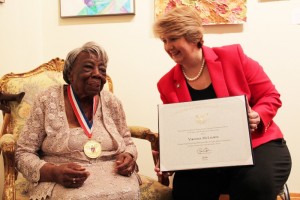 Since her visit to the White House, Ms. McLaurin has been interviewed by news media around the world. On March 11, she was awarded the President's Volunteer Service Award for Lifetime Achievement to recognize her two decades of nearly daily service to schoolchildren in the nation's capital.
McLaurin's life is an example of the hidden history, stories of resilience, and generosity of extraordinary people all around us.
Posted: February 23, 2016