Teaching for Change Board Member Wins 2014 Lillian Smith Book Award
We are pleased to announce that Teaching for Change board member Michael J. O'Brien's book, We Shall Not Be Moved: The Jackson Woolworth Sit-In and the Movement it Inspired, is one of the 2014 Lillian Smith Book Award recipients.
The Lillian Smith Book Awards were established in 1968 by the Southern Regional Council to recognize authors whose books represent outstanding achievements demonstrating through literary merit and moral vision an honest representation of the South, its people, its problems, and its promise.
The 2014 awards will be presented on August 31, 2014.
Here is a description of We Shall Not Be Moved from the press release for the award:
Once in a great while, an image captures the essence of an era. Three people–one black, two white–sit at a lunch counter while a horde of cigarette smoking hot shots pour catsup, sugar, and other counter condiments on the sitters' heads and down their backs. The image strikes a chord for all who lived through those turbulent times of a changing America. And for those too young to have endured that period, it evokes an era, not that long ago, when the ordinary act of getting a cup of coffee with a friend of another race could spark a riot.
We Shall Not Be Moved is a triple threat: part biography, part history, and largely just good old fashioned storytelling. The book enables the reader to get behind the iconic image of the Jackson Woolworth's sit-in and into the hearts and minds of those participating in this harrowing event. It's history from the bottom up. We Shall Not Be Moved tells the entire story of the Jackson Movement, which the sit-in sparked to life, and the three weeks of demonstrations that put Jackson on the front page of every major newspaper in America.
Sadly, this uprising led to severe retaliation. Two weeks after the Jackson Woolworth's sit-in, Medgar Evers, the local leader of the movement, was assassinated. We Shall Not Be Moved chronicles this horrific event through first-person accounts of those who endured it, and then reveals how these movement figures carried on after their leader was taken down.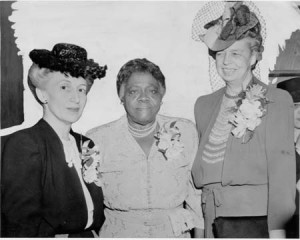 In addition to learning about the award-winning books, this is a good opportunity to learn about Lillian Smith (1897-1966).  As the article by Bruce Clayton on the New Georgia Encyclopedia explains,
Lillian Smith was one of the first prominent white southerners to denounce racial segregation openly and to work actively against the entrenched and often brutally enforced world of Jim Crow. From as early as the 1930s, she argued that Jim Crow was evil ("Segregation is spiritual lynching," she said) and that it leads to social and moral retardation.
Smith gained national recognition—and regional denunciation—by writing Strange Fruit (1944), a bold novel of illicit interracial love. Five years later she hurled another thunderbolt against racism in Killers of the Dream (1949), a brilliant psychological and autobiographical work warning that segregation corrupted the soul; removed any possibility of freedom and decency in the South; and had serious implications for women and children in particular in their developing views of sex, their bodies, and their innermost selves. From her home in Clayton, atop Old Screamer Mountain, she openly convened interracial meetings, and she toured the South, talking to people from all races and classes. She was unsparing in her criticisms of "liberals" and "moderates" like Atlanta's famed Ralph McGill and refused to join groups such as the Southern Regional Council until it could oppose segregation as well as racism. [Continue reading full article.]