Challenging White Privilege in Children's Books
By Alison Kysia
As an educator and a parent, I need children's books that represent the diversity of my children, students, and our community. This is easier said than done. Data collected by the Cooperative Children's Book Center indicates that from 2008-2012 only 10% of children's books published were about people of color despite the fact that 37% of the U.S. population are people of color. That means that 90% of all children's book published in the United States feature white characters or animals. This has to change.
The publishing industry provides a variety of excuses for this kind of literary segregation. Publishers assume books about people of color won't sell. They also fail to attract or promote authors of color–a persistent consequence of white privilege. Another issue is that librarians, teachers, parents, and public figures promote the books that they read as children, crowding out new voices.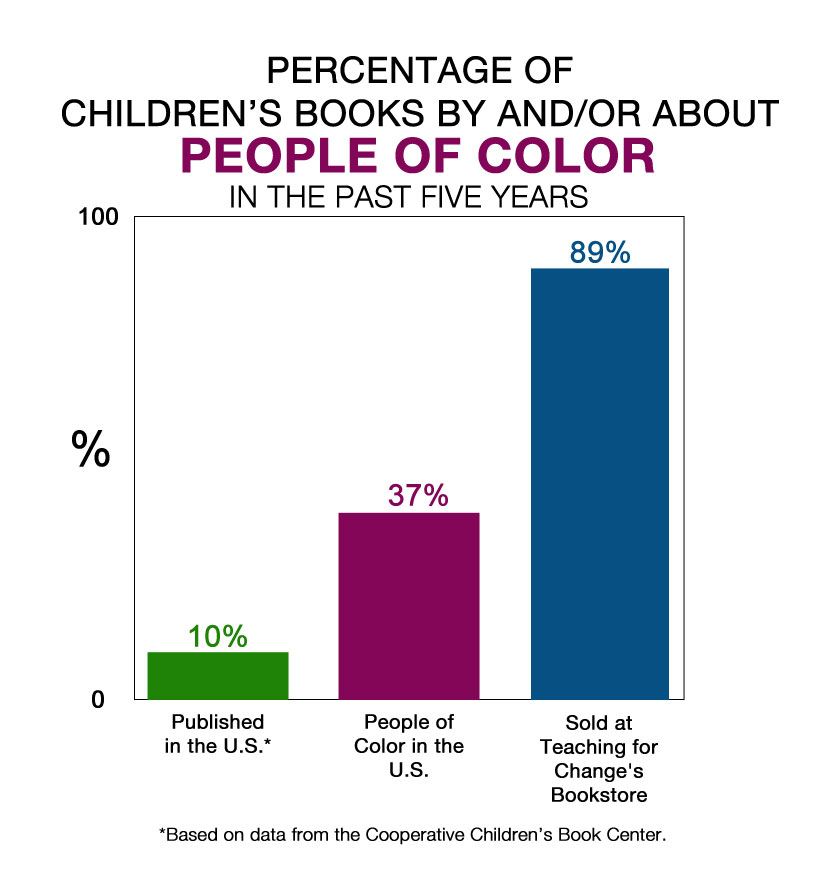 Thankfully we have some options. Teaching for Change's independent bookstore flips these trends. At the brick-and-mortar store inside the flagship Busboys and Poets restaurant at 14th and V Streets in Washington D.C., and through their webstore, parents and teachers can find hand-picked children's literature that supports the diversity reflected in our communities. In contrast to the industry, close to 90% of the children's books Teaching for Change sells are by and/or about people of color. As a result, their bestseller list looks very different from the New York Times' list.
 Popular Titles at Teaching for Change's Bookstore
Publishers, librarians, and authors all have a role to play in making visible narratives by and about people of color. Teaching for Change's bookstore nudges everyone a little closer to bookshelves that accurately reflect our collective histories and identities.
---
Alison Kysia is a program associate of Teaching for Change for the Zinn Education Project and the parent of two young children.
Posted: February 25, 2014