My Third Graders Love Reading "Wilfredo"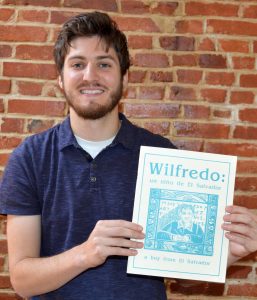 Third grade teacher Andy Grayson wrote to tell us that he was thrilled to share Wilfredo: Un niño de El Salvador/A Boy from El Salvador with his students. He learned about the free downloadable book in a Teaching for Change workshop sponsored by the Alexandria City Public Schools.
Here is what Grayson told us about why Wilfredo is so useful:
After reading Wilfredo, I observed increased discourse and engagement from a wider range of students. Students whose families have immigrated from Central America were eager to make connections, share their higher order thinking skills, and be the experts in the classroom. Our discussion about Wilfredo allowed space for students to share about the pain of leaving loved ones behind.
Since many of my students (or their family members) have immigrated to the United States from El Salvador, Guatemala, or Honduras, I seek to incorporate their experiences into our literacy block. It is sometimes challenging to find "good fit" texts that reflect the lives of the students in my classroom. Although students in our class read at a wide range of independent reading levels, with minor scaffolds, Wilfredo was accessible for all of my 26 third graders.
We read Wilfredo multiple times for different purposes. We read for enjoyment, to sequence the text, and to make inferences. We studied the geography of Central American and located the Central American countries. I used the poems in the teacher's guide throughout the year, and will be using some of the teacher's guide activities next year to build a larger unit.
Since the book is downloadable, I embedded the text into a website that my students could access. I created additional pages on the website to generate discussion before reading the text.
Students in my classroom who are bilingual (Spanish-speaking), asked to read the text in Spanish after they finished the version in English.
In summary, Wilfredo was not only a highly engaging text, but it built community among my students through discourse. We learned more about all of the members of our classroom, including those who have recently immigrated to the United States.  I believe this text was successful because many of my students saw this story as relevant and central to their lives.