Wind Me Up Maria: A Go-Go Musical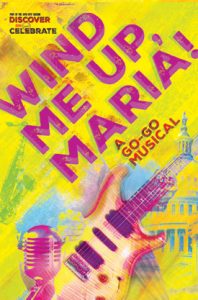 We were overjoyed to hear that one of the students from a "Teach the Beat" class, Myiah Smith, is the star of the new musical, "Wind Me Up Maria: A Go-Go Musical."
High school teacher Bill Stevens wrote to tell us that Smith, now at Georgetown University, learned a lot from reading The Beat and from the author visit by Charles Stephenson when she was a student at SEED Public Charter School last year. Stephenson visited the school as part of Teaching for Change's "Teach the Beat" program that brings go-go performers and scholars to D.C. classrooms. Stephenson spoke about the history of go-go and its impact on DC, the United States, and the world. During his remarks he showed students go-go memorabilia that he collected over the years as a fan and while serving as the original manager of Experience Unlimited (E.U.).
In preparation for the visit, students read The Beat: Go-Go Music from Washington, D.C. which Stephenson co-authored with Kip Lornell. Stephenson was impressed with how well prepared the students were and the sophistication of their questions. In turn, teacher Stevens noted that the "Teach the Beat" visit by Stephenson "affirmed my students' cultural history, challenged their academic thinking, and peaked their personal curiosity."

We can't claim credit for Smith's interest in go-go, but we are overjoyed that our "Teach the Beat" program has a connection to this exciting new performance.
Here is a description of the go-go musical that can be seen at Georgetown University from November 3-12, 2016. Reserve your tickets today.