Considerations for Early Childhood and Early Elementary Educators on Slavery and Resistance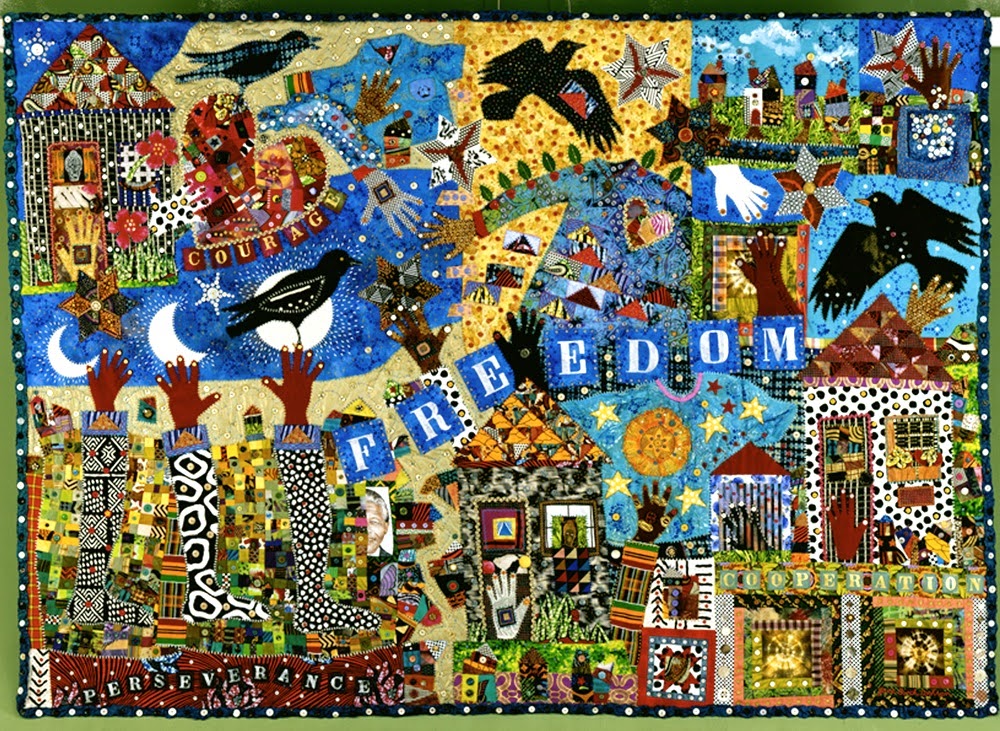 The successful grassroots campaign that resulted in the recall of the children's book A Birthday Cake for George Washington and the related critiques of A Fine Dessert have brought more people into the conversation about how and when to talk to young children about the history of enslavement of Africans in the United States.
To support and deepen this important conversation, we share with you key articles for reflection followed by suggested books for children and adults.
The books are primarily for early elementary and above, not for early childhood. As Louise Derman-Sparks explains in "Teaching Young Children About Race,"
For young children, the emphasis needs to be on helping them construct a positive sense of self and a respectful understanding of others. They need adults to help them begin to navigate and resist the harmful impact of prejudice and discrimination. A person's early childhood years lay the foundation for a developmental and experiential journey that continues into adulthood. With appropriate adult guidance, this foundation will be a strong one, providing the base for the next stages of healthy development and the skills a person needs to thrive and succeed in a complex, diverse world.
Anti-bias education is an integral part of the "bricks and mortar" of emotional well-being and social competence, as well as an emotional foundation upon which children fully develop their cognitive capacities. A healthy sense of self requires that children know and like who they are without feeling superior to others. Understanding and liking one's own personal and social identities open up the possibilities of building caring connections with others. Thinking critically about stereotypes, prejudice, and discrimination takes away barriers to comfortable and respectful interactions with a wide range of people and gives children a tool to resist negative messages about their identities. Strong cognitive development is also enhanced when children develop curiosity, openness to multiple perspectives, and critical-thinking skills.
All of this work needs to begin with teachers and parents—deepening our own understanding of the history, paying attention to the broader context, considering the children's developmental age, and clarifying goals.

Early childhood educators Louise Derman-Sparks and Julie Olsen Edwards offer thoughtful questions to ask ourselves about when, as well as how, we talk with children about slavery.
At what age do we first introduce the topic, and what concepts do we communicate at different ages?
What are our specific goals in teaching about slavery to young children?
What are the messages we want them to take home?
What are possible consequences of teaching children a sugar-coated or antiseptic, cleaned-up version of slavery?
These are important questions for discussion among early childhood staff, families, and social justice activists.

While "Tongue-Tied" does not focus on early childhood education, parents and teachers of children of all ages can benefit from this Teaching Tolerance article. It outlines the dimensions of slavery and offers an important list of do's and don'ts. The article notes,
Slavery in North America lasted for centuries, affected millions of lives, and contributed to every political, legal, social and economic institution fundamental to our country's identity. Because the topic can be so overwhelming, the narrative of slavery taught in schools is often oversimplified: Owners of enslaved people become the bad guys; enslaved people become the victims, and Abraham Lincoln becomes the hero who saves the day.
The reality was much more complicated. While not a comprehensive list, the five dimensions of slavery listed below will help you approach teaching this difficult subject in more depth. These often-overlooked areas focus on the people involved, the choices they made, and the context within which they made those choices.

Here is a carefully selected list of more than 50 books for elementary, middle, and high school that we recommend on slavery and resistance. (As noted in the first two articles above, many of these titles, including those for early elementary students, may not be appropriate choices for preschoolers. Here are lists of anti-bias books on a range of issues for early childhood.)
We can't stress enough that these books, nor any Black history, should not be relegated nor limited to the month of February. Slavery is U.S. history (north and south) and the legacy continues today. We recommend these books be used for units on U.S. history, women's history, and units on resistance. It is also important to examine the larger collection of children's books in your classroom. What are other titles available to children on Black history and identity?
Also, take the time to examine what children are learning (or not learning) about Africa from the books and other resources in your classroom. Read, "I Didn't Know There Were Cities in Africa" and look at this list of books to challenge stereotypes about Africa. This will ground children in Africa's rich history and diversity (remember, Africa if NOT a country). It also helps them understand that "slaves" were not brought to the Americas in bondage from Africa. Instead, Africans were kidnapped and enslaved. The difference matters.
We welcome your suggestion of titles to add to the list and/or stories about how you have used any of these books.

There is no more important place to begin than with teaching ourselves. How can we select books for children on slavery when our own education on the topic was full of myths and omissions? Here are a dozen 
recommended books for teachers and parents
to read and discuss.

For any topic with young children, it is important to begin with a social justice lens and an understanding of child development. Here are three recommended books for teachers and parents of young children.