Afro-Peruvian Musical Fundraiser for Teaching for Change a Success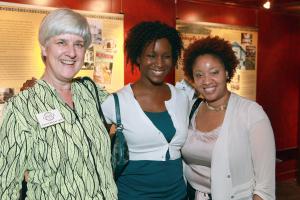 Teaching for Change supporters gathered on Tuesday, June 7, 2011 for a preview of GALA Hispanic Theatre's June 8-26, 2011 show, CANTO AL PERÚ NEGRO: An Afro-Peruvian Musical by Gabriel García, directed by Hugo Medrano. Each year GALA Hispanic Theatre donates the preview night's show to a local nonprofit organization working in the community.
Donors and supporters from Maryland, Virginia, and DC mingled over drinks during the pre-show reception. See photos here. Two lucky guests won free tickets through a contest with Yelp, and several supporters who could not attend bought tickets and donated them to local students and parents.
About 100 people filled the theatre, helping to raise over $2,900 for Teaching for Change! School teachers, administrators, business owners, parents, artists, care givers, activists, and even the son of the Peruvian ambassador enjoyed the show while supporting Teaching for Change. School principal Michelle Molitor (pictured at right, center) spoke during intermission about the increased parent engagement at E.L. Haynes Public Charter School thanks to the work of Teaching for Change and her recent visit to explore our work in McComb, Mississippi.
In the gran finale, the audience was invited to join the cast on stage for a dance. Board member Nzinga Tull demonstrated some moves. It was a fun and successful night overall for Teaching for Change thanks to our dedicated board, staff, volunteers, and our extended network of supporters.
About Canto al Perú Negro
A music extravaganza with songs, dances, poetry, and dramatic scenes that depict the birth and development of the Afro-Peruvian musical legacy through the voices of an entire family of singers/musicians, the Leyvas — from the streets of Lima (Perú) to Washington, D.C. With this production, GALA joins the United Nations in its 2011 recognition of the Year for People of African Descent.
This show is a great companion to the recent PBS program, Black in Latin America by Henry Louis Gates. See the segment on Mexico and Peru.