D.C. Area Teachers Launch Stories from Our Classrooms
Fourteen D.C. area teachers gathered on Sunday afternoon (October 25) to write stories from their classrooms. This was the first session in a year-long course launched by Teaching for Change. As a result of writing and reflecting together, teacher participants will deepen their own practice, build community among D.C. area social justice educators, and contribute to the all-too-scarce collection of published descriptions of classroom practice by teachers themselves.
The idea for the course came from former Teaching for Change staff member Jill Weiler, who now teaches 11th grade English. She collaborated with U.S. literature teacher Justin Sybenga and retired National Writing Project instructor Pam Bryant to design the course. Teaching for Change announced it and handled the course logistics. We received many more applications than space allowed, so we hope that this is the beginning of a new tradition. The feedback in the closing evaluation on Sunday affirmed the importance of this endeavor:
It was so awesome to be with so many like-minded professional, writing and sharing together about social justice.
I valued the time to reflect, write, fellowship with kindred spirits; the opportunity to listen to others' truths, stories, experiences; and the opportunity to be courageous and share my own truths, stories, experiences.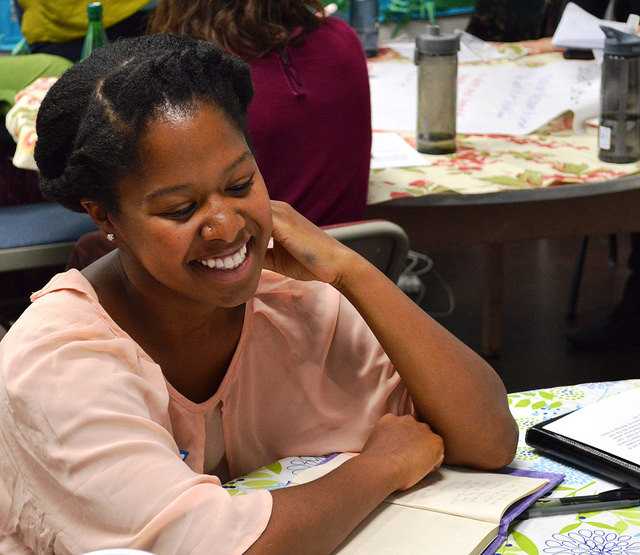 The first session modeled the norm for the course – sacred time to write, reflect, share, and write again. Using the prompt of popular vignette from House on Mango Street by Sandra Cisneros, the teachers each wrote a history of their own name. Four participants read in a round robin, one sentence at a time. The stories wove together, with identity and family relationships as the common threads.
The teachers then worked in small groups to define social justice teaching. Here is the very poetic collective definition from one of the groups:
Social justice teaching is when the pieces of identity that students haul around in their souls are part of the matters that are grappled with academically. It means wading into the deep, complex, sometimes muddy waters of the human experience and learning how to swim. It is explicit instruction as well as creating the space for students to advocate for the well-being of themselves and others.
To spark ideas for how to write about their own teaching, they discussed a Rethinking Schools article "Baby Steps Toward Restorative Justice" (Summer 2015) by ELL teacher Linea King. King's story prompted discussions about the chasm between education theory and practice, and the difficulty of implementing social justice teaching in the classroom. The teachers identified with King's experiences and with her honest questions about her impact.
As lead facilitator, Pam Bryant asked the teachers to reflect on one part of the article that resonated with them. Using a writing process called looping, she had the teachers stop after a few minutes to read their reflection and draw yet another thread to write from. The looping continued. Teacher participant Zanzo Dalili noted,
This stream of consciousness exercise encouraged us to reflect on our own challenges and successes with merging our ideals with the often messy practice of teaching.
In the closing reflections, one teacher wrote,
This is exactly what I needed. Let's keep going.
That is what we plan to do. The course continues through May of 2016. Each participant has committed to write and revise an article for publication. We look forward to their social justice teaching stories.