Post-Election, School Collaborates with Parents to Create Safe Space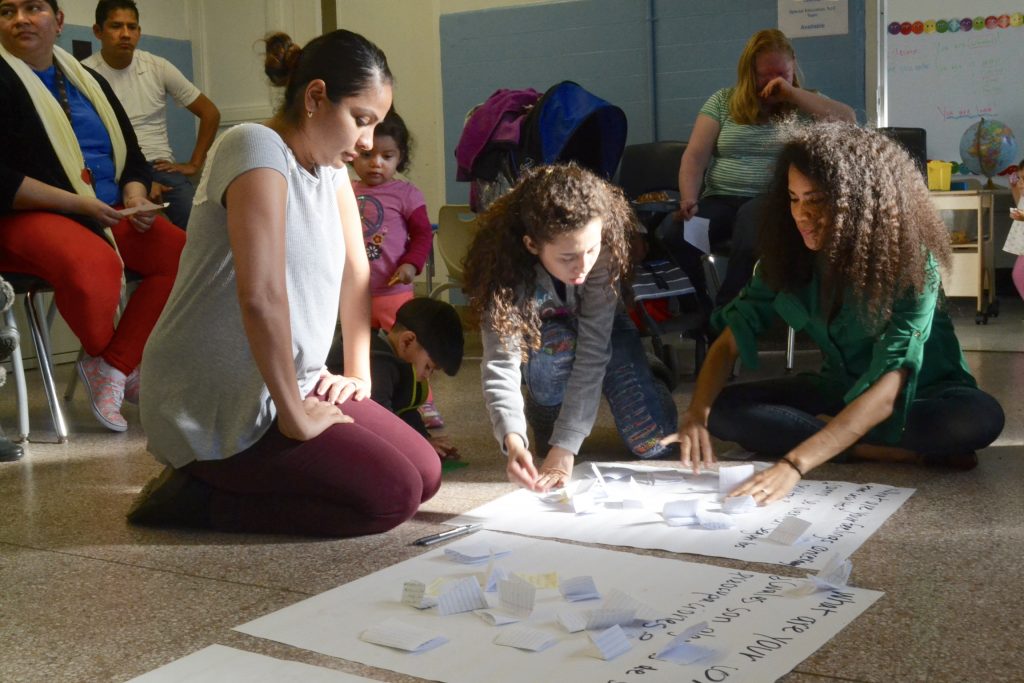 My daughter asked if we had papers and if we would be kicked out of the country.
My kids say they will leave with me, when we talked about the election. They said, "That man is a bad man because he doesn't like Hispanics."
[The election results] make me feel unsafe in this country, because of [Trump's] comments. I feel rejected, and like all of the advancements and contributions we as Hispanic people have made in this country are not recognized. My daughter is sad. She says, "This is a bad man!"
When my daughter found out…she went to her room and started putting her best clothes in her suitcase. She said, "He is going to make us leave. If we have to leave then I want to make sure I take my best stuff."
These are comments (translated from Spanish) from parents at Bruce-Monroe at Parkview Elementary, a Teaching for Change partner school in Washington, D.C., reacting to the election results.
The morning after the election, Principal Alethea Bustillo arrived to a school full of distraught staff and worried students. She spent much of the day checking in on every classroom in the building. The public elementary school (DCPS) serves mostly Latino and African American families in one of D.C.'s most racially and economically diverse neighborhoods. Bustillo noted,
What I saw made me really hopeful. The teachers were talking with the kids in a positive way and were allowing the kids to talk about what they were afraid of.
She added that this was in contrast to some schools where students were not allowed to talk about the election at all.
On November 15, Bustillo gathered with parents for the monthly Parent-Principal Chit Chat, a Tellin' Stories signature activity. This meeting was far from routine. Bustillo and key staff members dedicated the session to listening to the concerns of parents and caregivers, finding ways to support families, and including families in reaffirming the school as a safe space for all students.
With facilitation from Teaching for Change and the help of an interpreter, 25 parents shared their thoughts, personal concerns, and their children's reactions. Teaching for Change staff opened the meeting by asking parents to form a circle so that everyone could see each other. At the center of the circle were three flip chart papers with a question on each sheet. Staff asked parents to respond to the first question, "What are your feelings about the results?"
Each parent wrote their response on a small piece of paper. (Staff helped parents who are not literate.) Then parents put their notes into a pile on the flip chart sheet in the middle of the circle. The responses were mixed up and staff began reading them aloud in English and Spanish. Halfway through, the staff handed the remaining responses to the parents to read.
Parents and staff members wept openly as every note was read aloud in English and Spanish. After each note was read, the room responded, "Gracias por compartir tu realidad." ("Thank you for sharing your reality.")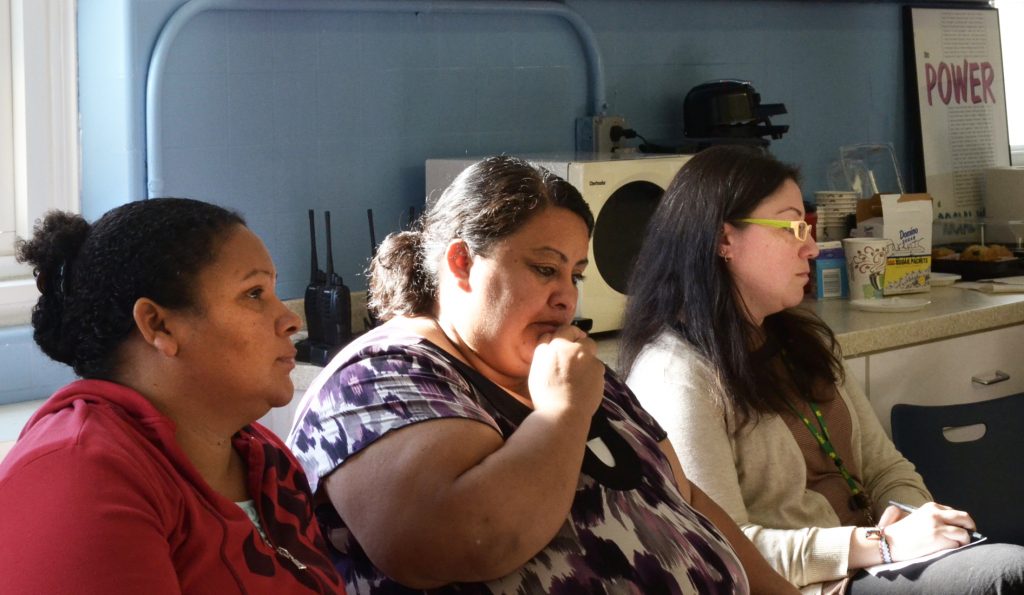 After the notes were read, those who wanted to speak further or ask questions did so. African American parent leader Sequnely Gray, who has been instrumental in fostering strong cross-race and cross-language relationships in the school community, shared,
I just want to say, so many people stand in solidarity with you. I have personally heard people say that so many of us are ready to personally put our bodies on the line for you and with you.
Teaching for Change staff then asked parents to respond to the second question, "What are your concerns for your child, your family, or in general?" Parents wrote again and placed their responses on the chart paper.
There was not enough time to read all of the concerns aloud, however Ms. Bustillo asked the parents if she could share their words of concern with teachers during their all-staff meeting the following week.
Then they addressed the third question, "What words of affirmation do you have for our students as they walk into the school." The parents discussed the importance of uplifting and supporting the children and for the children to know that not only do they have the support of teachers and staff, but that the parents are here as wrap-around support as well. Each parent wrote or drew an encouraging message to the children to be displayed in the school. One by one the parents stood in the center of the circle and spoke their words of affirmation to the children.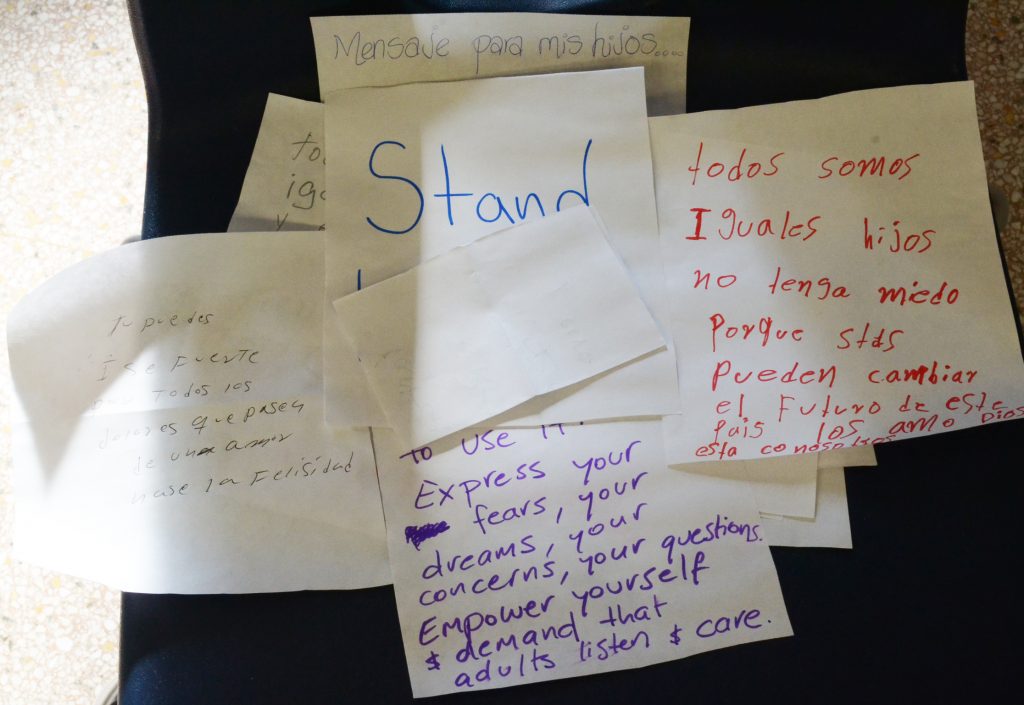 Todos somos iguales hijos.  No tenga miedo porque ustedes pueden cambiar el futuro de este pais.
(We are all equal, children.  Have no fear because you guys can change the future of this country.)
Tu diversidad te hace mas especial, nunca olvides de tus raices.
(Your diversity makes you more special; never forget your roots.)
You have a voice. Never be afraid to use it.  Express your fears, your dreams, your concerns, your questions.  Empower yourself and demand that adults listen and care.
In an initial show of solidarity, the school community decided to turn the holiday show into a peace concert. During the Chit Chat, a parent suggested having interested teachers and parents perform an uplifting song together for the students.
Principal Bustillo thanked everyone. She told them that these conversations, activities, shared information, and resources would be ongoing.
What's most important to me is that our school stays a place where we welcome people of all communities, and that we continue to take moments like this where we listen to each other and understand how this impacts each of us differently.
The school's early childhood Dual Language Coordinator Paloma Panesi, added,
The teachers and staff here are ready to protect your children, physically, emotionally, and spiritually. If you need anything, or if you know a family that needs anything, come to us, we will help you. We love your children. We love you and your families.
Teaching for Change has led similarly powerful parent-principal meetings at other DCPS schools following the election. In the spirit of solidarity, we are pleased to share the basic agenda for holding such a meeting.
Welcome 
Ice breaker/community building activity
Principal and school announcements
Parent reactions to election: on note cards,  parents write their feelings, concerns, and hopes following the election, and/or any thoughts on how the school can be supportive to their family.
Student reactions to election: on separate note cards, parents share what they would like the school to know about how their children have reacted following the election.
Parent responses, then student responses are read out loud
Principal response
Student affirmations: parents write positive notes and words of affirmations for students (to be displayed).
Closing
Photos by Jazelle Hunt.


Posted: November 23, 2016