Advice to Movement Lawyers: Remain Radicals and Revolutionaries
We share this reflection by Teaching for Change board member and SNCC veteran Timothy L. Jenkins on the role of lawyers in movements for social justice. It is both a history lesson and a plea to "Remain radicals and revolutionaries beyond the professional mantle of conformist tradition and career comfort at war with social uplift and unpopular defiance." Read more essays by and about Timothy L. Jenkins.
By Timothy L. Jenkins Esq.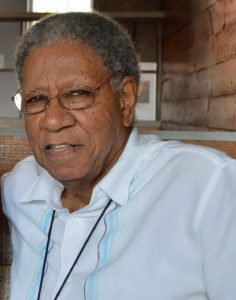 When I left my home in the morning, I told my wife that I was going to a legal seminar on "Black Lives Matter" at the University of the District of Columbia (UDC) disguised as a lawyer. I was comfortable acknowledging my erstwhile profession as a cloak because Mohandas Gandhi chose to first disguise himself as such. Fidel Castro and Nelson Mandela who had also crossed the bar, knew themselves to be revolutionaries first and foremost beyond being narrowly defined as lawyers. By standard definition, to be a lawyer is to be trained to always look backward rather than forward, relying on ancient tradition, precedent and stari decisis to maintain institutional stability, predictability, and order for the protection of property and the state above all else.
And lest we forget, our vaunted Revolutionary War and its resulting states rights Constitution in favor of land-holders rather than popular majority were both essentially designed to exempt American slavery from the common law manumission decreed by British high courts abundantly documented by attorney-professor Gerald Horne in his epic book, The Counter-Revolution of 1776: Slave Resistance and the Origins of the United States of America.
As previously noted at the Seminar, I was both a co-founder of the sixties Student Nonviolent Coordinating Committee (SNCC) and the later National Conference of Black Lawyers (NCBL), not to mention the Black American Law Students Association (BALSA). Here it should be remembered that the prevailing legal advice to SNCC had been against the student sit-ins at lunch counters, which had sparked the massive rejection of discrimination in public accommodations throughout the South. But had such timid legal advice prevailed, we might still have racially bifurcated restrooms, eateries and waiting room, if not typical "case by case" tedium of glacial reform.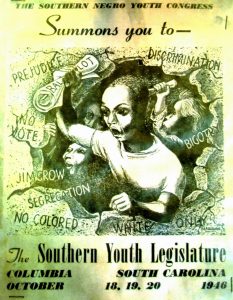 Lest we forget there was a prior SNYC before SNCC which fatally suffered naysaying lawyers. It was the 1930s and 40s Southern Negro Youth Congress, shamed out of existence by lawyers afraid of its radical tactics and progressive approaches for the protection of southern tobacco workers and cooperatives as well as the pursuit of racial justice.
To the contrary, turning its back on perpetual accommodation, NCBL of later times stood fast, as well as apart from the organized bar, in defense of Angela Davis in California, the Black Panthers in Chicago, the Attica prisoners in New York, and many other unpopular causes and clients, not merely as lawyers but as an unafraid arm of the people's liberation. And there was little doubt as to which came first in defining our people-first professionalism to aid and abet a revolution, rather than mere incremental change or the maintenance of the status quo. This is an on-going legacy to be kept sacrosanct by future generations of activist law warriors.
We can all be thankful that social progress did not rest solely on the shoulders of snails' paced lawyers unwilling to rock the boat. Support for Black Lives Matter illustrates again the fierce urgency of now which our times demand. Only this will be worthy of our higher callings.
Hence my advice to young professionals is to wear the title of lawyer as a disguise, rather than as a definition. Remain radicals and revolutionaries beyond the professional mantle of conformist tradition and career comfort at war with social uplift and unpopular defiance. Remember always, the struggle continues to all generations and the primordial question to be answered is "Which side will we be on?"
— April 8, 2016