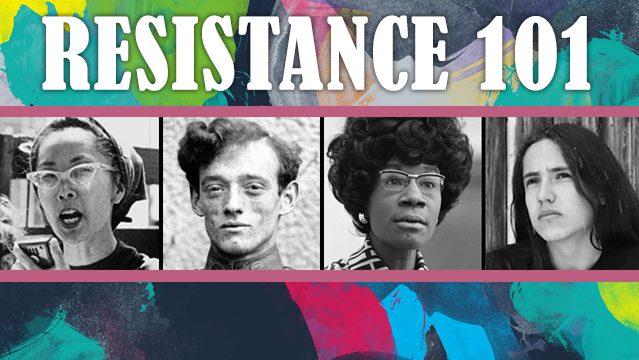 Teaching for Change created "Resistance 101" to help young people move from dismay to creative action that can win real change. This innovative lesson plan, launched in January 2017 to coincide with the inauguration, helps students recognize their power to challenge injustice. The lesson introduces them to people throughout history, including many young people, who […]
If you are not redirected, please click here.
We are pleased to share selected highlights from Teaching for Change's work in 2017. Challenging Racism in Children's Books We launched SocialJusticeBooks.org to identify and promote the best multicultural and social justice children's books. The site also hosts a database of children's book reviews by members of the See What We See coalition. Holding the […]
Most teaching resources and teacher workshops about Islam and Muslims focus on increasing knowledge of religious texts, beliefs, and rituals rather than addressing the root causes of Islamophobia. This project addresses that gap by placing Islamophobia firmly within an American context and shared cultural history. The lessons are designed to avoid the need for a […]
Educators in cities across the country, including Seattle, Philadelphia, New York, Chicago, Boston, D.C., Baltimore, and many more are organizing a national Black Lives Matter at School Week of Action the week of February 4-8, 2019. The movement in schools grew out of an action in Seattle in 2016.  During Black Lives Matter at School Week […]
If you are not redirected, please click here.
The Food Justice Youth Summit is an all-day event in which DC youth lead workshops focusing on issues of food justice. This event provides youth with the opportunity to share their research, ideas, and recommendations on food justice issues as they work with other youth and food justice activists to build a citywide movement for […]
Professor Ibram X. Kendi, founder and director of the Antiracist Research and Policy Center at American University, will offer a presentation for teachers based on his book Stamped from the Beginning: The Definitive History of Racist Ideas in America. This event will be hosted by the D.C. Area Educators for Social Justice on January 17, 2018 […]
By Jorge Cordoba At the Free Minds, Free People conference in Baltimore this summer, I stopped by the Teaching for Change table. They graciously donated copies of the book Caribbean Connections: Moving North for my high school ESOL students. This group of students, ranging in age from 14 to 20 years old, attend a large suburban […]
On December 1, 2017, Teaching for Change and the SNCC Legacy Project offered a workshop for 11th grade language arts and social studies teachers on the central role of the Student Nonviolent Coordinating Committee (SNCC) in the Civil Rights Movement. The workshop was hosted by the DCPS Division of Secondary Literacy in the Office of Teaching […]