D.C. Students Stand with Standing Rock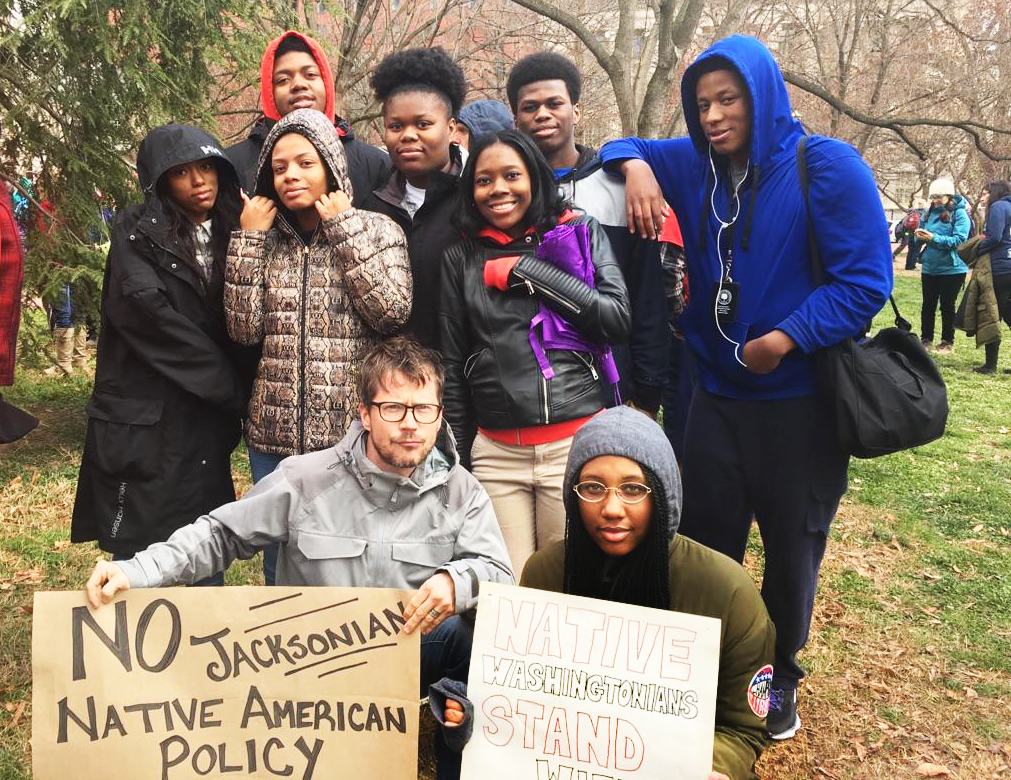 This month, high school U.S. history teacher Bill Stevens taught his students at the SEED Public Charter School in Washington, D.C. about the issues at stake in the historic struggle of the Standing Rock Sioux to block construction of the Dakota Access oil pipeline. To introduce this history, he used the "Standing With Standing Rock" role play from the Zinn Education Project website. During the lesson, students took on the roles of five groups with different positions on the pipeline. They prepared a presentation to the U.S. president on whether the Dakota Access Pipeline should be completed. This lesson was written by Rethinking Schools teacher-writers Ursula Wolfe-Rocca, Bill Bigelow, and Andrew Duden.
As a culminating activity, the students went to the #NativeNationsRise march on March 10, 2017, to learn, to make history, and to act in solidarity.
Mr. Stevens noted,
I was so inspired by my students! It wasn't just that they were positive and engaged the entire day (despite the wet and chilly weather), it was that during the rally they were engaged, interested, asking questions, and participating.  At one point, I looked over and saw fists in the air, as they chanted "People!" when a speaker was chanting "Power!" It was awesome. My students and the rally reminded me of the importance of encouraging, teaching, and supporting my students to be involved in democracy at every level.
The students agreed,
The rally was a really fun and inspiring day. I've learned that the kids are really the future so they had kids speak out on the problems that they're facing. –Sierra
The rally was amazing. Although it was freezing cold, I had a great time. Seeing all of the different kinds of people there peacefully protesting as a unified group was good. –Dajhauna
See more photos here.
Bill Stevens is a participant in the 2016-17 Teaching for Change Stories from Our Classrooms writing course.