Doing Justice to Martin Luther King Jr. Day with Young Children
By Amy Rothschild
Early childhood educators often struggle with the question of how to honor Martin Luther King Jr. in a way that is developmentally appropriate, focused, and accurate. Two challenges arise in teaching about King: the first is effectively communicating historical information to young children, and the second is adequately representing the diversity, breadth, and collective nature of the Civil Rights Movement.
In my teacher training program, we learned about different approaches to teaching social studies through the grade levels. A master educator led a brief seminar on teaching social studies in early childhood classrooms. She used the following question as a launching pad for our general session: "What would you tell a group of five year old children about Martin Luther King Jr.? Now, remember, you will hold students' attention for about five or six sentences. Go." Her audience included novice early childhood, elementary, and middle school educators. Some folks began jotting notes furiously; others thumped their pens against their notebooks, unsure.
Here's what's challenging about teaching history in early childhood: students are just beginning to make sense of the world around them, and learn best through seeing, touching, and creating. They are still developing a sense of time, and may say "yesterday" to refer to something that happened years ago or will happen next week. For these reasons, early childhood educators rarely focus on historical figures, and instead choose topics of study that are accessible, tactile, and present. We strive to integrate teaching about fairness throughout the year, most saliently through creating equitable learning communities in which all students feel valued and respected. We almost never discuss historical figures with children five and under, with one exception: Martin Luther King Jr. School leaders and parents justifiably expect teachers to acknowledge this day.
What the master early childhood educator had arrived at over the years and shared with us novice teachers makes a lot of sense. Year-round, her classroom has a small black and white photo of King standing deep in contemplation, with a framed picture of Gandhi visible in the background. Some kids ask about it during the year, and others don't. Then she spends a moment on the Friday before Martin Luther King Jr. Day to tell students that they will not have school on Monday. Then she tells the reason why. She holds up the picture of King and Gandhi.  Here's what I remember her saying, and what I shared this year with my own class:
On Monday we don't have school.  We have a holiday that we call Martin Luther King Jr. Day. We have this holiday because Martin Luther King, Jr. is so, so important to so many people, that we want to remember him every year. He lived when your grandparents were little.  When he was alive, lots of smart people were talking about how things weren't fair—kids weren't getting treated fairly because of the way they looked and the color of their skin, and their parents weren't able to get certain jobs or vote because of the way they looked and the color of their skin.  These people did a lot of hard work to change laws to make life more fair, and Martin Luther King Jr. is one of the people.  Today we think about the work Martin Luther King and other people did to make the world more fair, and we think about what we can do to make things even better.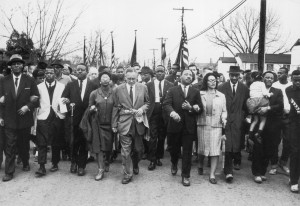 Instead of the picture of King and Gandhi, I chose this one of King marching from Selma because it includes African American women and a white ally, providing more figures for my students to see themselves in.
Sharing a picture and few words is one way to go—another popular route is to choose among the plethora of children's books about King.  Thinking about how to do justice to the holiday can be overwhelming. In my first year of teaching, I worked with a parent on designing a series of lessons about skin color and differences that would coincide with Black History Month.  In the midst of that, unfortunately, I didn't also plan for MLK Day. I didn't want the day to go unacknowledged, and at the last minute I borrowed Scholastic's Happy Birthday Martin Luther King Jr. by Jean Marzollo and Jerry Pinkney from a colleague. Many of my three and four year old students could not say "Martin Luther King Jr.," but all of them commented on the pictures of a birthday cake in the book.
If you want to read a text about King, here are two that give youngsters plenty to chew on—without the birthday cake to distract!
Child of the Civil Rights Movement by Paula Young Shelton, illustrated by Raul Colón. Shelton, a veteran first-grade teacher, creates a vivid, engaging memoir of her childhood experiences as member of a family of civil rights activists.  She organizes the illustrated book into multiple sections, which makes it especially easy for teachers of children younger than first grade to choose one section (remember that short attention span!).  King appears as Uncle Martin, in his undershirt, arms outspread to hug the young author. He was a family friend. The familiar emphasis helps students learn that this leader was a man who made courageous choices, not a god or a saint beyond emulation. This year, I teach students ranging from ages four to six, and I shared the section about the March to Montgomery. My students, who have had few encounters with police, were struck, fascinated, and troubled by the idea that people who went to jail were doing the right thing.  I stressed that my students will have lots of years to learn more about why going to jail was the right thing for the activists to do.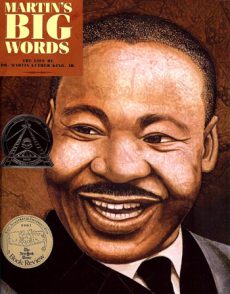 Martin's Big Words by Doreen Rappaport, illustrated by Bryan Collier. This beautifully illustrated book weaves together the story of King's life with "big words" from his speeches. Teachers can help children translate these words, like "you are as good as anyone," and "everyone can be great," to their own experiences.  The author does a fantastic job of emphasizing the collective nature of the civil rights struggle. She does state that activists were murdered, and describes how King's house was bombed, and then announces his assassination—so teachers selecting this text need to be ready to address students' questions about violence. Like Shelton, Rappaport emphasizes the continuing nature of the civil rights struggle.

Amy Rothschild is an early childhood educator with experience teaching pre-K in public and independent schools. She was a fellow at Teaching for Change in 2014.
Comments Welcome
We welcome your feedback on this article and additional ideas and reflection about how to teach beyond the traditional narrative about the Civil Rights Movement with young children. Please send your feedback and comments to info@teachingforchange.org
Additional Resources
Putting the Movement Back into Civil Rights Teaching: A Resource Guide for Classrooms and Communities edited by Deborah Menkart, Alana Murray, Jenice L. View. (PRRAC and Teaching for Change, 2004). See especially "Bring it On! Stories and Strategies for First Grade" by Maggie Nolan Donovan. This section of the book can be read online at CivilRightsTeaching.org. Donovan was active in the Student Nonviolent Coordinating Committee (SNCC) in the 1960s and taught young children for 30+ years.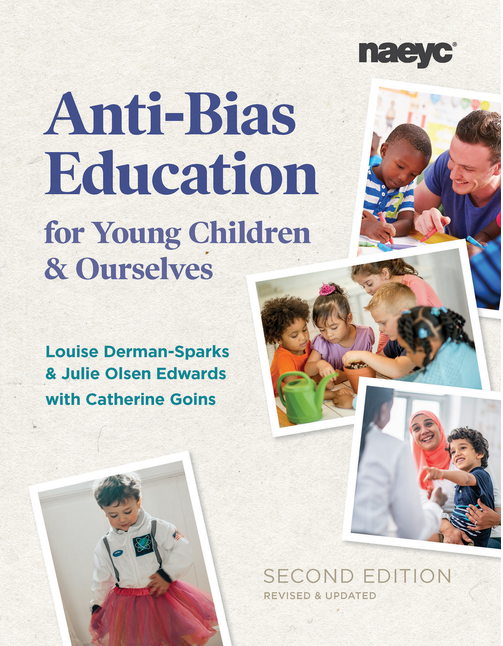 Anti-Bias Education for Young Children and Ourselves by Louise Derman-Sparks and Julie Olsen Edwards (NAEYC, 2009). Individual chapters focus on culture and language, racial identity, family structures, gender identity, economic class, different abilities, holidays, and more. Teaching for Change offers lists of recommended children's books for each chapter, including:
Early Childhood: Learning about Racial Identity and Fairness
Early Childhood: Learning About Economic Class and Fairness