Early Steps for a Parent Leader
Teresa Rodriguez is a parent at Teaching for Change partner school LaSalle-Backus Education Campus (DCPS), a school that has seen a rapidly growing Latino population in a historically black community in Northeast D.C. Teresa came to story quilting sessions and parent meetings led by Teaching for Change during the 2014-2015 school year and started to make connections with other parents and the school's parent coordinator.
On the morning of September 1, 2015, Ms. Rodriguez met with Teaching for Change parent organizers, the parent coordinator, and two other parent leaders – one from the Caribbean and the other from Ethiopia – to plan the upcoming Welcome Back Breakfast for parents. With Teaching for Change's approach, parent leaders are encouraged to take part in the planning of family engagement activities and not just attend as participants. Ms. Rodriguez was one of the parents who stepped up early in the year, before most activities even began.
During the planning meeting, the group mapped out their outreach plan, an agenda, and a menu that would be appreciated by families from different cultures. Ms. Rodriguez agreed to help with passing out fliers on given mornings and to start a parent phone tree to pass along the word. LaSalle-Backus is still rebuilding relationships with parents and the community after many years in which parents felt the door was shut to them. Ms. Rodriguez was not sure how she would succeed, but she knew the effort was worth it and that she was working as part of a team to accomplish the goal.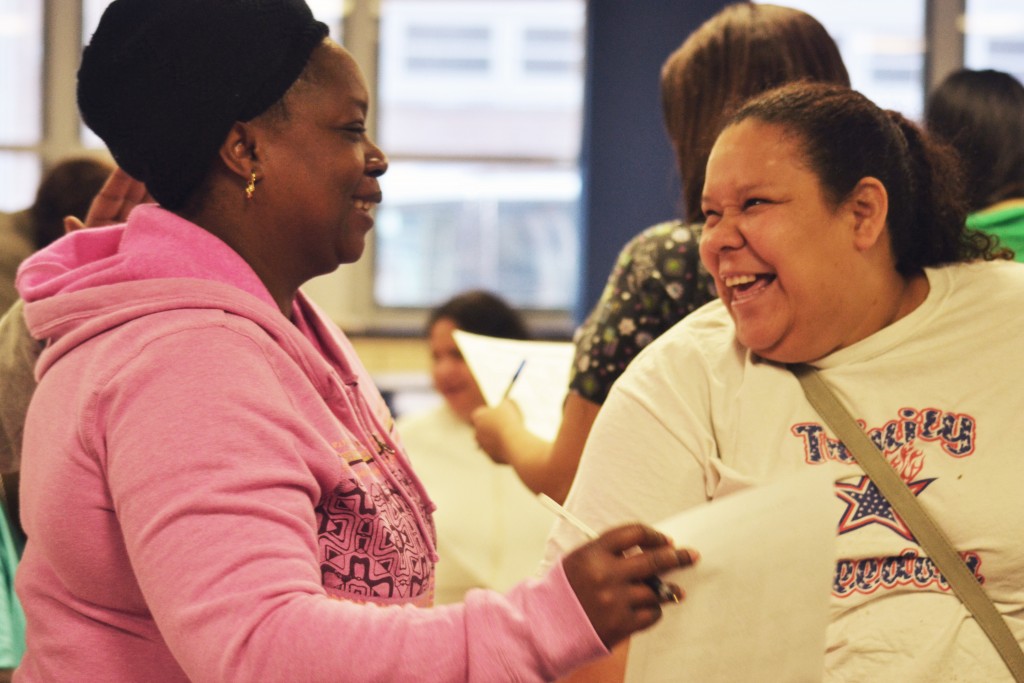 On the morning of the Welcome Back Breakfast, September 9, parents trickled into the cafeteria and began to serve themselves breakfast. The program started with a bilingual "people bingo" as an ice breaker, and then parents – including Ms. Rodriguez – who had worked on the family quilt project led by Teaching for Change last year presented it to the LaSalle-Backus community and shared stories from their quilt squares. The principal and administration was introduced, and parents learned about upcoming family engagement opportunities.
In the end, more than 50 parents attended the Welcome Back Breakfast, which was considered a great success. As the sole Latina parent on the planning committee, Ms. Rodriguez played an integral role in the success of the event and in encouraging Latino families to participate. She will continue to grow as a parent leader.
The Tellin' Stories Project at LaSalle-Backus Education Campus is supported through generous grants from the W.K. Kellogg Foundation, Cafritz Foundation, DC Children and Youth Investment Trust Corporation, Mayor's Office on Latino Affairs, Open Society Foundation, and an anonymous foundation.