Thank You for Joining the Teaching Out LOUD Campaign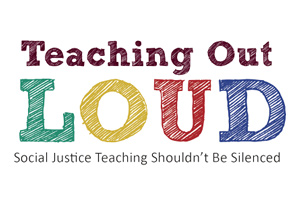 Thank you to everyone who donated to our Spring 2012 Teaching Out LOUD campaign, the board and staff of Teaching for Change give our most sincere thanks. Social justice teaching should not be silenced, and we want to recognize the wonderful and generous individuals who helped us raise more than $10,000 for social justice books, lessons, trainings, and resources.
Please view our newsletter for stories about the impact your support makes on the lives of parents and teachers.
"Justice is what love looks like in public."
– Dr. Cornel West –

Teaching OUT LOUD Spring 2012 Donors
Nizam Ali
Eugenie Ballering
Ben's Next Door
Kenneth Bernstein
Loraine Binion-Hardy
C. Diane Booker
Jamyla Brewton
Juanita Britton
Tanya Callender
City First Bank of DC
Donald Clausen
Lindsay Colf
Rhonda Crenshaw
Bernard Demczuk
Janice & David Dressel
Debi Duke
Lucia Edmonds
Theresa & Richard Ellis
Linda Finkel-Talvadkar
David Flanigan
Evelyn Frankl

Susan Griffin
Paula Jones
Eugenia Kim
Richard King
Melissa Klein
Sharlene Kranz
Eileen Kugler
Jennifer Long
Dorothy Marschak
Danielle McBeth
Kevin McGowan
McGuire Williams, Inc.
Deborah Menkart
Tiffany Mitchell
Barrie Moorman
Sonia Nieto
Donald Murray
Shameka Ottman
Audrey Pabs-Garnon
Jenny Penland
Randy Plummer
Nataki Reynolds
Judy Richardson
Ann Rudoff
Paulette Saunders
Lainey Shany
Robert Shetterly
Christine Sleeter
Ira Shor
Fred Solowey
Spirit of Black DC
Michelle Suchenski
Theresa Tandaric
Kate Tindle
Nzinga Tull
Brenda & Knox Tull
Lisa Vandenbugh
Sheila Walker
Janice Wallop
Ineke Way
You can still support Teaching Out LOUD by making a donation.