Firsthand View of School Reform Debate in D.C.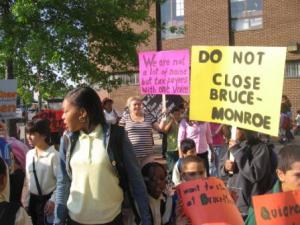 As a national organization based in D.C., Teaching for Change has a firsthand view of school reform in DCPS and the accompanying debates around education reform. Many in the media have portrayed the results of the recent mayoral election as a reflection of the tone but not the substance of the reform. From editorials in the Washington Post to the feature film, Waiting for Superman, former Chancellor Michelle Rhee is portrayed as a "Superwoman" who prioritizes the needs of children in her push for school reform.
Absent from this discussion are the voices of many DCPS students, parents and teachers. The story of one school where we have worked on parent organizing, Bruce-Monroe Elementary School, is among the examples of why D.C. voters rejected the substance of the reforms.
As documented in a feature length article in Rethinking Schools, active parent engagement at Bruce-Monroe was so successful that the school experienced many gains including full enrollment, a bilingual program, and a new library. The school met AYP in the 2006-2007 school year.
Despite these achievements, Chancellor Rhee put Bruce-Monroe ES on the list of schools to be closed in 2008. The public was told that only schools that were under-enrolled and had not met AYP would be closed. After parents from the school protested for a year, Rhee took the school off the closure list but still forced it to relocate and combine with another school with no time to plan for a successful merger.
Waiting for Superman features extensive interviews with Rhee about her reform efforts in D.C. schools and pull-your-heartstring stories of five children across the country hoping to get into a good school. But what about the 350 low-income Latino and African American children who were already in a school that was meeting AYP? Why was the school — located on a prime business corridor of interest to developers — slated to be closed and then relocated?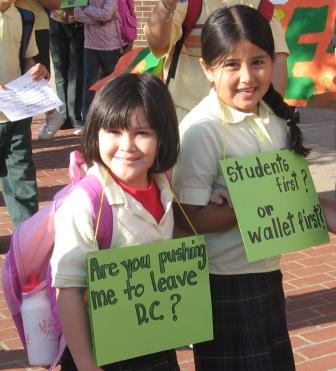 We believe that families, schools and communities must be involved as purposeful partners and have a voice in the education process so that schools can provide the quality education our children deserve. We encourage everyone to read the stories from those voices that are not making the front page of the news. Here are some places to start: