Mendez v. Westminster: A California School Desegregation Case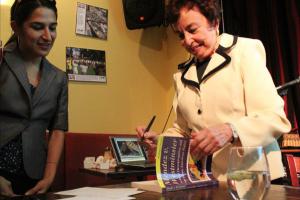 On August 18, 2010, author Philippa Strum gave a talk about her book, Mendez v. Westminster: School Desegregation and Mexican-American Rights, at Busboys and Poets. The event was sponsored by the Teaching for Change Bookstore, Mexican American Legal Defense and Educational Fund (MALDEF), The National Council of La Raza, and the United States Studies Program of the Woodrow Wilson International Center for Scholars.
Raisa Camargo, reported on the event for Hispanic Link News in the article that follows titled "When Latino Kids Opened California´s Schoolhouse Doors."
A story lost from history books prompted an evening coffee house mix of three dozen college students and curious capital professionals — nearly all females — to listen intently as author Philippa Strum revisited the events behind Méndez v. Westminster, a California Ninth Judicial Circuit Court decision that preceded Topeka's landmark Brown v. Board of Education by eight years.
Gonzalo and Felícitas Méndez were farmers who tried to enroll their children in a "white" school just over 100 miles north of the Mexican border. The children were turned away and told to attend a nearby school for Mexican Americans. As Strum describes in her book, Méndez v. Westminster: School Desegregation and Mexican-American Rights, the children were seen as "visibly darker," as the admissions advisor noticed their last names were "all too clearly Mexican."
Strum's PowerPoint presentation was a revelation for several Latino students unaware of the Mexican-American family that ended California's schoolhouse segregation in 1946….
During the Q&A, a Latina law student rose to the mike and admitted she never heard about the case. She asked Strum if she would consider bringing the historic trial to the attention of lecturers at law schools.
Strum, national secretary of the American Civil Liberties Union and a teacher of constitutional law for 35 years in New York City, added that the case isn't even mentioned in constitutional law books.
Strum, there to promote and sign copies of her book, published this year by the University Press of Kansas, said she discovered the case by accident. "One day in 2007, I read an article about a postage stamp that had just been issued called Méndez v. Westminster, Having taught constitutional law for all those years, I said, 'Something is wrong here,' I had never heard of this case. How is this possible?" While engaged in research, she found it "a very important part of American history." Continue reading article.
– – – –
View full book talk on C-SPAN Book TV.
View more photos from the event by Raisa Camargo.
Posted: September 23, 2010