New Lisa Delpit Book Features Teaching for Change Essay on Engaging Black Parents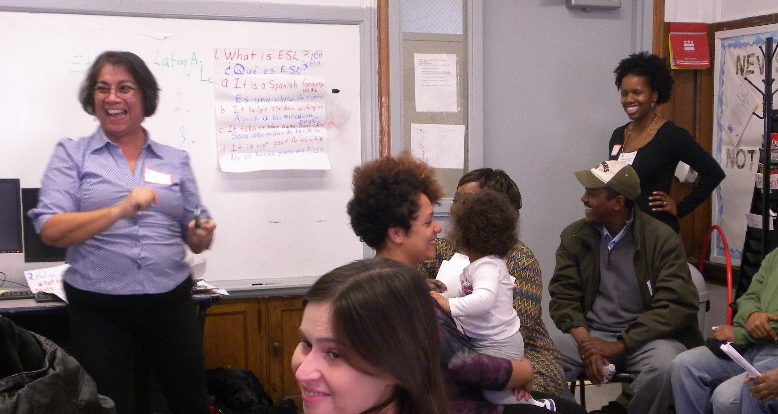 Allyson Criner Brown, Teaching for Change's associate director and manager of the Tellin' Stories parent empowerment project, reflects on family engagement in a moving essay for
Teaching When the World Is on Fire
, edited by Lisa Delpit (The New Press, 2019).
Criner Brown, a former middle school teacher who has led the nationally recognized Tellin' Stories Project since 2010, writes in her essay "Engaging and Embracing Black Parents":
Looking back on my time in the front of the classroom, I realize that building relationships with my students' families was one of the highlights of my teaching experience. But after leaving teaching in order to lead family engagement work in Washington, D.C. with comparable schools and comparable populations for nearly ten years, and now as the parent of a Black child in public school, I have some deeper reflections and lessons learned about what it means to actually engage Black families in their children's education and the life of their schools.
Criner Brown's essay continues by connecting the research on family engagement to examples from Teaching for Change's work partnering with D.C. public schools. She concludes with this message to educators:
Schools need Black families at the table to meet the social, emotional, and academic needs of Black students. For too long, public schools have institutionally pushed Black families away and blamed them for the impacts that structural racism and classism can have on student performance. There is a rich field of knowledge about family engagement that educators can tap into to effectively engage Black families. Engaging Black families must move to the forefront of good teaching practices, and it must come with systemic supports and investments. Good intentions by individual teachers will get us to a point, and coupled with institutional knowledge and investments we can finally tap into one of the key ingredients for student and school success.
Our Black students—and their families—are worth it.
Lisa Delpit, a celebrated multicultural educator and MacArthur "Genius Grant" recipient, is well known as the author of Other People's Children (2006) and Multiplication Is for White People (2013).
Rethinking Schools, a longtime partner of Teaching for Change and co-coordinator of the Zinn Education Project, also contributed multiple essays to Teaching When the World Is on Fire. Wayne Au, Bill Bigelow, Camila Arze Torres Goitia, Jesse Hagopian, Stan Karp, and Natalie Labossiere are among the educator-authors featured in the collection.
While supplies last, classroom teachers who submit a story about using a Zinn Education Project lesson can receive a free copy of the book from The New Press.
Publisher's Weekly, in reviewing the book, noted: "Some of the essays call for teachers to increase their emotional labor by caring more, listening better, and developing closer ties to students and their families. …This urgent and earnest collection will resonate with educators looking to teach "young people to engage across perspectives" as a means to "creating a just and caring world."