Jorge Argueta Launches New Young Adult Book About the Caravan from Central America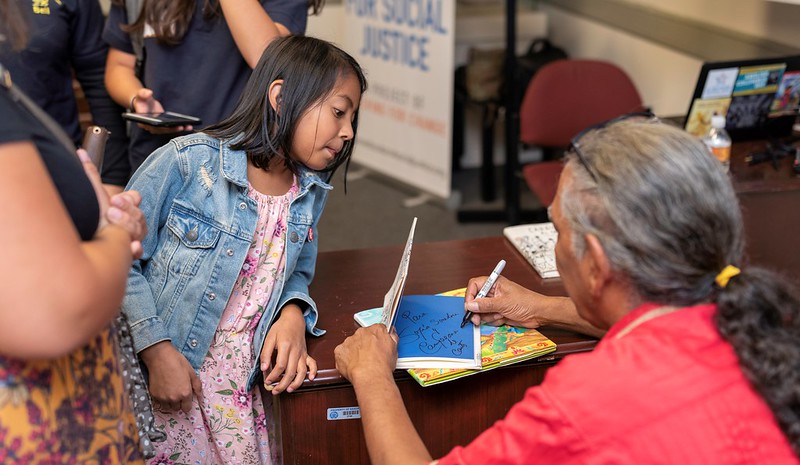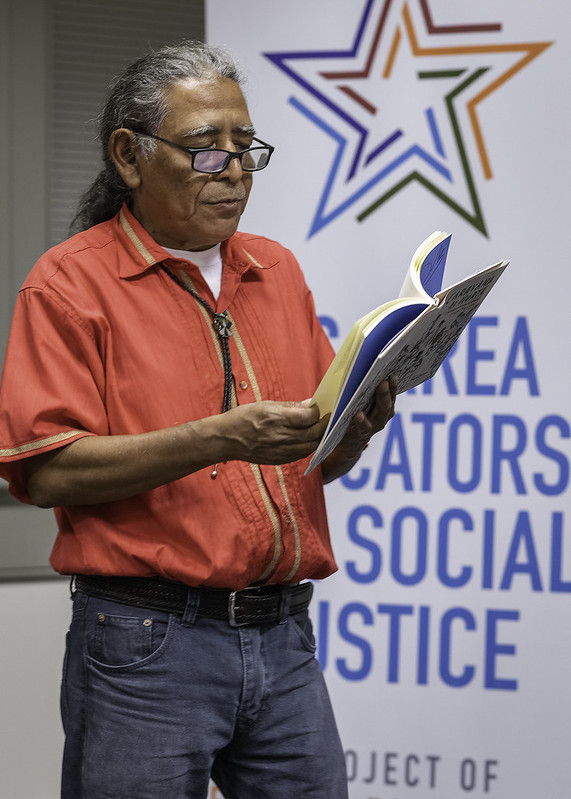 By Cierra Kaler-Jones
"It's up to us to change things. I believe in the gentle power of reading. I believe reading changes the hearts, spirits, and minds of people." —Jorge Argueta
On October 7, Jorge Argueta, a native Salvadoran and Pipil Nahua Indian poet and writer of bilingual children's books shared his moving personal story and read his recently released title Caravan to the North, which brought together an audience of educators, students, community members, and families.
Caravan to the North details the first-person narrative of Misael Martínez, a young Salvadoran boy who joins the caravan to travel north to the United States. The book describes Misael's journey and the wide range of emotions he experiences as an illustration of the mixed emotions that many people feel while leaving their home country. As shown through Misael's story, he feels a strong sense of hope combined with the overwhelming sadness of being forced to leave his homeland.
Argueta read aloud from the book in Spanish, alerting audience members to pages in English in case they needed to follow along,
El Salvador is beautiful. What a shame that we have to leave.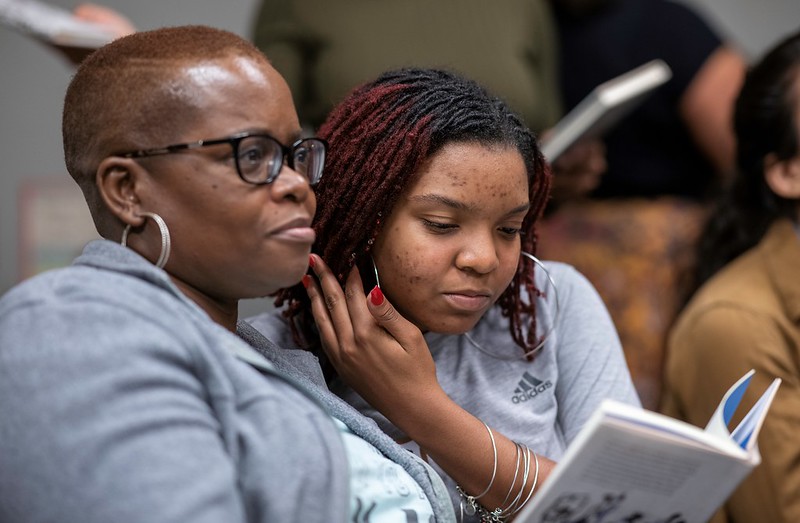 Argueta recounted his own history while discussing Misael's story, both of which he weaved into a larger social commentary that implored the audience to center human dignity in our society. Misael's journey in the book was met with hate at the border and Argueta discussed how detrimental it is to human connection and culture when we close off borders and deny human beings the right to be treated with respect. He emphasized,
We all have the power. Human dignity is something everyone deserves. ¿Verdad?
Argueta's books provide a powerful counter-narrative about immigrant communities, when often the dominant narrative misrepresents and silences these significant community stories. Despite the frustration Argueta expressed, he said he wholeheartedly believes in the power of reading. From his perspective, reading gives young people the opportunity to traverse new lands, to learn about those who may differ from them, and can be a mirror to reflect their experiences.
Live author reading: Jorge Argueta
'Caravan to the North'#TeachCentralAmerica https://t.co/lLif0xmrXY

— Teaching for Change (@teachingchange) October 7, 2019
It is because of Argueta's views on the benefits of reading and promoting literacy that he opened the Library of Dreams/Biblioteca de los Sueños, in November of 2016 in San Jacinto, El Salvador for children living in vulnerable areas. [Contribute to Library of Dreams.]
Argueta's connection to and passion for youth development was exemplified by the children who arrived for the author event and ran to give him hugs, exclaiming "Tío Jorge!" There were also about fifteen high school students in the room. While sent as a school assignment, they were so engaged that they stayed to ask questions, get books signed, talk one-on-one with the author, and take lots of selfies.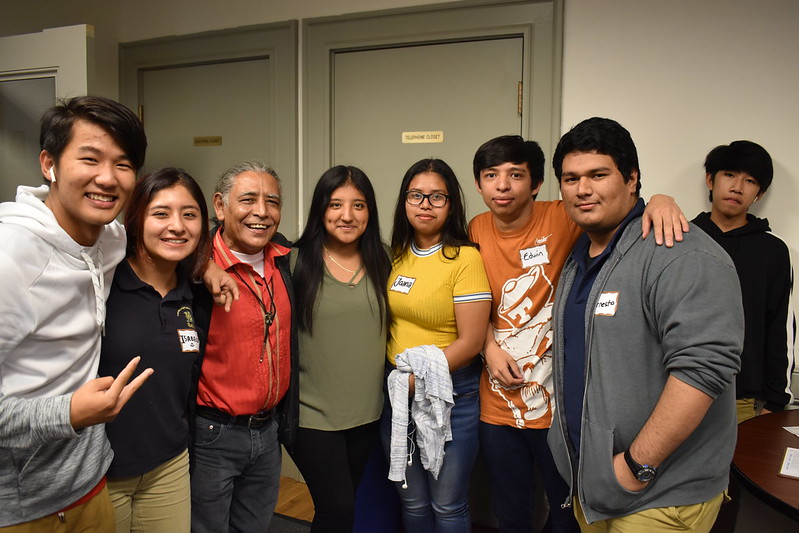 Sarah Ermis, an English teacher at Columbia Heights Educational Campus, had encouraged her students and commented on their experience,
My students loved meeting Mr. Argueta. They were so excited to hear a story that reflects so much of their own experience and came back today anxious to share with the rest of their classmates. One of my students read half of his book last night!
After the talk, Argueta stayed to have individual conversations with attendees and signed copies of the book, which is available from Groundwood Press in Spanish and English.
The evening was a reminder to all of the importance of community in building connections and dismantling barriers, as well as the reason why Central American authors and poets must be highlighted and amplified — to teach young people a shared, global history and provide young people with the representation they deserve.
Salvi writer Jorge Argueta gave moving talk on his new book "Caravan to the North" during #TeachCentralAmerica week. It was wonderful to have students from #CHECK in #WashingtonDC @teachingchange @SPAP_UMD @umdsllc @UofMaryland #centralamericantwitter pic.twitter.com/8Lz8JqzrJE

— Ana P. Rodriguez (@aprodrig77) October 8, 2019
The event was held on the first day of Teach Central America week. It was co-sponsored by Teaching for Change and the Casa de la Cultura de El Salvador. Four advisors for the Teach Central America campaign were in attendance: Mario Bencastro (author), Ingrid Colon (New America), Jeannette Noltenius (Casa de la Cultural de El Salvador), and Ana Patricia Rodriguez (University of Maryland).
One family with three young children drove from Frederick, Maryland to attend the event. They had recently returned to visit El Salvador for the first time since their children were born. To prepare their children, they read books to them by Jorge Argueta. So, when they learned Argueta was going to be in the area, they drove more than an hour so that they could all meet him in person.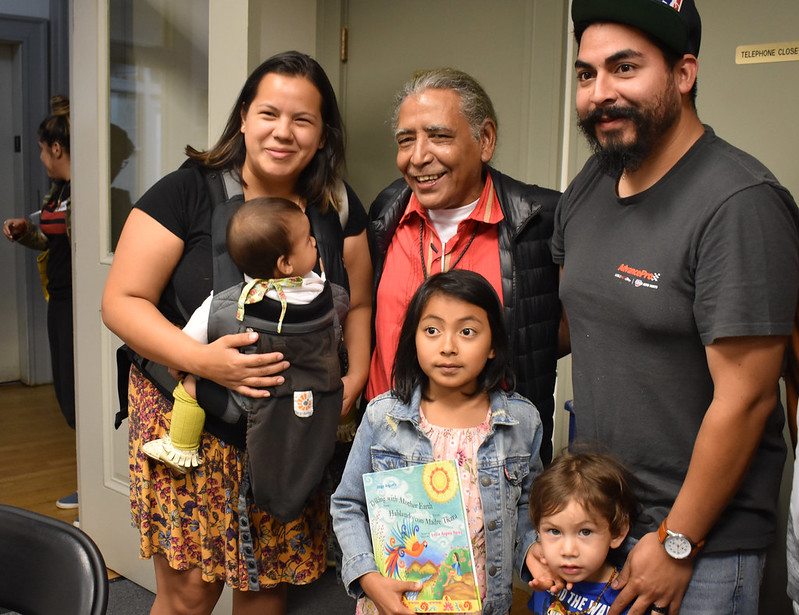 While in D.C., Argueta also did presentations for students at Tubman Elementary School with support from An Open Book Foundation, Thomson Elementary School, the Salvadoran Embassy, and Capital City Public Charter School.
---
VIEW PHOTOS FROM EVENT
---
Cierra Kaler-Jones is the Education Anew Fellow with Communities for Just Schools Fund and Teaching for Change. She is also a Ph.D. student at the University of Maryland, College Park studying minority and urban education.