Educators Nationwide Teach about Central America October 7-13, 2019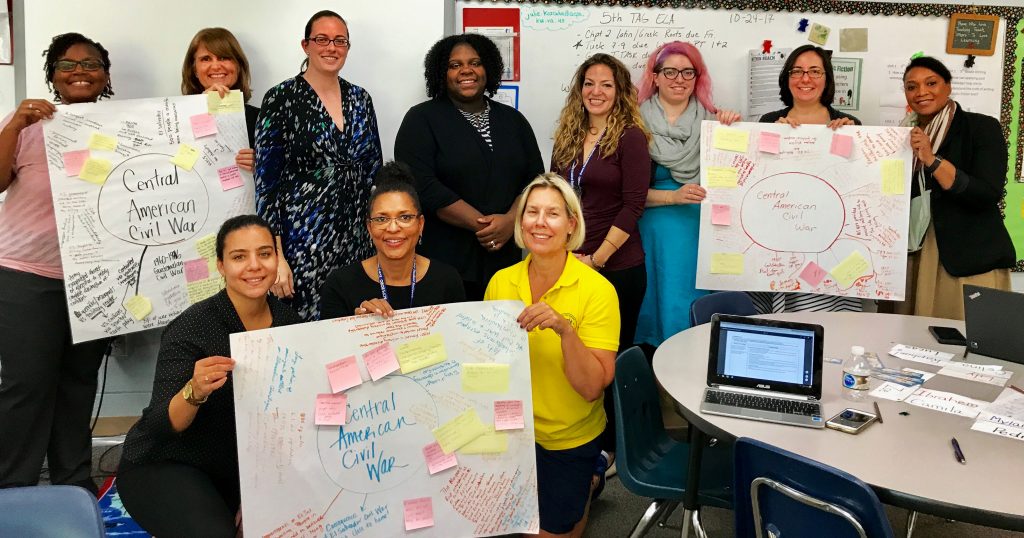 More than seven million Central Americans reside in the United States and migration from the region is headline news. However, most schools teach very little about Central America, including the long history of U.S. involvement in the region and Central America's rich history and literature. This makes it difficult for students to understand the mass migration of Central Americans to the United States and for Central American students to see themselves in the curriculum.
To address this, Teaching for Change launched Teach Central America Week (October 7-13) to encourage and support teaching about Central America during Latinx Heritage Month. Teaching for Change is providing free resources for classroom teachers, including lessons, book lists, biographies of noted historical figures, and readings, which can be found at TeachingCentralAmerica.org.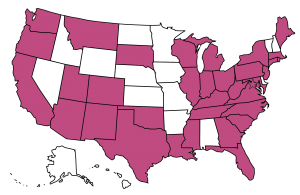 Hundreds of teachers from 33 states and the District of Columbia have signed up to participate in this first annual Teach Central America Week. For some teachers it is deepening their ongoing work and for many others, it is opening a new door. For example, an educator in New York wrote, "I must admit that I felt a sense of shame upon seeing this campaign announcement — I have taught practically nothing about Central America! The only lesson I did last year was a way-too-rushed day about U.S. intervention in the 1970s using Howard Zinn's A People's History of American Empire. I am excited to dedicate a week to the topic." Here is what more educators are saying about why they are eager to teach about Central America:
I am K-12 school counselor at a small rural school in South Dakota. We have two female students who are new to the country from Guatemala. While I am trying to build an ELL program, I am also trying to educate our local students on the girls' culture. — Shanna Davids, school counselor, Deuel School District, Clear Lake, South Dakota
Approximately 60-65% of our school population have recently immigrated from Guatemala, El Salvador, and Honduras. Latinx Heritage Month is already a critical cultural celebration at our school, and Teach Central America Week will help us further strengthen our school-wide community building. — David Baird, administrator, Phoenix Charter Academy, Chelsea, Massachusetts
My eighth grade students spend the first term learning about the basic geography, history, and culture of Central America. We are fortunate to have Guatemalan, Salvadoran, Honduran, Mexican, and Costa Rican families in our school community. I teach this because it is 'real life' and because my students' learning is not merely about a future job or vacation, but also an opportunity to connect with their classmates!  — Heidi Wakeman, middle school Spanish teacher, O'Maley Innovation Middle School, Gloucester, Massachusetts
I am the organizer of Advancing Latinas into Leadership Mentoring Program. The majority of our students are from Central America. Being part of this Teach Central America Week allows our students to embrace their cultures and learn about their history.  —Elsie Guerrero, Advancing Latinas into Leadership Mentoring Program, Washington, DC
Educators prepared to teach about Central America in a variety of ways.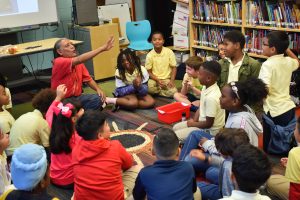 In Washington, D.C., Teaching for Change hosted a Latinx Literature Open House to help educators prepare for the week that showcased titles from our Latinx, Afro-Latinx, Immigration, and Central America lists, as well as other resources for teaching about Latin America.
The Casa de la Cultura El Salvador planned a week of activities with Salvadoran author Mario Bencastro.
Teaching for Change hosted Salvadoran author Jorge Argueta for a book talk (in collaboration with the Casa de la Cultura El Salvador) and an elementary school visit (in collaboration with An Open Book Foundation.) In Alexandria, Virginia, teachers at an elementary school prepared with a full day professional development session on Central America.
On October 7, Columbia University's Teachers College in New York City hosted a mini Teach-In to introduce pre-service and current K-12 teachers to a modified version of the "Introduction to Central America" lesson. After the workshop, participants will have an opportunity to explore the TeachingCentralAmerica.org website further to see what other curricular materials are available to fit their particular school needs.
The Department of Spanish and Portuguese at the University of Maryland, College Park endorsed the week, with the explanation: "We regularly offer courses in Central American literatures and cultures and support the learning of our students, some of whom are children of immigrants or immigrants from Central America. We will host several events on Central America in support of Teach Central American Week."
Educators have shared that they look forward to using the resources from TeachingCentralAmerica.org and sharing more lessons and books and film recommendations.
We have just started reading The Other Side: Stories of Central American Teen Refugees Who Dream of Crossing the Border. Students will be researching a country and we will be sharing food, music, and stories from countries. I have shared this with the social studies teacher. This week they are studying the precolonial and colonial history of Central America. We teachers are collaborating on lessons. I am going to reach out to science and math teachers to make connections also using graphing, statistics, calculation, and the study of the biome in Central America. — Jessica English, middle school language arts teacher, Aurora, Colorado
I teach college level classes on colonial and modern Latin America, with upper-div classes in Labor History, Revolutions, Human Rights and Justice, and US-Latin American relations. There is a lot on Central America in these courses. I am preparing a 6 week adult education course specifically on Central American history, which will run from Sept 25 to Oct 30. This is a new course for me, so your resources are great. I look forward to sharing what I develop. — Jody Pavilack, instructor, University of Montana History Department, Missoula, Montana
I am a writer, filmmaker, and educator. I will be showing the documentary Manlio Argueta: Poets and Volcanoes in a high school on October 7, 2019. I will also put on a Cultural Night with poets, short stories, writers, theater, and an exposition with Central American artists on October 11, 2019. — Carolina Rivera Escamilla
To learn more about Teach Central America Week, visit https://www.teachingcentralamerica.org/teach-central-america-week.