Parent Perspectives: Becoming a Roving Reader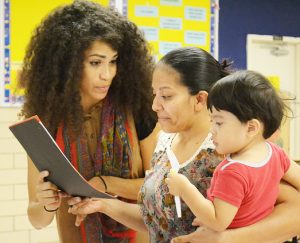 Dinora Arteaga is a familiar face around LaSalle-Backus Education Campus (DCPS), where her son is in first grade. She is known for being soft-spoken and always ready to participate, with her baby girl in tow. Ever the dedicated parent volunteer, Ms. Arteaga stepped up to participate in LaSalle-Backus's very first Roving Readers Day on February 8, 2017.
For Ms. Arteaga, the prospect of reading aloud to a classroom of children and their teachers was a step out of her comfort zone. To prepare, she practiced animating her voice and familiarized herself with the book alongside Debbie Thomas, Teaching for Change's Roving Readers Coordinator. By the end of the workshop, Ms. Artega felt prepared to read The Pigeon Finds a Hot Dog, a story about sharing by Mo Willems aloud to the students. But attending a workshop on reading aloud was one thing – leading in-class literacy time for three classrooms was another.
The first Roving Readers visit was scheduled for her son's classroom.
"Chris*, that's your mom!" exclaimed a student, as the teacher welcomed the Roving Readers parent volunteers into the classroom. Chris kept laser-like focus as his mother balanced his baby sister in her lap and took turns reading with a partner, alternating in English and Spanish. Students participated loudly and laughed in all the right places, and the teacher captured photos of the moment on her tablet.
Afterward, Ms. Arteaga was greeted by her son with a hug, and they posed together for a picture with the book. In the hallway, she was all smiles.
"I kept looking at my son, Chris. Sharing is something we've been talking about at home, so to have that reinforced here…now he sees that he has to share not only with his sister, but everyone," Ms. Arteaga said, referencing the story's sweet and simple lesson.
"At first I was nervous, but toward the middle I felt good. It's really good for kids to see the parents engaged with books. And even just to get kids to smile – in the first class, some of the kids spoke Spanish and their eyes just lit up. I understand how this is important."
Learn more about Roving Readers, a Tellin' Stories signature activity.