How Parent Volunteers Inspired a Young Reader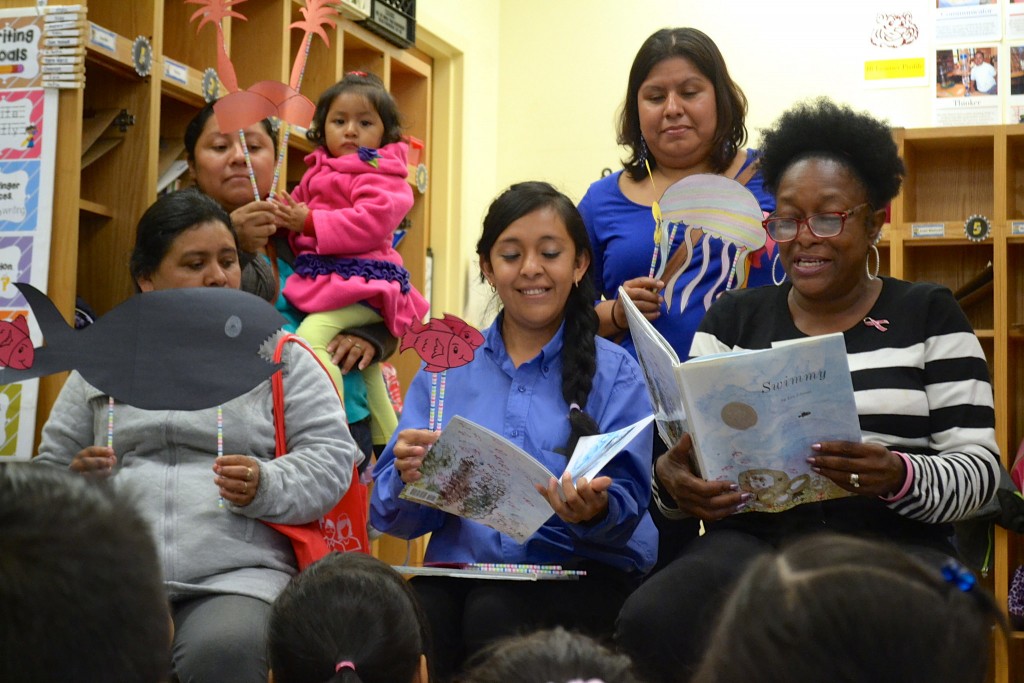 In the 2014-2015 school year, Brian Juarez* was a second grader at Thomson Elementary (DCPS), a fourth-year Tellin' Stories partner school. He spoke Spanish at home and had already become the interpreter between his parents and his teachers. When there were forms to send home, he filled them out during class with his teacher's help. Emily Prater, his second grade teacher noted:
He came in as somebody who was already starred as having behavioral problems. He was a very low reader – didn't want to read at all, wasn't interested in reading. He was a sweet kid, a nice kid who always tried to do his best. And he was very re-directable.
One day during the fall, Ms. Prater signed up to have Roving Readers visit her classroom. This signature Tellin' Stories activity brings parents into the classroom to read multicultural books aloud and lead literacy activities with students. Roving Readers strengthens home-school ties, boosts literacy and academic achievement, and promotes multicultural children's literature that often fills critical gaps in school materials.
On the first day of Roving Readers, Brian sat at the back with Ms. Prater as the parents and caregivers took their seats in a long row on the reading carpet. By then his literacy skills were improving, but his interest remained low. He watched as each of the parents opened up copies of Click, Clack, Moo: Cows That Type/Clic Clac Muu Vacas Escritoras and took turns reading in English and in Spanish. Ms. Prater noted Brian's reaction:
He said, 'Ms. Prater, that book is in Spanish!' And I said, 'Yeah, some books are written in Spanish, and some are in English.' And this was the coolest thing… he moved from the back of the carpet where we were sitting, all the way up front so he was sitting right at their feet. And you could just tell, he was like, 'Tell me more about this Spanish book, this is awesome!'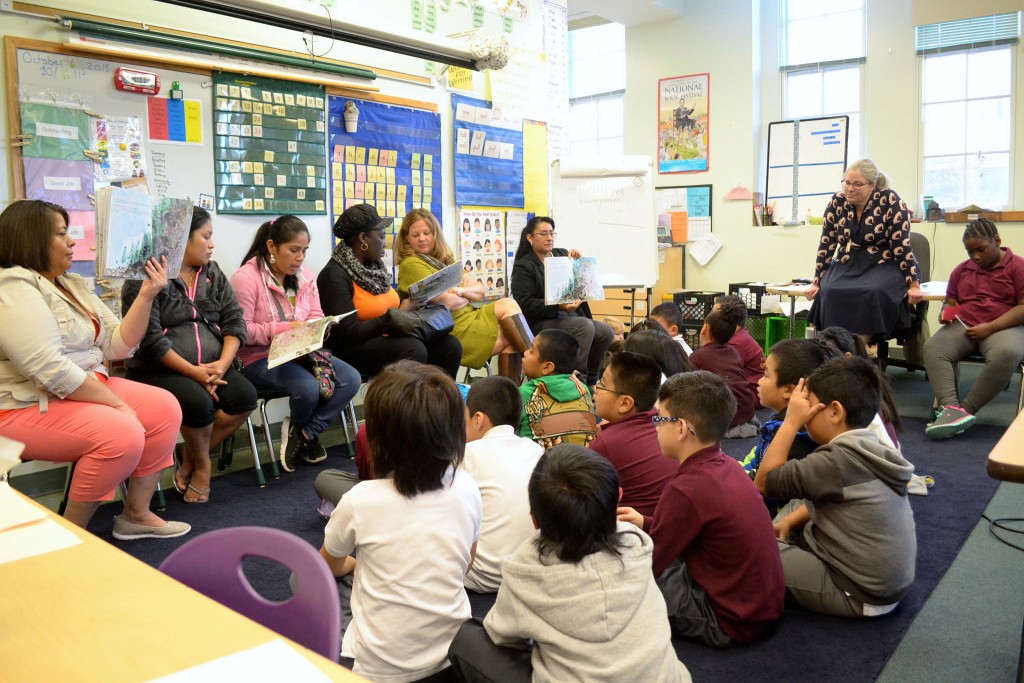 Brian picked up a copy of Clic Clac Muu Vacas Escritoras, and realized with great surprise that he could read it easily. Ms. Prater shared,
Every time the Roving Readers came in, [Brian] was like, 'This is amazing.' And each time, he was like, 'Let me take this home. I want to take it home and read it for my mom.' It was interesting because it was the first time he could take a book, not have to translate it back into English, and read it to his mom. It was like a whole new world opened up for him.
By the end of the year, Brian was reading above grade level. Today, he often joins Ms. Prater after dismissal to help interpret for meetings/conversations with parents. His mother accompanies them with a steady hand on Brian's shoulder and words of encouragement.
Ms. Prater explained:
It was really nice, because he finally realized, 'If they would've only had these books in Spanish I would've had an easier time!' Based on what I saw with him, it would be nice if I had a bigger Spanish library.
Roving Readers was developed, with training and organizing assistance from Teaching for Change, by parents at a DC Public School in 2005 to challenge low expectations for their children's education and boost literacy in their school.
Research shows that this kind of integrated family engagement leads to academic success – but it's the change in students themselves that drives the point home.
*The student's name has been changed.