Schools Welcome Parents as Partners with Academic Classroom Visits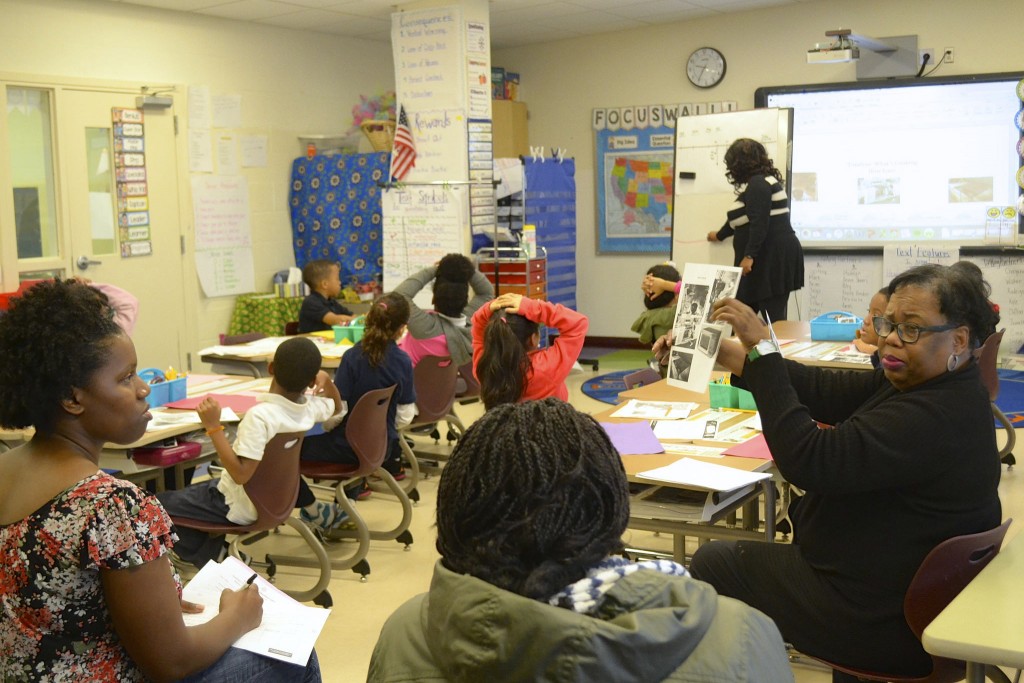 Heads turn and whispers fly as a small group of parents quietly file into the back of a second grade classroom in the middle of a reading lesson at LaSalle Backus Education Campus. The poised teacher at the front has already told the young students to expect some special visitors, so it's easy to refocus the room. But under the parents' warm and attentive gaze, the school day becomes a bit more interesting.
The class is hosting an Academic Classroom Visit, a Tellin' Stories signature activity that invites parents into their children's classrooms to observe instruction and classroom expectations in action. Parents are welcomed to the school and receive an overview of what their kids are learning and what they should expect to see when visiting the classroom. After observing a typical lesson, parents are invited to comment on what they notice and ask questions. By giving family members a window into classroom life and an opportunity to offer feedback, Academic Classroom Visits build trust, communication, and shared understanding between families and the school, building partnerships that promote students' academic achievement.
At LaSalle-Backus Education Campus (DCPS), instructional coach Janice Carter-Bowden meets with a group of 10 second grade parents in the cafeteria to prepare for the observations by discussing how the visits will be structured and what the students are learning. Each parent receives a classroom visits observation worksheet in their language with structured prompts for feedback and space to write their own observations. Questions such as "Is the classroom safe and clean?" and "Are the children working well?" provide a useful guide for parent observations. Together the parents walk upstairs to observe two classrooms in action – one in the middle of a math lesson, and the other working on a history-based language arts project. The parents sit silently in the back of the room and write down their observations, sometimes returning the smiles from their children excited to see their parents in the classroom. Teaching for Change staff members murmur the Spanish interpretation of the teachers' words via headsets.
Angela, one of the mothers participating that day, appreciated the opportunity to spend time observing the environment where her daughter studies each day.
It was interesting! I thought we would just walk in and see the classroom, I didn't expect to stay. The teachers seem to be doing well. My daughter tells me about the work she does in class. She explains everything to me…but because I don't know English I can't help her very much.
At the end, parents gathered once again with the instructional coach in the cafeteria to debrief with praises, critiques, and questions about what they observed.
It was the second time Noribel, also a mother at LaSalle-Backus, visited one of her children's classrooms. "I saw that my child was helping other kids…I liked how the children worked in teams. And they were really well behaved, like little angels – they don't behave like that at home!" she laughed, adding that where she is from in the Dominican Republic, parent presence is mandatory. "The children were in a safe space. They are very focused on what was in front of them."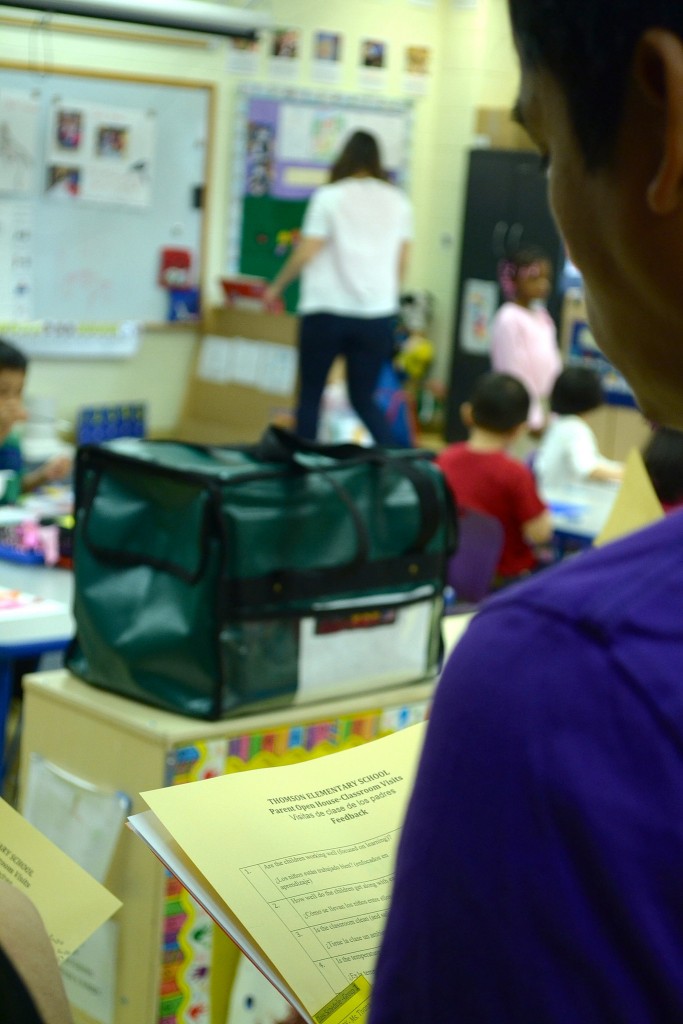 At fourth-year partner school, Thomson Elementary (DCPS), Academic Classroom Visits begin with a Principal Chit Chat. About 30 parents gathered at the monthly dialogue with the principal before the 2015 winter vacation. As everyone enjoyed a light breakfast, Principal Carmen Shepherd explained that the parents would split into six groups to rotate between kindergarten, first grade, third grade, and fifth grade classrooms. Ms. Shepherd had a goal of building community across the school and exposing parents to learning at different grade levels. Ella Cleveland, a second grade classroom aide, offered to care for the infants in strollers so their moms could participate more easily.
Parents slipped into each classroom for fifteen minutes at a time to observe a piece of the daily school routine in four different grade levels. Bilingual staff members led each small group and whispered quick overviews of the lessons in the hallways between classrooms, as parents jotted thoughts in their classroom visits observation worksheets.
Betty, a grandmother at Thomson, was excited to see what the students were learning: "I just took a college class on American history, and we were studying the same thing," she shared with other parents.
Hewida Osman, a trilingual mother with two students at Thomson who is originally from Somalia, was happy to be invited in.
I'm always here at school, but I didn't know how much engagement teaching required. For my son things are a bit hard for him here, he's still learning English. The teacher talks to us about how he is doing and I have the app for his class. For my daughter, she does her homework in school two days a week. The other three days we help her at home. Me being here makes my children feel confident. It makes us also engaged with the school, like we are all on the the same page, and it helps me so that I can help them.