Students' Film on Voting Rights Reaches National Audience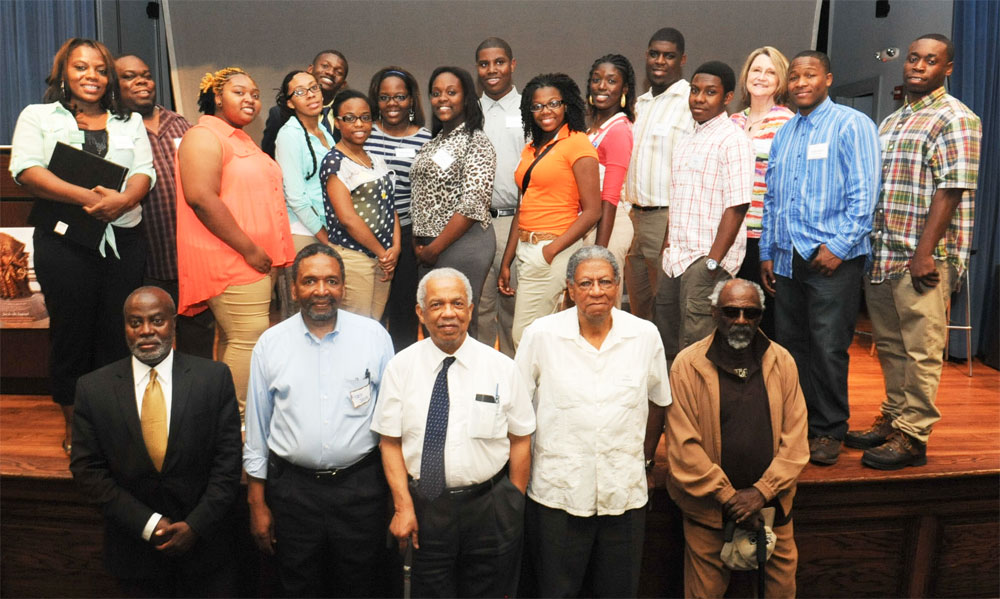 "I learned that history is everywhere and that by coming to DC to teach people about our town's Civil Rights Movement history, we made our own history." – Diamond
"Our documentary on SNCC and the voting rights struggle in McComb will be shown permanently at the African American Civil War Museum to visitors from around the world. I can confidently say that we accomplished what we came here to do." – Zaccheus
Diamond and Zaccheus were two of the proud high school students at the June 11 reception when they learned that the film they made on the history of the voting rights struggle will have national visibility. The film will be shown continuously on one of the monitors at the African American Civil War Museum, featured in the Association for the Study of African American Life and History film series at UDC, added to the SNCC Legacy Project website, and more.
Students were joined at the reception by SNCC veterans, historians, teachers, and other community members. It was scheduled during their week-long trip to DC for National History Day in June of 2013.
Partnership

Teaching for Change is honored to have partnered with these McComb, Mississippi students and their teachers. With funds from the W. K. Kellogg Foundation, we helped them establish the McComb Legacies summer institute and after school program, connected the students with leading historians, and sponsored a range of field experiences including a student-led conference on voting rights and student participation in the Delta Freedom Project Tour.
"Because of the hard work of McComb Legacies students and the role of Teaching for Change as an ally, people, young and old, across the country will have a chance to learn of the voting rights struggle in McComb and Mississippi as well as learn local history that is not found in textbooks" – Gloria Stubbs, program director, McComb School District
Home Town in a New Light

This is the second year that students have documented and shared local history for National History Day and more. Prior to this, many students did not know that their town played such a major role. Here's some of what they had to say during the school year about the impact of learning local history:
I used to think that my community was boring and uninteresting, but after talking with the speakers, I have become very curious about what actually occurred.
The more local history you know, the more you have a chance to create a future for the next generation.
The most important thing that I learned this week was that I can change things and make history by what I do in life. I can also take things that are usually hidden and bring them back to life and be proud that I did it.
After learning about the murder of Hebert Lee at the Cotton Gin, I feel more strongly about exercising my right to vote. I now know how important it is and I will definitely go register when I am of age.
After doing countless interviews with local heroes of the movement, these videos will now be available for future generations to explore. At National History Day, we showed the world how important the Civil Rights Movement was in McComb.
We invite to you to see photos and learn about their 2013 trip to DC and the work of McComb Legacies overall.

Help spread the word by liking and sharing the article about Mississippi students at National History Day in the Clarion-Ledger.
If you would like to learn how you can contribute to this vital work, contact Teaching for Change Associate Director Allyson Criner Brown.
Photos
Top: Teachers and students from McComb on stage, SNCC veterans standing in front of stage. By Victor Holt.