Thank You to Our Teach the Beat Donors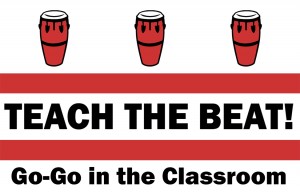 Through the generous support of individual donors, Teaching for Change will continue to bring go-go into D.C. area classrooms.
From June through September, Teaching for Change brought go-go performers and scholars to provide in-school coaching to D.C. public and public charter students of all ages as part of a special grant from the D.C. Commission on the Arts and Humanities.
In September, we asked for individual contributions to help us continue this exciting program through the fall and beyond—and you responded!
A HUGE shout out to Teaching for Change board member Nzinga Tull, who asked her friends to donate to Teach the Beat to celebrate her birthday—#NzingaNewYear. Her campaign has already raised more than $2,500. Because of her efforts and your generous donations, musicians and scholars will continue to bring D.C.'s rich and unique tradition of go-go into the classroom.
Thank you to our generous donors.
Ben's Chili Bowl Foundation
Anonymous
Nasiba Abdul-Karim
Allison Acosta
Tracy Adams
Maisha Amen
Rhondee Benjamin-Johnson
Maia Blankenship
Aisha Bond
Rukiya Bonner
Lisa Carlton and Kevin Waller
Sa'id Chestnut
Lydia Curtis
Walidah Dailey
Veronica Davis
Stephen Downing
Ruthie Epstein
Mia Foreman
Michael Gallagher
Alexandra Gelbard
Robert Gore
Byron Grayson
Atiya Hoye
Aaron Jones
Nandi Jones-Clement
Marc Bamuthi Joseph
Lauren Khouri
Omelika Kuumba
Enid Lee
Shantrelle Lewis
Hatshepsitu Massey
Arthur McClung
Kevin McEwen
Nadirah Moreland
Anjali Nagpaul
Damon Patrick
Kenya Pierre
David Poms
Curtis Sharif
Leonard Jason Small
Charles Stephenson
Diallo Sumbry
Nate Tamialis
Maceo Thomas
Kimathi Tull
Mossi and Carmen Tull
Nzinga Tull
Aaron Williams
Kimberly Williams
Lesley Williams-Blackwell
Kimara Whiseant
Lindsay Young
We need your support to ensure this program can continue into the spring and beyond. Add your name to our growing list of donors.