Teachers Explore the SNCC Digital Gateway Website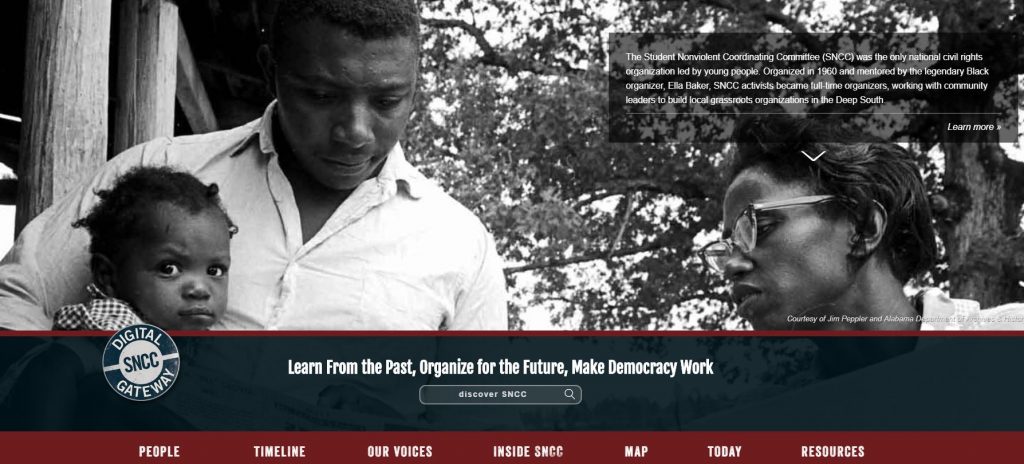 Teaching for Change was asked by Duke University and the SNCC Legacy Project to collect stories from experienced teachers about ways to use the SNCC Digital Gateway in their classrooms. We hosted a number of sessions in the DC area and one is scheduled for New York later this spring. Here are some highlights from the sessions to date.
Role Play on Dilemmas Faced by SNCC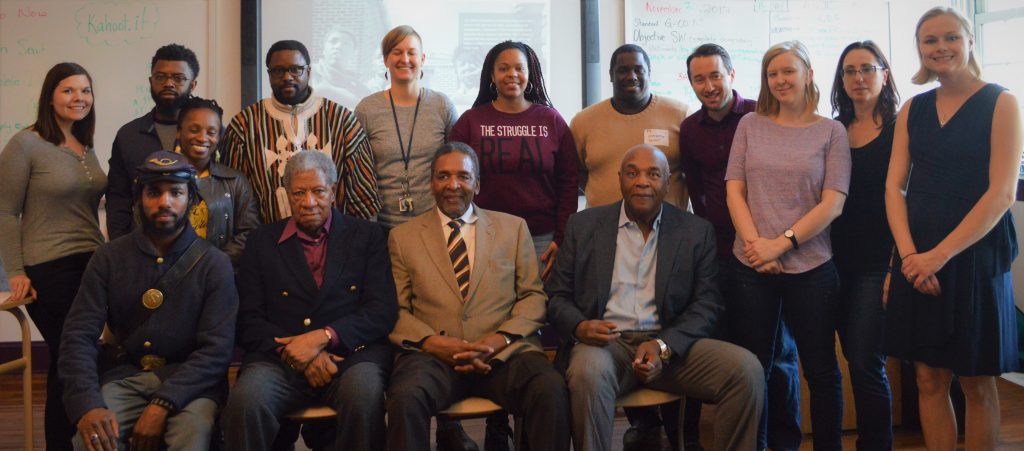 Using a role play by Rethinking Schools editor Adam Sanchez, we began three of our sessions by posing key dilemmas that SNCC grappled with. Teachers met in small groups to ponder these three questions:
1. Should SNCC focus its efforts on voter registration or direct action?
2. Should SNCC bring a thousand mostly white volunteers to Mississippi?
3. Should SNCC workers carry guns?
The role play, developed by Sanchez in consultation with SNCC veterans, led to a lively discussion. In the first convening, we were lucky to have SNCC veterans Courtland Cox, Tim Jenkins, and Frank Smith as special guests. Once teachers had grappled with the questions in the role play, the veterans joined one group each and revealed the actual decisions made by SNCC. But the teachers knew the SNCC vets could not come to each of their classes, so they were pleased to learn that the SNCC Digital Gateway can bring that first person voice of veterans to their classrooms through the video clips and other resources at the site.
This lesson was introduced at a DCPS professional development session at Eastern High School, in a regional workshop at the Middle States Social Studies annual conference, and at a invitational convening of high school teachers at the Teaching for Change office.
Librarians Love SNCC Digital Gateway
Some of the most enthusiastic responses to the site came from librarians or media specialists. Here are testimonials from Sarah Elwell at McKinley Technology High School (DCPS) and Jonas Strickland from Phelps Architecture, Construction and Engineering High School (DCPS). (Note that they were filmed quickly between classes, with no retake time.)
Exploring SNCC Digital Gateway Profiles with Meet and Greet Lesson
In another session, we developed a "SNCC Meet and Greet" activity. Each teacher received a name and photo of a key person involved with SNCC (staff, local people, mentors, and allies). Their assignment was to find and read their bio at the SNCC Digital Gateway website in the profile section.
Once they knew about their character, they received an interview sheet. Everyone participated in first person, stepping into the shoes of the person they were assigned and interviewing their peers to find out who was from their same state, who had been to jail, who was involved in politics, etc. By the end of the activity, teachers who had never heard of SNCC could name four or five key people and what they did. In addition, they had explored and were hooked on the SNCC Digital Gateway as a source to learn more.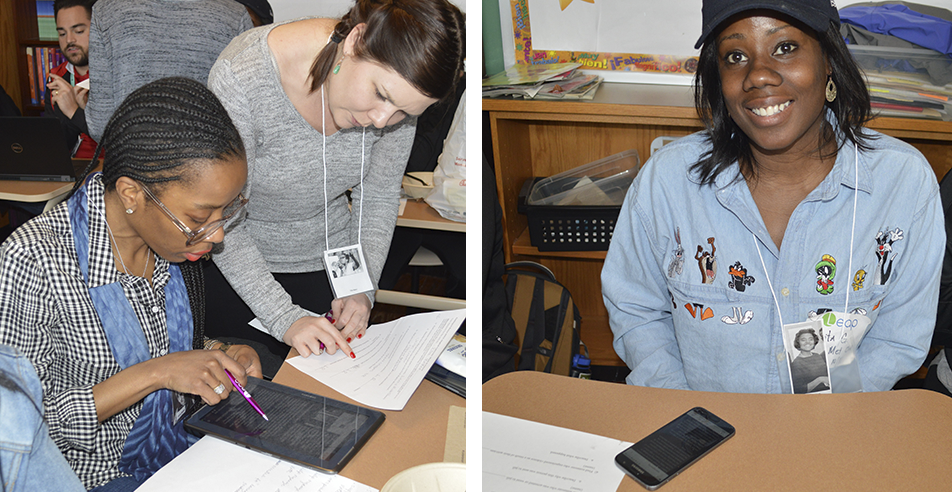 In the feedback, we received from the session, educators shared:
I love the SNCC Digital Gateway site, the "meet-n-greet" was also very informative.
I learned about a lot of influential people. Found a database where various people (change makers in the Civil Rights Movement) are organized together.
This is my first time hearing about SNCC Digital. Great tool to integrate ELA and social studies.
The meet and greet was a unique way to engage my students in learning about social justice issues as well as central figures in the movement.
I was amazed to find my uncle on the site. I never knew he had been that actively involved.
Developing More Lessons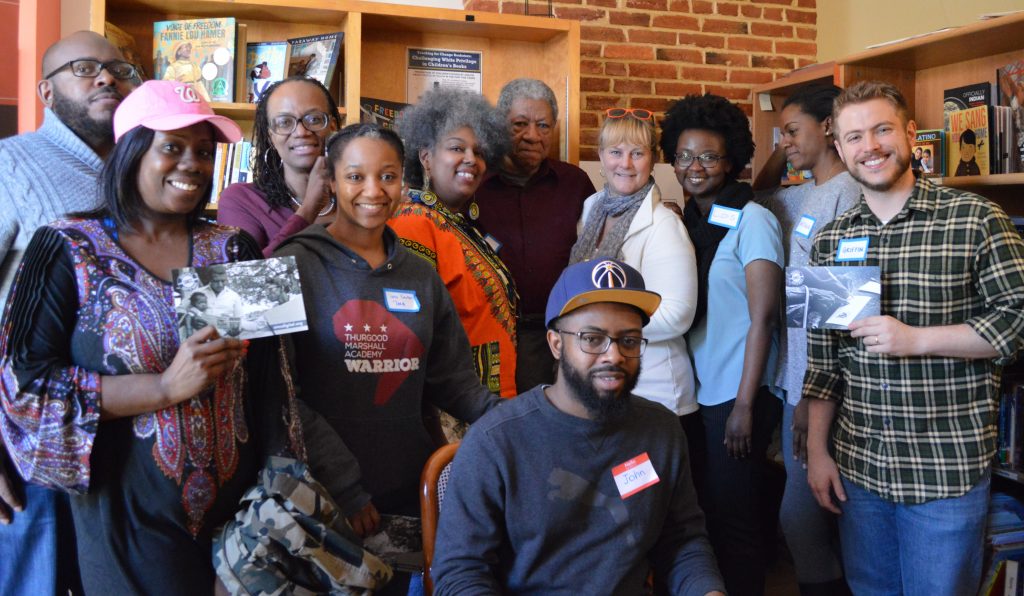 In a Saturday morning working session, educators were given a list of key narratives of the Civil Rights Movement. The teachers were asked to select one or two narratives they would teach in a unit about the Civil Rights Movement. They worked in pairs by subject area to brainstorm how they would use the SNCC Digital Gateway website to develop lessons and activities around these key narratives. Below are just a few of the teaching ideas produced during the session (more are under development):
Have students listen to music on SNCC Digital Gateway from the Movement and conduct a Socratic Seminar in which students explore: What ways did music play a role in motivating and inspiring activists? Does today's music encourage unity and empowerment?  
Compare and contrast primary sources from SNCC Digital Gateway with mainstream news posts about the same events.
Spreading the Word
Beyond the in-person contact, Teaching for Change is introducing educators across the country to the SNCC Digital Gateway by embedding links in lessons and social media posts.  For example, in response to the student walkouts this spring, Teaching for Change prepared and posted an article called "And the Youth Shall Lead Us" with more than 16 stories of youth on the front lines of social movements in U.S. history, including SNCC. The article was linked in national news media such as the New York Times Learning Network and continues to be shared to highlight the historic and contemporary context of youth organizing.
Stories about young activists from throughout U.S. history. https://t.co/OIzap5435u Includes @ConscienceDVD, @MotonMuseum, @snccdigital, @truthamerica, @marybtinker, @Dreamdefenders, @4EdJustice, @ReZpectOurWater & more.

— Teaching for Change (@teachingchange) February 24, 2018
Our history of transportation protests includes the role of Marion Barry and SNCC. The Resistance 101 lesson includes links to SDG to learn more about activists and strategies. The #tdih (this day in history) posts at the Zinn Education Project Facebook page and twitter are widely shared and at every possible opportunity, include links to the SDG site.
"If you don't vote, you don't count," — Vernon Dahmer killed by KKK #tdih '66 b/c he offered to pay anyone's poll tax (year after VRA) in Forrest Cty, Miss. Read: https://t.co/dYvIeEoJlo #follow @snccdigital @JMitchellNews pic.twitter.com/9nMWZKuF2U

— Teaching for Change (@teachingchange) January 10, 2018