The Secrets to Great Parent Meetings

The cornerstone of an effective parent engagement strategy is building relationships between parents, teachers, and administrators—but schools are becoming increasingly aware that traditional conferences and meetings with parents are not exactly engaging.
"How to Have Better Parent Meetings," Teaching for Change's third Cross-City Parent Coordinator Training of the school year, detailed the essentials for a successful parent meeting. Twenty local parent coordinators, parent leaders, and community and parent outreach coordinators from the DC Public Schools' Head Start office gathered January 25 at the American Federation of Teachers, AFL-CIO headquarters for a three-hour professional development session based on Teaching for Change's nationally recognized approach to parent engagement, Tellin' Stories.
Led by Teaching for Change's senior parent organizer, América Calderón, the participants broke down traditional parent meetings and brainstormed effective ways to engage parents and forge connections. The groups explored topics such as the role and characteristics of a good facilitator, developing participatory agendas, and innovative outreach ideas (such as mailing charming invitations to parents).
In the first exercise, participants compared the attributes of their best and worst meeting experiences.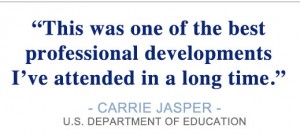 Head Start parent coordinator Victoria Hightower shared, "My best meeting ever was the first workshop we had with América. Teaching for Change came to [Head Start] to teach us about parental engagement and I saw the light. I want my parents to feel how I felt at that meeting."
In another helpful exercise, Calderón assigned each group one component of planning a great meeting –outreach, agenda, facilitation, parent participation, and evaluation), and challenged them to consider traditional, good, and great outcomes for each component.
"My team makes agendas but they're very generic. When I look at them I don't get a sense of what they're doing," Head Start family services team leader Adaugo Ohanyerenwa said. "From these trainings I'm starting to see who's good at planning parent meetings and who could use more support.
Another Head Start team leader, Amy Goldwasser, agreed.
"This [training] put lots of labels to things I've learned or done intuitively. I learned that PowerPoint is, for the most part, inappropriate at schools for parent coordinators to be successful," she said.
Finally, the groups planned agendas for hypothetical parent meetings on a range of real-world topics and presented their agendas as a team. The resulting agendas were so good that the participants asked to have them printed and distributed as templates for their own parent meetings.
"This was one of the best professional developments I've attended in a long time," Carrie Jasper of the U.S. Department of Education shared emphatically as the training came to a close.
Teaching for Change's next Cross-City Parent Coordinator Training will be held March 22, 2013.