The Shapes that Shape Our Lives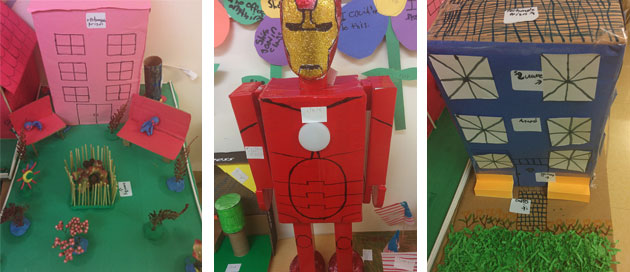 A spaceship representing the United States and El Salvador. The church from a small pueblo (village). The "Birthday Party Express" bus. These are a few of the family projects proudly on display in the hallways of Thomson Elementary (DCPS) this spring.
The first graders at Thomson Elementary (DCPS) are learning all about shapes, so in April 2014, the first grade team held a Parent-Teacher Grade Level Dialogue to show parents what their children were learning and introduce a family project for spring break. What you see are highlights of the first grade spring break family project about finding shapes in real life.
Parent-Teacher Grade Level Dialogues are one strategy in the Tellin' Stories approach to family engagement that brings together parents and teachers to discuss student academics, build relationships, and find way to effectively support each other to further student achievement. Through Grade Level Dialogues and other activities using the Tellin' Stories approach, teachers at Thomson have learned ways to connect students' home language and culture with classroom learning.
The dialogue began with a mini Zumba workout for the parents, in which the teachers showed them a program that students use for exercise breaks in the class. Teachers asked the parents to write down questions they have so the team could address them throughout the meeting. As they progressed, parents learned about the different shapes their children are studying and saw pictures of projects from last year. The teachers emphasized that the family projects could and should be done with items around the house, and should reflect something of interest to the students. After discussing the project, parents and teachers conversed about the other questions raised and concerns for the grade.
Before the families went home, parents and students were able to take items from a box of recycled materials the teachers compiled to help them get started. The finished projects reflected both academic rigor and the interests of students and their families.
Read about another Grade Level Dialogue here.