D.C. Parent Organizing Featured in 2016 AERA Conference Offsite Visits
April 20, 2016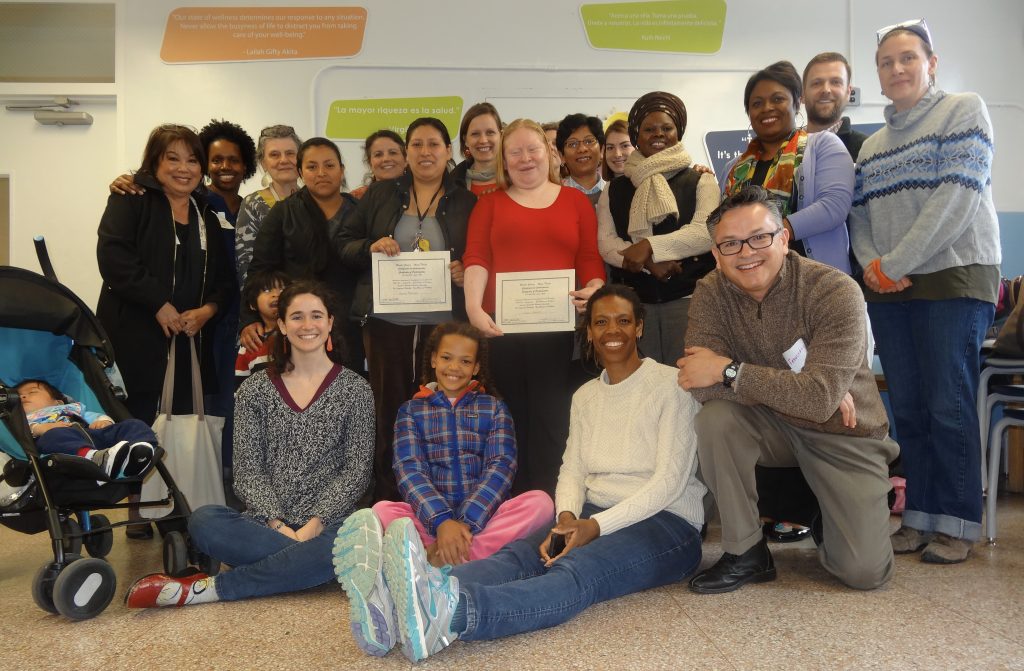 With the 100th annual American Educational Research Association (AERA) national conference and its theme "Public Scholarship to Educate Diverse Democracies"  visiting Washington, D.C. this year, Teaching for Change partnered twice with local researchers and education organizers to give conference attendees a glimpse of the parent organizing and family engagement work happening locally.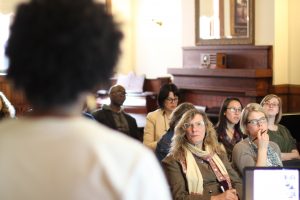 On Saturday, April 9, 2016, Teaching for Change placed family engagement in the broader context of gentrification in D.C. at the Thurgood Marshall Center. The AERA offsite session,  "Fighting for the Right to the City," was hosted by Dr. Esa Syeed of Marymount University and Chy McGee, Ph.D student at New York University. Teaching for Change staff presented emerging lessons and offered concrete strategies that teachers and administrators can use to address power dynamics in schools and to meaningfully partner with working class parents of color. An earlier version of the presentation, shared at a July 2015 briefing on the subject, can be accessed here. Along with Teaching for Change, AERA participants visited break-out sessions with Shirikiana Aina, director of the film Brick by Brick, and Empower DC for more background about gentrification and grassroots education organizing in the District.
On Friday, April 8, 2016, AERA participants in the pre-conference workshop Community Learning Exchanges: Using Transformative Pedagogies for Research and Practice joined parents at Bruce-Monroe Elementary School at Park View (BMPV), a DC Public School, and staff of the Tellin' Stories Project of Teaching for Change. Teaching for Change arranged the visit to BMPV, a longtime partner school, with workshop co-presenters Lynda Tredway, Francisco Guajardo, Miguel Guajardo, Gretchen Generett, Chris Janson, Matthew Militello, and Kwesi Rollins. Visiting US and international researchers had the opportunity to connect with local parent leaders and Teaching for Change organizers during a regular weekly parent meeting, using a methodology rooted in storytelling and committed to the conference theme of engaging in public scholarship that would in turn enhance our ability to reflect and re-imagine the work we do in communities.
At Bruce-Monroe, participants chatted and grabbed food and coffee, then scooted their chairs closer in tight circles to listen and share stories about parent leadership. In one circle, Rosario Flores, Spanish-language secretary of the Parents and Teachers United for BMPV, discussed how she and other parents testified before the D.C. city council multiple times, and worked with the school administration to advocate for much-needed funds for afterschool programming and building modernization.
Other parents discussed how they took action and built community at their children's school by participating in classrooms, communicating with teachers, organizing fundraisers, advocating for programs, and meeting with the principal. AERA researchers jotted notes, listening intently to the expertise the parents shared.
In other circles, Tellin' Stories organizers had a chance to reflect with researchers on their roles and responsibilities, the organizing principles for the school projects, and dilemmas they face as organizers in the emerging parent communities in DCPS, where gentrification is changing the school demographics.
BMPV parents have used weekly parent meetings to build relationships across race, class, and language, which laid the groundwork for them to organize and successfully advocate for improving neighborhood safety, cafeteria modernization, and access to free afterschool programs. With the AERA visitors, an interpreter relayed stories between Spanish and English as participants laughed with each other, asked questions, and reflected on how powerful parents really are and how important it is for schools to recognize parent leadership.
In a closing circle, the visitors expressed their admiration of the parents' effective leadership – many sharing their perspectives as parents themselves – and recognition of how hard the parents are working to support their school community. The Bruce-Monroe parents, in turn, reflected on the importance of having their hard work appreciated and elevated.